5 Questions to Tackle When Maintaining Accurate Records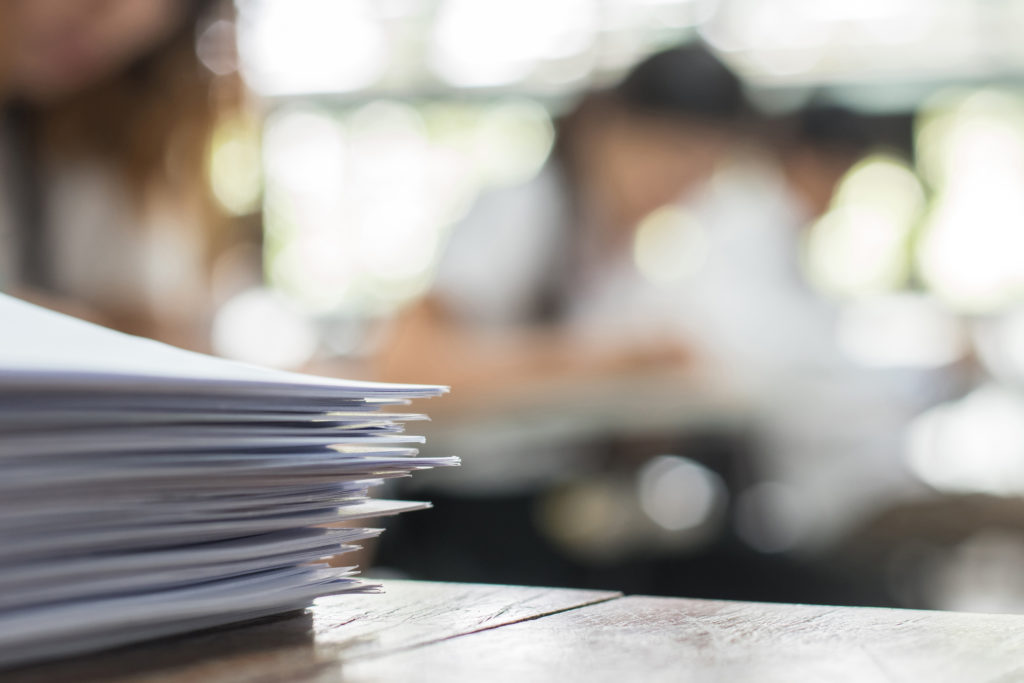 <!- mfunc feat_school ->
Featured Programs:
Sponsored School(s)
Sponsored School(s)
All school search, finder, or match results, as well as colleges and universities displayed as "Featured School(s)" or "Sponsored Content" are advertisers that compensate us for placement on this site. The resources, editorial content, and school evaluations published on this site are developed independent of the schools that advertise here.
<!- /mfunc feat_school ->
Accountability has become synonymous with many four-letter words, as well as it being immediately associated with a negative connotation whenever it is used. Educators do not shy away from the concept, but feel a need to be at the proverbial "table" when establishing the expectations, routines, and procedures that will hold us all accountable. School administrators model effective communication as they set the standard of effectiveness and efficiency at the top.
Nothing upsets a parent more than a teacher's inaccurate grading practices coupled with zero notification about their student's progress. Then to add insult to injury, when the parent discusses these concerns with the teacher, he or she cannot produce any of the work, nor do they have solutions to the problem. Errors and confusion can persist, which is a recipe for complete disaster!
Paperwork is mounting for educators, both teachers and administrators. The ability to document events, tracking data, grading or scoring student work, and even celebrating progress all take a responsibility in keeping accurate records in both instructional and non-instructional settings. Tracking student data is vital to their educational endeavors; adjusting instruction to this data is essential.
The varied methods of recording information is as numerous as there are schools. Whether teachers chose to use technology to track quantitative data such as Web 2.0 tools, an Excel Spreadsheet, or even a data based technology warehouse, it can make life easier for a classroom teacher. Likewise, informal and anecdotal information can be collected on a clipboard, a 3 X 5 note card, or even a journal. This qualitative data may give an even better picture of a student's growth then testing data.
The transfer of work, from the teacher to the student, is a key indicator of an exemplary record keeping system by a master teacher. When students take part in the management of information, especially their own work assignments, they take one more step in the ownership of their learning. When exemplary teachers build agency, there is evidence of this transfer of power. The following five questions will support your transition from being a proficient to exemplary teacher when keeping accurate records.
1 - What Types of Instructional Data and Records Do Teachers Maintain?
Many school districts purchase web-based data warehouses. These warehouses contain a multitude of information and data: demographics, academics, attendance, and more. The most used and popular web-based school-wide management tools are PowerSchool and Infinite Campus. There are many more systems, but these two seem to cover all the necessary components and can effectively keep accurate student and teacher records. The ability to have all student information in one location supports a teacher's ability to plan strong instruction.
Teachers must maintain several academic records pertaining to instruction. Here is a short list of academic records many exemplary teachers keep up-to-date in order to support their instructional decision making:
Summative Instructional Data

Tests, Quizzes, and other Assessments
Project Based Learning
And More…

Formative Instructional Data

Writing Tasks
Pre-assessments
Checklists
Rubrics
Performance Tasks
Surveys
And More….

Attendance

Tardy
Absences
Attendance Plans
Anecdotal Data (qualitative data)

Observational Information
Socio-Emotional Information
And More…

Assignment/Task Management
Behavioral Data

Positive Behavior Interventions System (PBIS)

Positive Behavior Referrals
Acts of Kindness

Negative Behavior Referrals

Behavior Infractions
Bully Incidents

Response to Intervention Data (RtI)

Small Groups
Individual Progress Plans
A best practice is only collect data that you are going to use. Many times, educators collect data but do not use for it. However, there are going to be data sets that are required to be collected by administration in your school district. Exemplary teachers are always trying to become more effective and efficient with data. One strategy is collect and use data that supports changing instruction or improving communication. If these two goals are not met, then the exemplary teacher must reassess why they are collecting this data.
Obviously, students are not allowed to access many of these information systems due to FERPA laws, but can be allowed to track their own assignments such as classwork and homework.
2 - How Does Accurately Tracking Data Affect Instructional Decisions?
Instructional decisions can be as easy as turning to the next page in the book. This does not take into account individual students. The two biggest excuses teachers use with administration for falling into this process: 1) the authors of the book placed this concept next in the book, or 2) the school district pacing guide states that is where the teacher should be at this point in the year. Both of these excuses do not differentiate instruction for the students seated in front of the teacher, nor do the teachers have to take into account data. Obviously, first year teachers (and developing teachers) are learning the curriculum and may not know or understand how to use student feedback and achievement data to change instructional decisions. Exemplary teachers do use this data to change instruction for individual students, groups, as well as for the whole class.
In order for data to be effective, there needs to be a quick turn-around when teachers grade or score student work. The faster they can grade it, the sooner instructional decisions can be made. Changing instructional plans with data helps teachers become more effective and efficient. If a teacher is just plowing through the curriculum to meet a deadline, the teacher has a more difficult time meeting the needs of individual students. Differentiating curriculum does take more time and planning. It is much easier to follow the curriculum word for word, and page by page, with little regard for a student's comprehension and progress. The ability to reteach concepts, provide choice in modalities, as well as adjusting the depth of knowledge a student needs in order to access a learning concept takes time for a teacher. Using data, exemplary teachers use these strategies to differentiate curriculum.
The use of formative and summative data, such as the assessments listed above, can be a great source for teachers to use for tracking progress. For example, a teacher that is using reading data, such as comprehension, accuracy, fluency, and vocabulary, can set individual goals with students. Teachers can find out which piece of data is most concerning. If a student is working on fluency, a possibly goal could be as follows:
Jimmy will read 75 words correct per minute with 95% accuracy on a third grade reading passage by May 1st.
Using the S.M.A.R.T goal process, the above goal meets on the criteria.
Specific - The goal is specific to fluency.
Measurable - The goal states 75 words correct per minute.
Achievable - Thinking about where the student needs to be by the end of the assessed period, this is what we should expect.
Realistic - Thinking about the past progress of this specific student; can the student make the given goal by the end of the assessed period?
Time Based - Placing an end time on the goal supports the sense of urgency for the individual student to attain the goal.
Data can be used to group students by need. In this fashion, teachers are able to teach more effectively and efficiently. When multiple students have the same need, it is redundant and time consuming to teach them individually. Flexibly grouping students by need saves teachers time and helps teachers accurately differentiate curriculum. Grouping students is an art form, which exemplary teachers spend time precisely planning all throughout the school year. The more precise the groupings, the higher the achievement and progress of individual students.
There are many other ways data can be used to change instruction. The previous example is just one such strategy. The goal is for every student to make progress towards learning goals. Some school districts even set a broader baseline goal for all students of "one year's growth in one year's time." This may not be enough for our lowest achieving students. The sense of urgency and advocacy for students is evident with all exemplary teachers.
<!- mfunc search_btn -> <!- /mfunc search_btn ->
3 - How Does Keeping Accurate Records Affect Communication with Students, Colleagues, and Parents?
Teachers are celebrated and are requested by parents and students when they are effective communicators. These teachers are proactive, have a growth mindset, patient, and are willing to give grace when needed. These exemplary teachers understand that parents are the greatest teammates they have in educating the students in their classrooms. They continue to work on all relationships and work for communication with all parents, even the most difficult.
Accurate recording keeping supports teaching decisions and illustrates student's progress. A teacher that is able to grade or score an assignment within 24 hours of assigning it has much more trust and effectiveness than a teacher that waits a week or two to finish the same task. Likewise, a teacher that is known for losing student work creates a reputation that can be repeated from student to student, family to family, and thus year to year. Exemplary teachers stay on top of grading. When a student does not do as well as expected, the teacher is communicating to both the student and the parent. These master teachers understand that a student's success is a direct reflection on their teaching and communication. The students that make the most progress have teachers that communicate progress immediately with students, as well as celebrating their success with both the student and the parent. This proactive nature sets these master teachers up for upcoming success. Parents request these teachers as their reputation is discussed in the community, and even within in the school. Unbelievably, teachers know within their own building the colleagues who have parent problems, as well as the peers that are ultra-organized.
Grades and student progress is just one area of communication with parents. Socio-emotional and behavior issues are part of accurate recording keeping. By keeping a notebook, journal, or discipline log, this data can be powerful when communicating with parents, colleagues, and other professionals. For example, if a student is diagnosed with SPD (Sensory Processing Disorder) and ADHD (Attention Deficit Hyperactivity Disorder) and there are many outburst and severe behaviors, teachers will need to collect data. Three pieces of data a teacher can collect are the duration, intensity, and the frequency of the behavior. Decreasing one or all of these pieces of data is the goal. A teacher may use a journal, simple spreadsheet, or ABC (Antecedent/Behavior/Consequence) or TOR (Trigger/Outburst/Repair) charts. Here is an example of a TOR chart. It is used to track student behavior by writing down the date, location, triggering behavior, the outburst or describe the behavior, and lastly how the student repaired the relationship with other students or adults.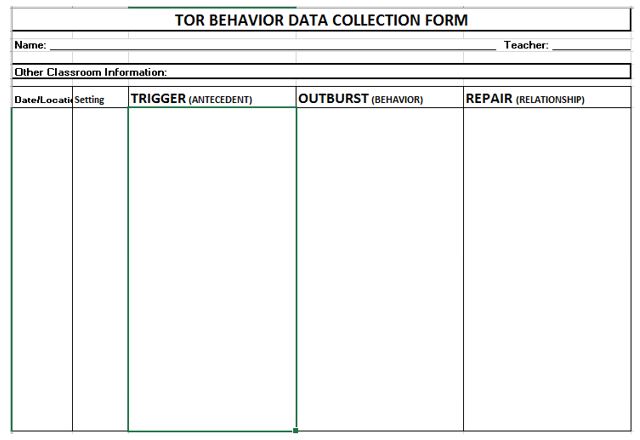 Tracking data accurately also affects how we communicate with our colleagues. We use data and records for several purposes outside of our classroom. In the above scenario, the student may be referred to a team for further support. Using data to describe the students' progress or regression is vital to the next steps of support. Exemplary teachers understand this process and know that keeping accurate data will not only help the student, but may also provide support that is more effective for the teacher.
Teachers also share students with many specialists in a typical school. Whether the student transitions to PE or a literacy specialist, communication of data and accurate records are vital to supporting students. A student may have a behavior plan, 504, IEP, or a health care plan; this information is useful for all teachers, specialists, and classified employees who may supervise or work with a specific student. Exemplary teachers are the primary advocates for these students in making sure everyone is on the same page and understands how the student's needs are to be met. For example, a student with a peanut allergy can have a difficult time eating in the lunchroom without adult support. When students bring PBJs into the school (also peanut products in the school meals), an exemplary teacher discusses with lunch staff about changing the student's seat. If the peanut allergy is severe, it may require eating in a completely different location for safety.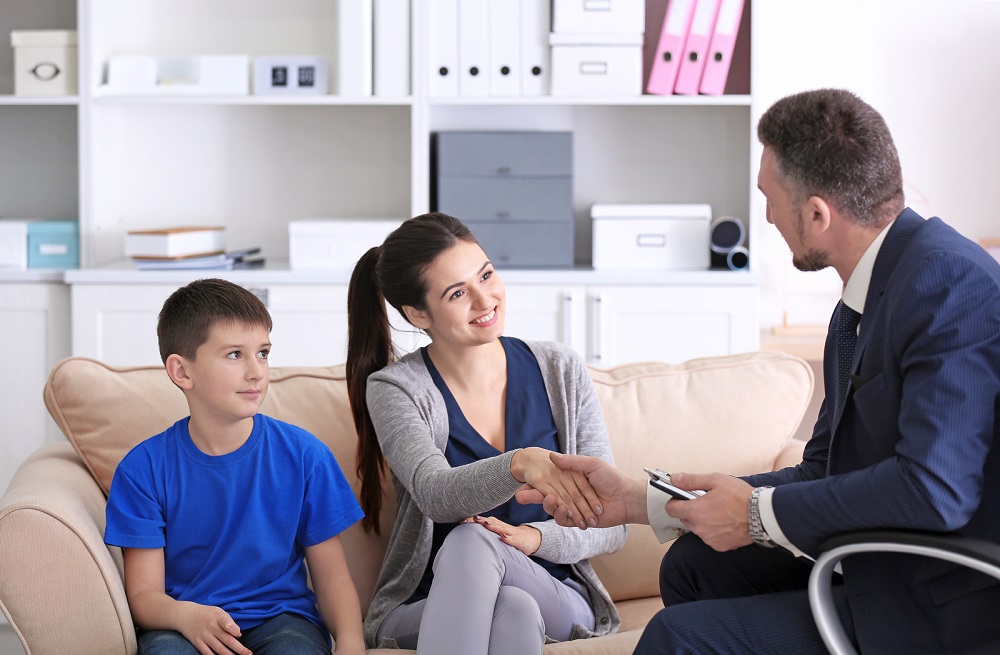 4 - What Are Some Best Practices for Keeping Accurate Non-Instructional Data and Records?
Exemplary teachers use tools and practices to keep accurate data and records for all students. They use checklists, Web 2.0 tools, and other tools in order to keep track of a multitude of non-instructional data. As simple as a checklist for keeping track of turned-in permission slips, these teachers have a system. The systems may look different in each classroom, but exemplary teachers understand that without a system, papers are lost and that disorganization creates chaos in their classroom (and for the rest of the school personal counting on them for information).
A great example that all teachers deal with is the handing in of assignments, such as homework. A teacher must think about the most effective and efficient system in order to maximize student success. For example, at the beginning of the day as a student walks into classroom he or she checks their name off the homework chart next to the teacher's inbox. This signifies that the student is present, as well as signifying that the homework is completed. Every student knows the first thing he or she does in this classroom…hand in and check off homework themselves. This gives ownership back to the student and creates agency. Checklists are a great strategy for teachers and students to use when turning in anything. Some teachers have created electronic or digital tools to support students when turning in assignments.
Digital tools such as the Remind and Class Dojo applications seem to be the most used by classroom teachers to communicate with students and parents. As students are older, most of them have a device and can sign up for a teacher's Remind on their own. Teachers can then use the app to push out information about the course, as well as remind students about assignments. Of course, Web 2.0 data bases like PowerSchool, SchoolMaster, and Infinite Campus support teachers with keeping non-instructional data and records. Many schools in the northwest use Silverback Learning's data warehouse called, Milepost. Milepost uploads data, organizes it effectively onto a digital dashboard that supports teacher instruction and non-instructional decisions.
RELATED - Top Technology Apps for Teachers
There are plethora of other ways to organize non-instructional data, but the key to using it is always asking, "Is this the most effective and efficient way to collect, manage, and utilize the data?"
5 - How Can Teachers Establish a Data and Record Keeping System That Empowers Students and Creates Agency?
The ability to empower students by creating agency is a strategy that all exemplary teachers practice. These teachers understand that when students take charge of many of the classroom procedures and routines, the ownership of responsibility and academic growth increase. What might be stated to a teacher as "Your classroom runs like a well-tuned engine," there is a lot of practice, teaching, and modeling that goes into creating such a system. These teachers have to be able to give up power in order to empower the students.
Some teachers may use job charts to make sure all students get to take part in supporting the classroom, and other teachers may set forth routines that all students do every day. Students can support accurate record keeping, as well as data management when given the responsibility. Depending on what grade level the teacher instructs, students can do many jobs creating agency. Here is a list of jobs at the elementary level, taken from various Pinterest ideas:
Teacher Assistant
Technology Assistant
Tables Manager
Lights Manager
Paper Manager
Line Leader
Recycling Manager
Schedule Manager
Library Books Manager
Lunch Box Manager
Mailbox Manager
Locker Manager
Cleaning Manager
Calendar Leader
Pencil Manager
Absent Student Manager
Clipboard Manager
Recess Materials Manager
Windows Manager
Likewise, setting up middle and high school students to manager their own work can take time practicing, modeling, and re-teaching much like elementary students. These following jobs can used at the middle and high school level. A plethora of other ideas can be found on Pinterest such as the ideas listed below:
Front Row Leader - Sits in the front row and collects papers, making sure each one has a name on it and is turned in on time.
Door Opener - Answers the door whenever anyone visits the classroom so instruction by the teacher can continue.
Secretary - Answers the classroom phone and takes notes on things such as a list of students who are absent; may also help out when there is a guest teacher.
Desk Straightener - Straightens desks at the end of each period.
Materials Distributor and Collector - Distributes any books or materials to students whenever needed; collects materials at the end of the class.
Quote Writer - Chooses an inspirational or thought provoking quote each day to write on the board.
Information Checker - Looks up information online when needed and finds the answers; classroom Google!
Smart Board Guru - Helps with technology and the materials needed to keep Smart Board functioning.
Paper Returner - Knows where graded papers are located and returns them to their respective owners at the beginning of the class.
Board Cleaner - Keeps all boards clean using supplies; manages all cleaning supplies.
See the graphic from mathchips.com for more examples.
There are countless number of ways to get students involved in the classroom procedures, especially when pertaining to keeping accurate records and data. Due to FERPA violations, students should not be in charge of putting grades on the computer. Though this may save you time, the risk is not worth the efficiency. In fact, there are many such jobs that should be done be the teacher or teacher assistant. Parents, too, should not be privy to private student information like grades and health issues.
Creating agency within students starts with teachers understanding and handing over many of the procedures and routines. What exemplary teachers can create is a fine-tuned system. It is best tested when the classroom teacher is absent. What breaks down when there is a guest teacher is exactly what needs to be retaught, modeled and practiced further. These teachers take the recommendations from guest teachers, students, and colleagues to improve these practices.
(Charlotte Danielson Model: Domain 4 Componet b)
<!- mfunc search_btn -> <!- /mfunc search_btn ->
MORE ROCK MY EVALUATION RELATED READINGS:
Maintaining Accurate Records (Currently here)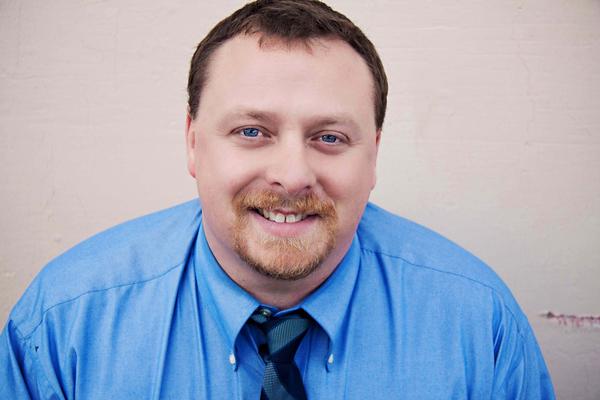 Latest posts by Jon Konen
(see all)