Top Picks for the Best Initial Teacher Certification Master's Programs in America for 2023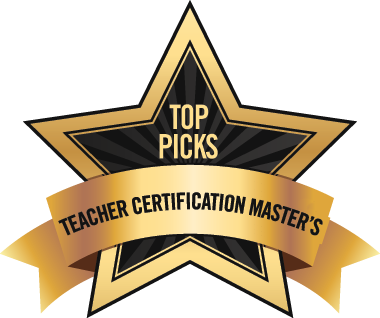 When you make the decision to earn a master's degree in any field, it's time to get serious: you're going to be laying the foundation for the career that's likely to take you through the rest of your working life. This isn't the time to pinch pennies or cut corners.
And when you decide to do it in a field like teaching, it's not just your own future you are building. You're also shaping the future of potentially thousands of others -- students who will have their own successes in life based in no small part on how well you do your job in the classroom and how well you lead and inspire them.
To do that, we know you need some educational leadership and inspiration of your own. That's exactly why we put together this list of exceptional programs.
Our Quality Assessment Involved a Deep Dive into Curriculum, Faculty, Research Contributions and More
With a massive demand for teachers in the United States today, ITP (Initial Teacher Preparation) programs have been sprouting up across the collegiate landscape. While virtually all of them offer you the kind of education you need to get credentials in the states where they're located, we went looking for the ones that really go the extra mile to provide exceptional teacher preparation and an unforgettable student experience.
Here's what we looked for in the programs we consider to be the very best...
<!- mfunc feat_school ->
Specialty Accreditation as a Baseline for Excellence
First, we only considered programs that have earned accreditation from CAEP, the Council for the Accreditation of Educator Preparation. CAEP is the one and only organization recognized by the Committee for Higher Education Accreditation (CHEA) as having the authority to set standards and confer accreditation for teacher education programs in the United States.
That means CAEP and their auditors are experts at looking into the elements that make an education preparation program not only adequate, but exceptional. They evaluate schools on the basis of things like:
Instructor qualifications and hiring standards
Curriculum development and review
Quality and diversity of field experience programs
Research and administrative support
Student recruitment standards
Although the name CAEP has only been around since 2016, it was formed through the merger of two previous accreditors that worked in that space, which for most people in the field of education need no introduction:
NCATE (National Council for Accreditation of Teacher Education)
TEAC (Teacher Education Accreditation Council)
NCATE and TEAC have been the preeminent names in teacher prep and advanced educator program accreditation for years. It's their legacy that set the standard for what CAEP would become. With the two now unified under the CAEP banner, the organization is able to offer twice the depth of expertise.
Since the merger was so recent, many programs, including several that appear on this list, still show either NCATE or TEAC as the accreditor, and will continue to until the end of their accreditation renewal cycle. Not to worry - at the end of those cycles, all the programs will reflect the CAEP brand. In the meantime, NCATE, TEAC and CAEP should be considered equals in educator preparation program accreditation.
Entrance Exams Ensure You're Surrounded by the Best and Brightest in the Field
We also only considered programs that use either general or state-specific entrance exams as a primary filter to eliminate candidates who may not be the right fit for the profession, or who otherwise just don't have the higher level reading comprehension, math and reasoning skills to be a strong candidate for graduate school.
Your student experience is shaped largely by the input of your classmates, the discussions you have, and the projects you work on together… and naturally, your student experience shapes the kind of teacher you're going to be. This means you want to surround yourself with bright folks with a lot of energy and ideas to contribute. Master's programs with entrance exam requirements are more likely to admit students of the highest caliber, ready and well-primed for the teaching profession.
Every program on this list requires a graduate level entrance exam of some kind - whether the GRE (Graduate Record Exam), the MAT (Miller Analogies Test), or a state-specific exam like the WEST or CBEST.
By only considering programs that require minimum test scores - or high enough undergrad GPAs to have the exam requirements waived - you can be sure you'll be surrounded by fellow students who have demonstrated they have a level of drive and proficiency that matches your own.
The Right Mix of Degree Specializations
In our review process, we always gave a second look to schools that either offer a diverse variety of possible licensure level and subject area concentrations, or ones that just offer a few unique specializations you may not find anywhere else.
But variety and uniqueness aren't the only indicators that a school is willing to pour resources into developing graduate level curriculum and retaining the expert faculty needed to present it. That's why we gave just as much weight to programs that offer just one or two teaching focus areas that command national attention as a result of being well-developed and having a strong reputation.
You will find programs here to match just about every possible content area and specialization, and you can be sure each one is among the best in the country at what it offers.
In-Depth Field Experience and Community Partnerships
Student teaching is a fundamental component of earning certification in every state. You can't teach without meeting your state's certification requirements, and you can't teach effectively without first developing classroom management skills and some familiarity with your workplace. You need to be ready to hit the ground running on the first day of school with your very own classroom full of students sitting there in front of you. Your student teaching experience is the only thing that can offer the kind of practice and preparation that will ensure you're ready.
To do teacher preparation properly means providing lots of opportunities for diverse field experiences. The very best programs offer more, and longer, classroom contact hours than the state minimums, as well as the kind of variety and diversity that will prepare you for the unique challenges found in different parts of your state.
We found programs that deliver that kind of experiential learning through a variety of means - from offering volunteer time in local community learning programs, to teacher residencies that put students into a variety of different classrooms and situations, to conventional student teaching rotations in high needs urban and rural communities.
What is consistent among all the schools that made our list is a concerted focus on making that experience count by backing it up with expert guidance and mentorship.
Research Opportunities Lay the Groundwork for Life-long Learning
In the broadest sense, teaching is a field that may have the same basic fundamental goals from one generation to the next, but as any teacher today can tell you, the overall approach, techniques, and of course, technology, change almost year to year. The best practices and latest classroom technology put in place this schoolyear was informed by the research that took place at the nation's teaching colleges the year before. Research is a constant in the field of education, and a big part of what universities contribute to evolving teaching methods and improving student outcomes across the country.
As a graduate student, you're expected to participate in investigative efforts, whether you're following the lead of an experienced team of faculty researchers, or leading research efforts of your own as part of a capstone project.
We look for programs that offer more than a rote report-writing experience here, but rather the ones that push students to build habits of inquiry into their approach to everyday problems, teaching them how to use research skills as the basis for finding solutions to classroom challenges throughout their careers.
Content Area Exam Pass Rates
You'll be required to prove yourself in a lot of different ways before you'll step into the classroom, and sitting down for a formal exam is one of them. Praxis II or state equivalent general proficiency and specific subject assessment exams are all part of the teacher certification process. And the way student teachers perform on these exams reflects on the teacher prep programs they attend.
Schools aren't required to post pass rates for student teachers or recent graduates, but some do anyway. While this isn't something we can use as a consistent point of comparison since relatively few schools make the information available, we did give it some weight in our selection process for the schools that did.
Instructors With Deep Research and Real-World Classroom Experience
Of course, as you start off on the path to becoming a teacher yourself, there is nothing so clear as the importance of the role your own instructors will play. To become a great teacher, you need great teachers.
Even the most rigorous entrance requirements, advanced curriculum and diverse specializations won't add up to much without experienced, expert instructors there to mentor and support you through the learning process, and to offer the kind of insights it takes for all the other elements to come together in a meaningful way.
We looked for schools with faculty members who have significant classroom experience under their belt, built up with years of academic research and publishing achievements.
<!- mfunc search_btn -> <!- /mfunc search_btn ->
24 of Our Favorite Master's Level Initial Teacher Prep Programs
It would be hard for anybody to argue that there's a field more important than teaching. We feel that anybody with the dedication, compassion and intellect it takes to earn a master's degree and become a teacher deserves a program that is equal to their character and commitment.
Since assessments are always comparative in nature, we felt it only made sense to weigh the strengths of the programs we looked at against other options in the same state or region. Since teaching is all about understanding and serving the unique needs of the students in the community you'll be working in, and because certification is granted at the state level, we expect programs to teach to those unique needs and licensing standards. For this reason, you'll find our list includes programs from all over the country.
These programs are not always the least expensive and they are rarely the easiest to get into, but they are the ones we feel confident recommending to our readers as being the very best.
---
This list features programs that our editorial staff hand selected to present as top recommendations. We believe the many aspects of a program that come together to create an exceptional student experience can't be reduced to numbers alone, so no formula was used to attempt to score or rank these programs. Instead, they represent our top picks based on a thoughtful review of the things we know mean the most to students. Each one of these programs offers something unique, and all come equally highly recommended. We stand behind the principal of editorial integrity and make these recommendations independently and without compensation.