Should I Become a Teacher?
<!- mfunc search_box_nav ->
<!- /mfunc search_box_nav ->
<!- mfunc feat_school ->
Featured Programs:
Sponsored School(s)
Sponsored School(s)
All school search, finder, or match results, as well as colleges and universities displayed as "Featured School(s)" or "Sponsored Content" are advertisers that compensate us for placement on this site. The resources, editorial content, and school evaluations published on this site are developed independent of the schools that advertise here.
<!- /mfunc feat_school ->
If you feel a call to teach, chances are you have the temperament for this rewarding career. Margaret Mead once said, "Children must be taught how to think, not what to think." That is no easy feat. It requires a passion for educating and a determination to make a difference in students' lives, the community and the world at large.
Teachers who have a unique gift for inspiring students are needed now more than ever. Of the many careers in education, teaching has the most immediate impact on students. The profession is rife with misconceptions that deter excellent candidates, and the teacher shortage that began in 2017 has worsened since the COVID-19 pandemic. Teacher jobs are outpacing hires nationwide.
A 2022 survey by McKinsey & Company, revealed that many of the approximately 30 percent of K-12 educators in the United States who are contemplating quitting their jobs do not want to leave education. According to the survey, meaningful work, colleagues and community are the driving factors for educator retention. The authors concluded that "educators are nearly 20 percent more likely than private-sector employees to identify meaningful work as a top reason to stay in their jobs."
The Elementary and Secondary School Emergency Relief Fund allocated $190 billion in federal funding to the country's K-12 school systems. This funding gives school districts the opportunity to invest in teacher and school staff recruitment and training, tools and technologies to reduce the administrative burden on teachers and other services to enhance student learning.
In addition to the COVID-relief funding, education advocates and policymakers are supporting initiatives such as the Grow Your Own (GYO) teacher programs, which exist in nearly every state. GYO programs-which cultivate educators within the community and help would-be teachers overcome barriers to the profession-increase diversity in classrooms and bring qualified special education and English as a second language (ESL) teachers into classrooms.
Such campaigns signal a renewed focus on improving conditions for teachers and education systems in the United States. If you have an interest in becoming a teacher, now is the time to make your dream a reality.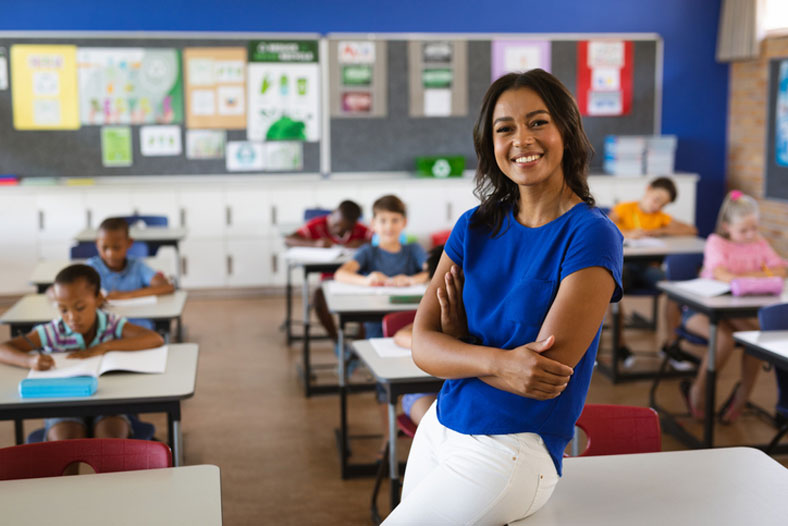 What Makes a Good Teacher?
The traits of a good teacher can be somewhat fluid. Students have diverse learning styles, and a teacher may need to adapt his or her method and behavior to a particular student's needs from one instance to the next. Learning can be challenging and frustrating. The process actually changes the structure of the brain. Therefore, teachers must be flexible and encouraging. Extraordinary teachers instill confidence in their students by listening to them, accommodating their needs and supporting their success.
Characteristics of a Great Teacher
Great teachers share certain characteristics that let them transform the classroom into a world where curiosity is rewarded and learning is possible for everyone. A truly great teacher possesses the following qualities.
Patience
When it comes to great teachers, patience is nonnegotiable. The classroom should be a challenging and nurturing environment, and your students won't always conform to your standards or have an aptitude for the subject. Furthermore, the pandemic has hindered student progress, so teachers must adjust their expectations. According to The New York Times, "the average student was half a year behind in math and a third of a year behind in reading" in 2022, which increases stress on students and teachers, alike.
Students must also navigate social media and technology, issues of gender identity and inclusion, and the impact of socioeconomic disparities. A great teacher can help students overcome obstacles by demonstrating patience and sensitivity to the many factors that affect learning.
Passion
The greatest teachers have a passion for knowledge and education. Great educators are dedicated to finding creative and innovative ways of making the subject matter interesting. Making learning engaging, exciting, and relevant increases a teacher's chances of reaching the most students.
Respect
Many teachers, like many leaders in other fields, believe they are entitled to respect. Great teachers understand that their students also deserve respect. When students feel respected, they are more likely participate in class discussions and activities. They are also more likely to extend courtesy to others, which contributes to a harmonious learning environment for everyone.
Inclusiveness
Great teachers create a sense of community in the classroom. They are sensitive to the diversity of their students and strive to include each individual. A truly exemplary teacher is tactful, professional and approachable. Students thrive in such a welcoming and safe environment.
Humor & Humility
A sense of humor allows you to take everything in stride. Some days you must simply laugh at the bottle of glue emptied on the floor. You'll make mistakes and have to admit that you were wrong. Sometimes you'll have to laugh at yourself. These moments will help your students see you as a person and realize that we all make mistakes. Great educators teach their students that risk and failure are a part of success.
Organization & Resourcefulness
Time and money are often in short supply in the classroom. Being organized and prepared for each day gives a great teacher an advantage. Thoughtful use of supplies and efficient management of time lets teachers stretch their resources and optimize each lesson to best serve their students.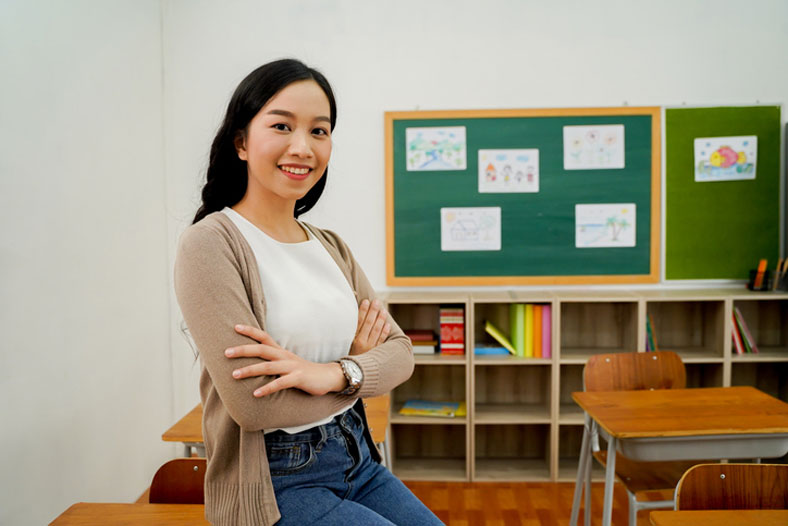 Making a Difference
Anyone who doubts that teachers make a difference need only consider a world without them. When Chicago closed 50 schools in 2013, the results were devastating. DeAnna Buck, an eighth grader in 2013, lost her confidence when her elementary school closed and "did the bare minimum to graduate" from her high school, which had a graduation rate of only 55 percent.
According to employee well-being software company Limeade, 97 percent of people who score high on a test that measures their sense of purpose are more engaged with work. Teachers are consistently included in the top professions-alongside health care professionals, clergy and firefighters-when ranked by job-satisfaction levels. This satisfaction comes from knowing the work they do has meaning and purpose.
And this meaning and purpose bleeds into the larger community. "Schools, in many ways, are representative of a general public commitment to a community and to the longevity and health of a community, to its vitality, to its future," Amanda Lewis, director of the Institute for Research on Race and Public Policy at the University of Illinois Chicago told the Chicago Sun-Times.
Molding Future Generations
Teachers mold future generations, preparing young people for careers and shaping them into contributing members of society. Educators have the opportunity and the power to teach important vocational skills and lessons that encourage students to become lifelong learners.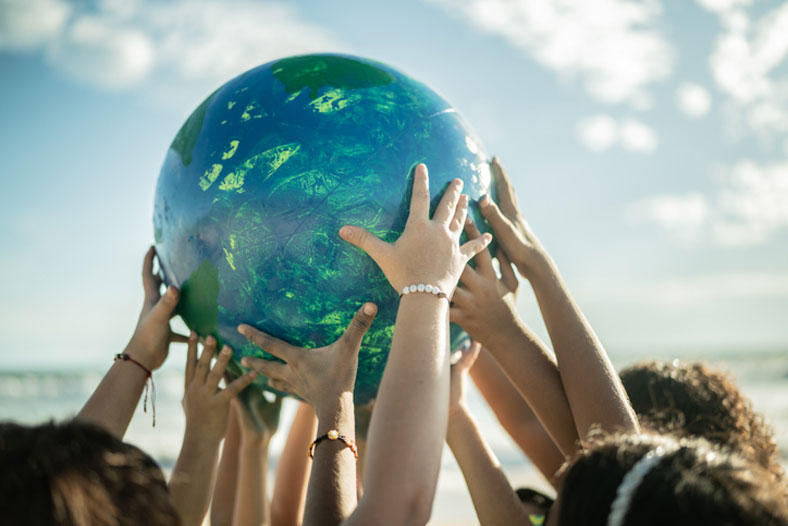 Teaching Life Skills
Because teachers spend so much time with their students, they naturally become de facto role models, leading by example in regard to organizational, conversational, and social skills. As great teachers lecture on their subject matter and assign coursework, they are also equipping students with time management techniques, conflict resolution skills, coping strategies and discipline.
A Day in a Life of a Teacher
Teaching is a profession in which you must always expect the unexpected. You'll have good and bad days, but you can count on being challenged, surprised, inspired and strengthened. Teachers have ample opportunity to exercise their creativity, to grow professionally and to learn from their colleagues-and, yes, even from their students. It's the richness of such experiences that make every day in the life of a teacher its own reward.
<!- mfunc search_btn -> <!- /mfunc search_btn ->
Good Days, Bad Days, Fun Days
There are days that teaching will be every bit as rewarding as you hoped it would be. These are the days when a student finally gets a concept they've been struggling with or when a former student visits to thank you for the motivation, understanding or for simply being you. Other days, you might accidentally get hit by a flying sandwich in the cafeteria. Each day brings its own adventure and a chance to build resilience.
Days Fly By
Teachers don't sit around watching a clock. Each day, your classroom fills with students who have different personalities, abilities and strengths, and you are responsible for imparting as much wisdom as you can fit into the hours you have with them. Passionate, engaging teachers are curious about their students, so in addition to covering the material for each lesson and answering questions, you'll spend your days building connections with students. Before you know it, the school year is over.
No Two Days will Ever be the Same
When it comes to teaching, no two days are ever the same. Even if you teach the same lesson five times a day, it will be different every time. No two groups of students will ask the same questions or absorb the information in the same manner. This proverbial spice of life keeps teachers from stagnating and imbues the workday with excitement and endless possibility.
Will I Make Enough Money?
This is a valid question and one that arises for everyone, regardless of their chosen profession. A teacher's salary is only one aspect of their compensation package. You must also consider paid holidays, vacation and sick days, health benefits, retirement savings plans and pensions, bonuses and other perks.
Teacher salaries vary from state to state and with experience and education. California, Massachusetts and New York are some of the states with the highest teacher salaries. Teachers entering the profession with a master's in education generally earn higher starting salaries.
According to the U.S. Bureau of Labor Statistics, median annual salaries for teachers as of May 2021 teachers were:
Preschool teachers: $30,210
Kindergarten and elementary school Teachers: $61,350
Middle school teachers: $61,320
High school teachers: $61,820
Special education teachers: $61,820
Postsecondary teachers-those who teach in higher education institutions-earn significantly higher salaries than teachers in pre-K through grade 12. The median annual salary for postsecondary teachers was $79,640 in May 2021, with health specialties, economics, engineering and law teachers all earning more than $100,000 per year.
Benefits
In addition to the yearly salary, teachers usually receive health insurance policies that include vision and dental benefits and often receive a generous number of sick and personal days each year.
Teachers are also typically eligible for pension plans and a defined contribution retirement plan, such as a 403(b) or 457(b), which are similar to a 401(k). It's important to note that some public school teachers don't participate in Social Security and, therefore, may not receive Social Security benefits when they retire.
<!- mfunc search_btn -> <!- /mfunc search_btn ->
Vacation Days
Depending on their contract with the school and any extracurricular or professional development requirements, teachers may be eligible for eight weeks off each summer. Some, but not all, school districts offer paid time for winter and spring breaks, vacation and sick days.
Teaching is hard work. And that's why teachers matter. Search your heart, do your homework and learn how to become a teacher today.
2021 US Bureau of Labor Statistics salary and employment figures for Teachers (Preschool, Elementary, Middle School, High School) reflect national data, not school-specific information. Conditions in your area may vary. Data accessed March 2023.