How to Become a Teacher in Illinois
<!- mfunc feat_school ->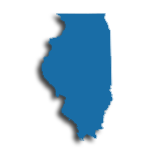 You have made the decision to become a teacher. Congratulations are in order. You have just made the decision to do a very meaningful job that pays for itself day after day in the moments when a child finally understands a new concept. Here are the steps you will need to take to become an educator in Illinois.
Choose What You Want to Teach
Whether you want to teach a specific subject in high school or a special education class in elementary, the decision is yours. Before you become a teacher in Illinois, it is important to decide which age group of students you prefer or which subject(s) you most want to teach. The ISBE, Illinois State Board of Education, offers guidelines and specific steps for the area you choose to teach.
Complete Your Education Requirements for Teaching in Illinois
As with all states, Illinois requires teachers to possess a minimum of a Bachelor's Degree. In addition, highly qualified teachers are required to complete a teacher education program from an accredited college or university. If you are just starting your degree program or have not yet started, you will most likely be able to complete a teacher education program along with your Bachelor's Degree.
Complete a Teacher Preparation Program
Public school teachers in Illinois are required to hold teacher certification, which in 2013 were exchanged for teacher licenses in Illinois. This license is obtained through a teacher preparation program that has been accredited through the CAEP (Council for the Accreditation of Educator Preparation).
Most programs are blended and a teaching license is gained while earning a Bachelor's Degree, but a license can also be obtained after a four year Bachelor's Degree has been earned.
Programs that are not blended are typically referred to as fifth-year or simply, Teacher Preparation programs (post-baccalaureate). These programs are designed to last only two to four semesters.
These programs most often consist of two main elements, curricula and fieldwork. Curricula often includes several developmental and pedagogy classes, educational technology classes, as well as teaching methods, and theory classes. The fieldwork area includes classroom observations, student teaching, and on occasion, internships or some combination of the three. A successful student teacher will create and implement age appropriate lesson plans, create a portfolio, and write reflections on the entire experience.
Alternative Teacher Certification in Illinois
Teacher Certification Program
There is another path to becoming a teacher in Illinois apart from the one described above. You may have the option to obtain your license from an approved teacher certification program through a college or university. In Illinois, a college or university must have an approved teacher preparation program in the certification area and receive State Board approval prior to offering an alternative route program. Visit the Directory of Approved Programs for the Preparation of Educational Personnel in Illinois Higher Education for a detailed list of approved teacher education programs in Illinois.
Teacher Certification Reciprocity
If you are a certified teacher in another state, you may qualify to for Illinois teacher certification through reciprocity agreements. In order to qualify, the candidate must have completed an approved teacher education program in their state and/or currently hold a valid teaching license from another state. Contact the Illinois State Board of Education
for information about your specific situation.
<!- mfunc search_box_body ->
<!- /mfunc search_box_body ->
Pass the Required Tests for Illinois
The next step to gaining teacher licensure is passing the necessary tests.
The first test that all potential teachers will be required to take and pass is TAP, the Test of Academic Proficiency. Assuming the TAP test is passed with an approved score, further tests will be required. The TAP test can be replaced with the ACT Plus Writing or SAT Score. The tests required will depend on the grade level(s) and subject area(s) you want to teach,
All prospective teachers in Illinois must pass three tests: the Basic Skills test (TAP), the appropriate content area test, and the appropriate Assessment of Professional Teaching (APT) test. In addition to the tests described, the Special Education General Curriculum test is also required for those seeking endorsements as:
Learning Behavior Specialist 1
Teacher of Students Who are Blind or Visually Impaired
Teacher of Students Who are Deaf or Hard of Hearing
Speech-Language Pathologist: Teaching
As of September 2015, candidates applying for initial licensure in Illinois are required to take and pass the edTPA. This is an evidence-based assessment of teacher effectiveness. During this process, teacher candidates will submit their student-teaching portfolios for assessment.
Apply for your Illinois Teacher Certification
Application Requirements
In order to apply for licensure in Illinois, you must first pass all the required tests, student teach, and earn a four year Bachelor's Degree. You may then fill out the application for licensure at ELIS online. There is likely to be a one time fee and proof of fingerprinting will be required. Those who are trying to certify in administrative, school support, or as substitutes will require differing forms of licensure that can be found at the previous link. In addition, the license, once received, must be registered.
Contact Information
Illinois Board of Education
100 N. 1st Street
Springfield, IL 62777
Phone: (217)782-4321
Or
Illinois Board of Education
100 W. Randolph, Suite 14-300
Chicago, IL 60601
Phone: (312)814-2220
Find a Teaching Job in Illinois
You have passed all of your tests, applied for licensure, and now you are ready to start your career as a teacher in Illinois!
Teaching in a Public School
The department of education in Illinois links to several third-party websites for teachers to use for applying to job postings. The following sites are not affiliated with the Department of Education, but provide up to date databases for postings and applications. Careers at Chicago Public Schools (CPS), IASA Online: Illinois Education Job Bank, and K-12 JobSpot.
Once hired, teachers may join the Illinois Federation of Teachers which represents more than 80,000 teachers and paraprofessionals in the state, or the Illinois Education Association (IEANEA), both of which serve the needs of the state's students through supporting the state's teachers. Finally, when teachers retired, they are eligible to draw a pension through the Illinois Teachers Retirement System which has additional disability and other benefits.
Teaching in a Private School
Illinois has an extensive network of private schools. Some private schools may not require teachers to be certified. Currently, teachers may seek employment in any of the state's 1,853 private schools which serve just under 300,000 students. Teachers may benefit from different salary and advancement options in a private school environment.
Teacher Shortage in Illinois by Subjects or Discipline (2014-2015)
The following list of teacher shortage areas in Illinois has been obtained from the U.S. Department of Education Office of Postsecondary Education, Teacher Shortage Area (TSA) list for the 2014-2015 school year
Computer Literacy/Technology Teacher
Learning Behavior Specialist I
Elementary Instructor
Bilingual Education
Number of Public School Teachers By Grade
The table below lists the number of public school teachers in Illinois by grade level during the 2012-2013 school year.
| Grade Level | Number of Teachers |
| --- | --- |
| Pre-kindergarten & Preschool Teachers | 3,024 |
| Kindergarten Teachers | 5,118 |
| Elementary Teachers | 84,419 |
| Middle & High School Teachers | 42,044 |
| Ungraded Class Teachers | 1,095 |
Data obtained from the State Nonfiscal Public Elementary/Secondary Education Survey Data 2013
Number of Private School Teachers By Grade
There are more than 1,400 private schools with an estimated 17,500 private school teachers in Illinois. The table below details the number of teachers by grade level during the 2011-2012 school year.
| Grade Level | Number of Teachers |
| --- | --- |
| Elementary School Teachers | 10,801 |
| Middle & High School Teachers | 3,366 |
| Combined K-12 School Teachers | 3,338 |
Data obtained from the Private School Universe Survey (PSS) 2012
Continue Your Education and Professional Development
Through collaborative learning and over a variety of platforms, teachers have more opportunities than ever to engage in relevant professional development. Professional development programs use multiple instructional methods to address the needs and preferences of today's educators educators.
Professional Development in Illinois
In the state of Illinois, educator licensure requires ongoing professional development to meet the requirements for license renewal for both educators and school service personnel. Workshops, seminars, conferences, symposia, as well as self-assessment coursework for National Board for Professional Teaching Standards (NBPTS) meet the state's professional development criteria. The state offers opportunities for independent providers to become approved facilitators for the above venues, as long as they follow relevant practices and procedures to ensure accountability. Teachers are encouraged to contact the Illinois Sate Board of Education (ISBE) in order to clearly understand the procedures for choosing professional development and having appropriate evidence of completion.
The Benefits of Earning a Master's Degree For Salary And License Renewal
As an Illinois teacher, you don't have to wait until you actually have your master's degree in hand to start getting the benefits… every 8 credits you earn along the way can advance you into a new column and a higher salary rate. And unlike some states, where the top earning tier is achievable with only a PhD, a master's degree and 48 additional credits will put you at the maximum pay rate.
Along the way, you can use those college credits to count toward the professional development hours required to renew your license. The coursework has to be related to your current certificate and address the professional standards outlined in the Professional Development Requirements.
The school you earn your advanced degree from must appear on the list of ISBE approved providers in order for your credits to count toward professional development requirements. You are allowed to use up to 15 semester credits from your master's per license renewal period.
And there are serious benefits when it comes to satisfying professional development requirements even after you've completed your master's. One unusual benefit to holding a master's degree as a professionally licensed Illinois educator is that it reduces the number of continuing education hours you will have to accumulate on each subsequent 5 year license renewal. While bachelor's degree holders have to show 120 clock hours of continuing education, a master's degree holder only has to have 80 clock hours (or around 5 semester credits). Move up to twoadvanced degrees, and the requirement drops to 40 hours.
Increase Your Salary Significantly with a Master's
Like many other states, in Illinois most teachers will find themselves in a step and lane salary schedule that offers financial incentives for earning a master's degree. The exact benefits vary from district to district, but in the Springfield Public Schools, earning a master's degree will put you in Column 5 of the base salary schedule. At Step 5, that's worth nearly $6,000 over the Column 1 rate you would get with only a bachelor's degree.
Request Admissions Information From Schools
Early Childhood Education Programs
Elementary Education Programs
Secondary Education Programs