Best Value Teacher Prep Master's Programs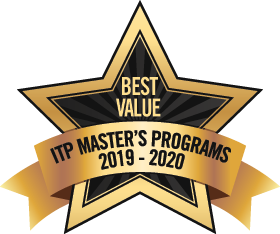 Master's-level Initial Teacher Preparation (ITP) programs cater to a certain type of student: someone who has earned a bachelor's and gained some experience in their field before deciding to double down on that expertise and give back by becoming a teacher.
It's challenging enough to go through an initial teacher preparation program, let alone taking in the vast amounts of information that comes with earning a master's degree. But you are at a point in your life where you are up for that challenge - you know your capabilities and have confidence in your skills.
So the only thing left is to pick an affordable master's-level ITP program that can take you to the next phase of your career.
Using Accreditation to Establish a Minimum Baseline for Quality
Affordability is only part of the equation; the quality of the school itself is far more important. In the end, getting a great deal won't mean much if the quality of your education suffers. Luckily, you don't have to compromise on quality to find an affordable program.
To make sure of this, we only considered schools accredited by CAEP, the Council for the Accreditation of Educator Preparation, or one of the two bodies that merged into CAEP in 2016:
NCATE (National Council for Accreditation of Teacher Education)
TEAC (Teacher Education Accreditation Council)
These agencies have been designated as the only specialty accreditors recognized by the Committee for Higher Education Accreditation (CHEA) as being qualified to maintain and assess quality standards for teacher education programs… and to grant accreditation to the schools that meet and maintain these standards.
<!- mfunc feat_school ->
Looking at everything from curriculum development and strategies for continuous improvement, faculty hiring and review processes, and the quality of field experiences available to student teachers, CAEP only gives its stamp of approval to teacher prep and other educator programs of the highest caliber.
Don't be discouraged if you see NCATE (National Council for Accreditation of Teacher Education) or TEAC (Teacher Education Accreditation Council) showing up as the program accreditor. CAEPhas actually only been active since 2016 when TEAC and NCATE came together to agree upon common standards. For the next few years you'll find a range of accreditation statuses among NCATE, TEAC and CAEP-accredited schools until the current accreditation period ends for each school and they all go forward under the CAEP banner. Until then, you can think of NCATE, TEAC and CAEP accreditation as being equal and essentially interchangeable.
Graduate Programs with Entrance Exams Can Represent an Even Higher Quality Option
To find a program that is up to the task of giving you the best education possible, we suggest looking closely at the entrance requirements. You aren't learning in a vacuum; your entire college experience will be shaped by the instructors and students around you. In fact, many programs today are cohort-based, which means you will be moving up the ladder with the same fellow students in every class you take.
To be your best, you need a program that surrounds you with the best. That means finding a master's program that accepts only the most qualified grad students. And the surest way for a school to maintain a high bar for enrollment is to require applicants to pass exams like the GRE or MAT, or teacher-specific assessments like the Praxis Core or a state equivalent.
That high bar for accomplishment isn't just reflected in the students around you - the ones you will be bouncing ideas off, working on group projects and conducting research with - it's also reflected in the curriculum and instruction you are presented with. The training wheels come off when professors know their students are capable of great things.
That's why for this list we only considered programs that require one of a few different standardized entrance exams used to screen applicants:
Graduate Record Exam
The GRE has been the standard benchmark for graduate program acceptance since 1936. Conducted by the Educational Testing Service, the same folks who bring you the SAT, it is designed to provide a standardized measure of candidate verbal and quantitative reasoning, as well as measuring critical thinking and analytical writing skills. With a $205 exam fee, it's not a test to be taken lightly, and an entire cottage industry of GRE-prep programs have sprung up to tutor prospective test takers.
Miller Analogies Test
The MAT is a computer-based test offered by Pearson that is the main competitor to the GRE in terms of general graduate program acceptance. Although it's a shorter test, its quality can be attested to by the fact that it's used by Mensa as a qualifier for prospective geniuses. It's also less expensive, although the exact price depends on the testing center you go to. Between $70 and $100 is typical in the United States.
Praxis Core
Some of the most serious master's ITP master's programs go further than generalized exams, however. ETS also offers the Praxis series of exams, including the Praxis Core, which is often used as an entrance exam for ITPs specifically. Consisting of a reading and mathematics section of 56 questions each, followed by a writing component with 40 questions and 2 essays, the test can take up to 4.5 hours to complete, at a cost of $150.
You can take the three tests on three separate days or in a single marathon session. The specific modules required may differ from state-to-state or school-to-school.
Unlike the MAT and GRE, Praxis Core is designed expressly by and for teacher preparation programs. Your future professors may have contributed questions or served on the content advisory groups that help develop the tests. And some states may require the exam as part of the licensing process.
State-specific Education Tests
Some states have developed their own standardized tests that ITP master's programs may use for admittance, such as the Washington Educator Skills Test (WEST-B) in Washington state, or the CBEST for California or Oregon, or the Virginia Communication and Literacy Assessment (VCLA). Costs for these can vary but, like the Praxis Core, the results speak directly to teaching skills and knowledge.
Other Tests
Some schools may accept other types of tests that aren't commonly used for teacher education programs, but which may reflect similar skills. This can include the GMAT (Graduate Management Admission Test), SAT or ACT.
There are also less-common educator-specific exams that are sometimes accepted, such as the ACTFL or NES. These exams are more likely to be used as the basis for many state-specific tests, including the WEST, but aren't commonly used by themselves.
<!- mfunc search_btn -> <!- /mfunc search_btn ->
Costs Are A Constant Consideration
High quality doesn't have to mean high prices, as we have set out to prove with this list.
We found the lowest cost public and private schools in each state offering ITP master's programs that meet our entrance exam and accreditation criteria. And since they all have specialized accreditation, and all set the bar high for enrollment, by going with one of the options here you know you're getting the best value available.
There may be cheaper schools out there, but you won't find any at a lower price that offer the assurance of quality that comes with specialized accreditation and entrance exam requirements.
Cost-Per-Credit Comparisons
Because the programs we looked at offer the full gambit of different concentrations and content areas and involve a variety of different course loads and term lengths, we found the best way to compare price was to look strictly at the cost-per-credit rather than total program cost. That ensures that all programs are considered equally rather than eliminating the concentrations and content areas that might intrinsically require a few extra courses or additional hours of lab work. Sure, some schools charge a set rate for all full-time students, but others charge strictly at a per-credit rate so that students who take more hours pay more.
And, of course, we needed to account for the fact that ITP master's students are typically non-traditional, taking courses on a part-time basis, which makes them ineligible for the discounts that some schools might build in for full-time students.
In most cases, schools present their graduate tuition info with the cost-per-credit clearly spelled out. For some schools, however, only the cost-per-semester is available. In those instances, we arrived at the cost-per-credit based on the typical 12-credit hours per semester most full-time graduate students take. This might not account for part-time schedules, but it ensures the point of comparison remains consistent across the board.
Comparing Only Like-to-Like Schools
And because public and private schools have very different funding structures, we don't compare the two directly. Instead, we averaged the costs for each category separately for each state and compared only public-to-public and private-to-private.
In some cases, the prices were just too close to call one program far and away the best value, so we went ahead and included more than one school when the costs were similar within their category.
State-by-State Guide to the Best Value ITP Master's Programs in America
There's nothing better than a low-cost, high-quality master's degree to prepare you for your teaching career. Any one of these schools will set you up for your new career with the best possible education at the lowest price.
---