Master's in Education M.Ed. Degree
<!- mfunc search_box_nav ->
<!- /mfunc search_box_nav ->
<!- mfunc feat_school ->
Featured Programs:
Sponsored School(s)
Sponsored School(s)
All school search, finder, or match results, as well as colleges and universities displayed as "Featured School(s)" or "Sponsored Content" are advertisers that compensate us for placement on this site. The resources, editorial content, and school evaluations published on this site are developed independent of the schools that advertise here.
<!- /mfunc feat_school ->
A Master's Degree in Education (M.Ed) can be a second step for those already teaching, or a first step into education for those that have been in a related field. A Master's Degree can open up doors to new careers within the educational realm or simply create a higher pay scale for those wishing to continue teaching.
A Master's in Education degree (M.Ed) is typically for those who wish to teach or in some cases wish to become a principal or specialized person within a school. Those who choose to get Master's Degree in Education are usually teachers who wish to further their career by increasing their level of education, gaining a new specialty, becoming an administrator, or simply gaining more knowledge for their current subject. A Master's Degree in Education can allow a person to teach in the subject area of their choice, become a principal or administrator, work as a school counselor, or even become a specialist in an area such as Reading or Special Education. A Master's Degree in a general subject area can create the title of highly certified teacher in some areas, which often leads to a higher pay scale overall.
<!- mfunc search_btn -> <!- /mfunc search_btn ->
The Degree
MEd Degrees can be in any of the fields that a Bachelor's Degree is available in as well as some extended certifications. This means a Master's Degree can be gained in Reading, Math, Science, Social Studies, Elementary Education, Secondary Education, or any variant in these fields.
Beyond the Degree
Those holding a Master's Degree in Education are often lead teachers, specialists, or in some cases principals or administrators. A lead teacher in an elementary program may help direct other teachers in how to properly handle curriculum or assessments.
A specialist, such as a Reading Specialist, may work with small groups of children or individuals in a classroom to improve reading skills and abilities. A Master's in administration/education could lead to a position as a principal or school leader that handles administrative duties. Many positions, such as teacher or administrator will require a teaching or administrative credential.
Why Should I get a Master's Degree in Education (M.Ed)?
Also, Check out our infographic: What Can You Do Outside the Classroom with a Master's in Education
The biggest benefit to earning a Master's in Education is the opportunity for career advancements. Other than climbing the career ladder, the number of specializations a teacher is qualified to teach can increase. In addition, the likelihood of an advancement in pay scale is high. Specialists in many fields are hard to come by, so a Master's can offer a leg up in the job market.
Master's degrees can come in many different subject areas. In addition to the expected core subjects, someone may also get a Master's Degree as a Reading Specialist, Biology (or other sciences) major, Leadership (administration), and other subject specific areas. A school counselor can also often be accredited at the Master's level in Education.
Requirements for MEd Degree
Certain requirements for a Master's degree in education are fairly common. Some of the most common are: An education or related field Bachelor's degree; An acceptable GPA, typically 3.0 or higher; Letters of reference; and a GRE score (cutoffs vary by program) are often required.
Time
A Master's degree typically takes two years. However, some programs can be accelerated, while others (such as those leading to a teaching certificate) can take up to three years.
Teacher Certification and M.Ed
Many people chose the M.Ed route because they want to earn their teacher certification as well. If an individual has already earned a Bachelor's Degree in a field unrelated to Education, they may choose to take the M.Ed route so that hey can earn their Education degree at the same time as fulfilling the teacher education requirements.
Each state has different requirements for becoming a certified teacher. Find out your specific requirements by clicking on your state on the map below.
Online Master's in Education (M.Ed)
Earning a Master's Degree in Education online is ideal for students who are already employed full time or have families to care for. These programs have become a very popular and reputable way to earn a degree. Many schools offer accredited online degree programs. If you choose the online route, make sure your program is accredited.
Variety of Programs
By earning a degree online you have a wider range of specialty options to choose from, since you will not be limited to your vicinity. Since online classes do not require you to commute to campus, you will able to choose a degree option based on program details rather than geographic location.
Flexibility and Accessibility
Online degrees allow you to fit classes into your busy schedule. In other words, you can work whenever and wherever you want. This allows adult students to keep up with work, family, and other obligations. This option makes schooling more accessible to different types of learners as some students report that online courses are easier to concentrate in because they are not distracted by other students and classroom activity. Another thing to consider is that you will not be required to commute to school in order to attend classes. This eliminates gas costs as well as other fees associated with parking on a college or university campus.
Self-Starter
This type of self-paced learning is very effective for independent learners. With online classes, you are in charge of how much to study and when to study. Many professors will post work and assignments in an online message forum or portal with a correlating due date. When and where the assignment is completed is entirely up to you. Class participation is also quite easier in an online setting. Most of the class "discussions" take place through online message forums. Students will be asked to respond to a series of questions and provide feedback for peers. This way, students are able to revise and control their thoughts as much as they want prior to posting. Professors can easily be reached online when questions arise.
Faster Completion
Online degrees often allow for faster completion as many programs offer accelerated courses. Although these programs may take a shorter amount of time to complete, they may also be more rigorous - as the work load is compacted to fit the tight schedule.
<!- mfunc search_btn -> <!- /mfunc search_btn ->
Other Related Master's Degrees in Education
Click on the links below to expand information on other related master's degrees in education and see details on degree requirements and courses needed.
Master's of Education (M.Ed) Degree Specialties
Diverse Learning / Diverse Education
This specialty is for teachers who wish to differentiate their teaching styles to meet students at every level on a variety of topics. Diverse learners can be those who are not native speakers and learners or those who are culturally different in speech and learning styles. A Master's of Education in Diverse Learning is intended for teachers who want to be considered experts in differentiation or those who are seeking ESL certification or special education certification.
Additional Coursework Expectations
Foundations of Integrative Thought in Education
Differentiating Instruction for Learners who are Gifted
Methods of Teaching Learners with Disabilities
Educational Technology
Those who choose to get a Master's in Education in Education Technology are the same individuals who are likely to use technology often in the classroom. An Educational Technologist, also known as a Technology Integration Specialist (TIS), is most often found showing other teachers how to use technology as a benefit in the classroom. An Educational Technology degree will prepare you not only to use basic programs such as Word, PowerPoint, and Excel, but also design, create, and implement lessons using technology based products such as iPads, Smartboards, and even cell phones.
Additional Coursework Expectations
Technology Integration
Using Technology for Instructional Improvement: Research, Data, and Best Practices
Administration of Technology Initiatives: Planning, Budgeting, and Evaluation
Teaching and Learning in K-12 Virtual Schools
Web-Based Teaching and Learning: Design and Pedagogy
Educational Psychology
A Master's degree in Educational Psychology does not limit a person to the world of school counseling, though this is one area in which a Master's Degree holder could work. An Educational Psychology degree helps students to develop a knowledge base and expertise in the fields of both educational psychology and applied developmental psychology to help children, youth, and families. This type of degree could lead to an office job in which children are the focus as you are under a licensed psychologist or psychiatrist.
Additional Coursework Expectations
Educational Psychology
Child Development
Tests and Measurement
Statistics: Educational Stats
Motivation in Achievement Contexts
English As a Second Language
Becoming an English as a Second Language (ESL or ELL) teacher is ideal for this time. This is a profession that is growing at a much faster rate than other education based professions. An ESL or ELL teacher is often responsible for helping students from different languages and cultures integrate into the school system. This may include working one on one with the student and family over time to ensure a smooth transition into a new language and setting. Visit our career page to learn more about a career as an ESL teacher.
Additional Coursework Expectations
Foundations for Teaching English as a Second Language
Language and Society
Phonetics and Phonology
Curriculum and Instruction
Earning a Master's degree in Curriculum and Instruction is likely to lead to a job as an academic coach. This type of position is for individuals who are not afraid to be leaders in their field. An academic coach is likely to go into classrooms in different schools within a district to teach teachers how to implement new standards, technology, or teaching methods to improve learning and behavior. Curriculum and instruction majors may also be responsible for writing standardized test questions or teaching others to do so.
Additional Coursework Expectations
Curriculum Design
Assessment and Improvement of Instruction
Strategies for Eliminating the Achievement Gap
Reading Specialty
Earning a Master's in Education with a Reading Specialty can lead to a position as a teacher, as a Reading specialist, or as a curriculum coach in many areas. A Reading Specialty may also lead to a position as an ELL or ESL teacher for those who choose to take electives in that direction. A Reading Specialty will require classes in the areas of reading, phonetics, diversity, and methods in order to best serve struggling readers in the classroom.
Additional Coursework Expectations
Foundations for Teaching English as a Second Language
Developing Fluent Readers
Sociocultural Context of Reading Instruction
Potential Course Topics and Research Interests in Education Master's Programs
Designed to expand teachers' knowledge and leadership abilities, Master's degree programs in Education focus on expanding students' capacity for critical reflection, administration, research and writing. Courses do vary by term and from institution to institution, but many master's programs include the following elements in their curriculum:
Critical evaluation of varying models of curriculum design; focus on both theory and practice in order to build and evaluate robust and useful curriculum in today's diverse classrooms
Examination of curriculum policies and educational changes throughout history
Topics in education which may include teachable subjects, literacy and numeracy, adult education, and counseling
Analysis of technology in education, including computer-based learning and pedagogical perspectives, problems and supports for classroom integration, multi-media pedagogy, effects on special education
Practices, procedures, and reporting of assessment and achievement for schools, classroom environments and individual students
Literacy education and its impact on English pedagogy, how it is impacted by social and cultural influences, trends in literacy research, and assessment issues for mainstream, ESL and special education perspectives
English as a Second Language and how teachers may differentiate and instruct for both acquisition and instructional purposes
Skills for a collaborative approach to adult education; how adults learn and reflect on knowledge
Improving practice by examining scholarly, practical and pedagogical perspectives
Promotion of transformative learning in the lives of each student and every classroom
Evaluative approach to learning and cognition and how these elements impact instruction and assessment
Analysis of cognitive processes, motivation, and educational psychology and how they can affect students and the learning of core areas of learning like reading, writing, and mathematics
Definitions and examination of literacy in its various forms, and related instructional supports and approaches in today's diverse classroom
Successful inclusion of people with exceptionalities in the classroom and in society
Critical examinations of the pedagogical support behind teaching literacy skills, including comprehension, study strategies, effective assessment, and foundational skills
Examination of the characteristics of learning disabilities; learning and assessment supports for students with learning disabilities
Examination of research for the study of cognition; elements, supports and applied motivation to aid students in the classroom environment
Survey of theory, practice and development of assessment and evaluation tools in learning
Survey of psychology of motivation for learners and application of the field within the instructional and classroom management framework
Evaluative frameworks for measuring the value of educational programs; balance the needs of students, foundation of the facility, and available resources
Explore the importance of language on learning; how does language acquisition affect the educational environment and cognitive development
Practice and integration of numeracy promotion within the classroom and its effect on science, technology, engineering and math
Example of a MEd Degree Program
One institution that provides a program for Master of Education in Curriculum and Instruction is Arizona State University. Here is some information about their degree program including a program overview, required courses, admission requirements, and tuition.
Arizona State University

Master of Education in Curriculum and Instruction: Literacy Education

Program Overview: This program will help you investigate theoretical and pedagogical perspectives in literacy instruction while preparing you to teach and instruct fellow teachers or students.

Required Courses: In addition to 6 hours of core classes and 3 hours of leadership classes, 21 hours in the area of specialization (elementary or multiliteracies) is also required.

Admission Requirements: In addition to a complete application and letters of reference a single year of teaching experience and previous literacy courses are desired. A GRE score may also be necessary.

Tuition: Tuition for online courses is about $10,000 per academic year for full time students.
Master's Degree in Education Scholarships
Although most states do not require their certified teachers to possess a Master's Degree in Education or a Master's Degree in Teaching, many teachers still choose to pursue an advanced degree. A Master's Degree is a fine way for educators to potentially earn more money and a great way to establish your career as an expert in the field. This higher level degree can positively impact your teaching career in a great way. Not only will teachers with a Master's Degree look more appealing to their employers, they might even receive greater benefits in the form of career advancements.
Many Master's Degrees are quite costly, and a Master's in Education is no different. It is a great idea for graduate students to be aware of the different scholarships and grants available to them. The following are some of the many scholarships that may interest you if you are thinking of earning a Master's in Education.
James Madison Graduate Fellowships
The James Madison Memorial Fellowship Foundation offers $24,000 to individuals who are in the process of becoming educators who teach American Constitution at the secondary school level. The Foundation plans to offer one fellowship to a student from each state, per year. Applicants will only go against other applicants from the same state of their legal residence.
Visit our Scholarships and Grants page to learn more about funding opportunities that are available to you.
<!- mfunc search_btn -> <!- /mfunc search_btn ->
Career Pathways with an M.Ed
Earning a Master's Degree in Education can lead to a variety of careers in education. While some may choose to go into other fields, education will offer the most opportunities for an education Master's degree.
Reading Specialist
A Reading Specialist typically works with one child or small groups of students to improve reading comprehension and ability. Some reading specialists will also work with teachers to help improve the teaching strategies used to teach reading and literacy skills. The reading specialist field is growing at a higher than average rate in all areas. The average pay scale for a reading specialist is between $43,000 - $61,000 yearly, according to the 2021 data provided by the Bureau of Labor and Statistics.
Academic Coach
An academic coach can be found in the private or public sectors and salary will vary widely depending on which area is served. Some academic coaches will work in schools to help teachers learn new techniques and programs that are being implemented to meet current standards. Academic coaches can also be private tutors earning between $13 - $16 hourly. Some academic coaches work with parents to help students get into prestigious preschools. The outlook for academic coaches is above average as the need to meet state standards is increasing. An average salary for an academic coach in the school system will vary by area and can range from $38,000 to $80,000 yearly.
Teacher
A Master's in Education can lead to a teaching position if paired up with teaching certification/teaching credential. In fact many people who choose to earn a Master's Degree in Education are already teaching and are choosing to add a specialization or increase their earning potential. Teaching as a profession has an average job growth rate with an average salary between $43,000 - $61,000 yearly, according to the 2021 data provided by the Bureau of Labor and Statistics.
If you are interested in becoming a certified teacher, read our article on Is Teaching Right For Me?

School Counselor
A school counselor is typically found in a school building, but may also work in a psychology office under a licensed counselor or psychologist. A school counselor will work directly with students and families to solve school related problems or family issues that affect academic success. School counselors average between $37,000 - $77,000 yearly.
Visit our career page on School Counselors to learn more about this career.
What Can You Do Outside The Classroom With A Masters In Education? An Infographic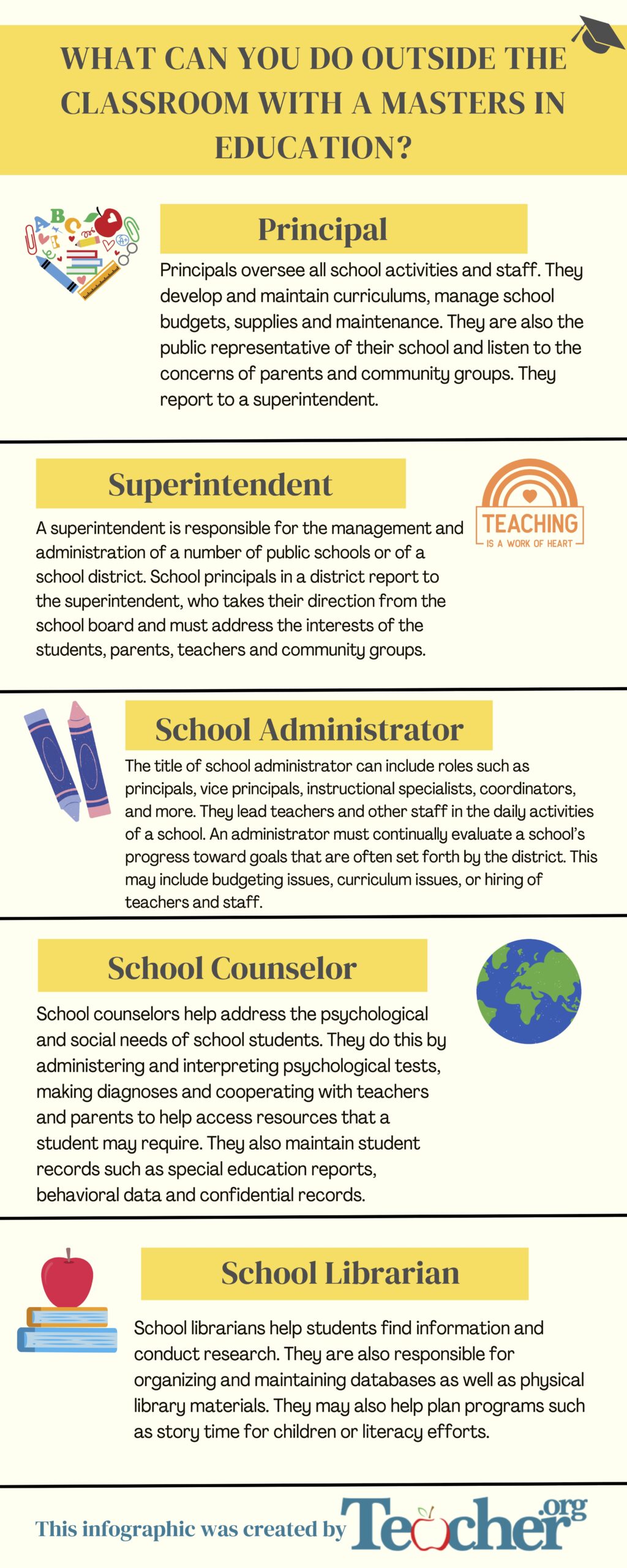 2021 US Bureau of Labor Statistics salary and employment figures for Elementary, Middle School, and High School teachers; Instructional Coordinators; and Educational, Guidance, School, and Vocational Counselors reflect national data, not school-specific information. Conditions in your area may vary. Data accessed March 2023.
<!- mfunc feat_school ->
Featured Programs:
Sponsored School(s)
Sponsored School(s)
All school search, finder, or match results, as well as colleges and universities displayed as "Featured School(s)" or "Sponsored Content" are advertisers that compensate us for placement on this site. The resources, editorial content, and school evaluations published on this site are developed independent of the schools that advertise here.
<!- /mfunc feat_school ->