How to Become a School Administrator
A leader takes people where they want to go. A great leader takes people where they don't necessarily want to go, but ought to be. Rosalynn Carter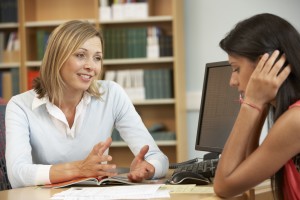 A school administrator can hold a couple of different positions within a school. A school administrator is a term used to describe leaders in a school, such as a principal, vice principal, or other school leaders in an official capacity.
Qualities of a School Administrator
A school administrator needs to be a leader, organized, and committed to the job. A school administrator may be responsible for setting a curriculum, organizing professional development, creating master schedules, observing and mentoring staff, as well as completing office or clerical tasks as needed.
A school administrator is a leader, one who can delegate as needed, but keeps things organized and calm in the case of emergency. The administrator needs to be a boss, disciplinarian, organizer, and leader.
Job Growth
The job prospective for a school administrator are positive with a Bureau of Labor Statistics projected growth of six percent through the year 2028. This is comparable to school principals as the jobs very similar.
What are the Requirements for Becoming a School Administrator?
Becoming a certified school administrator often begins much like becoming a teacher.
Teaching Certificate
School administrators in public schools, and most private or charter schools, must hold a teaching credential and at least a Bachelor's Degree. To gain a teaching degree and certification, you must attend a college or university that has been certified and accredited. Education classes are both general and specific depending on the certification you seek. All education majors will be required to take developmental classes, classroom management classes, and basic teaching courses, but subject and grade specific courses can also be required based on the desired area of certification.
Master's Degree
In most cases, a candidate who desires to become a school administrator must also earn a Master's Degree in educational leadership, school administration, or another form of leadership. A Ph.D or Ed.D in the field may also be desires. In addition, there may be extra classes and requirements you must fulfill if an administrative credential is also requires.
Many School Administrators earn a degree in Educational Administration.
Teaching Experience
Most states will require experience in teaching between 1 and 5 years and a form of shadowing with a principal during master's level courses.
Tests to Pass for Becoming a School Administrator
In addition to the tests needed to earn a teaching certificate, states also require the passing of an administration exam at the level in which you hope to lead. Most states will honor the PRAXIS Educational Leadership: Administration and Supervision exam. However, some states may have their own required exam.
Scores for all proficiency exams can vary from state to state or even between districts, so check cutoff scores for the district you plan to work in. This will allow you to set your standards appropriately prior to the test.
School Administrator by Degree Level
The tables and charts below break down the education level obtained as averaged across the U.S.
What Does A School Administrator Do?
A school administrator completes administrative duties at a school, depending on his/her actual title. This can be as a principal, vice principal, instructional supervisor, or any other position the school deems necessary.
The school administrator may be in charge of discipline, overall school order, master schedules, teacher hiring, firing, and evaluation. A school administrator is in place as an organizational leader and must be professional. The administrator will be expected to attend numerous school events, meetings, and classes, but will also need to attend professional development and school board level meetings as needed. A school administrator must be organized and well-versed in school matters. A school administrator must also be understanding, yet diplomatic when dealing with parents, teachers, and students.
Your office is typically located in or near the main office of the school, though schools each have a unique design. However, you will likely be near the school entrance so you are easily accessible at all times. Becoming a school administrator is a noble task. The job can be stressful and time consuming, but the rewards will be felt for generations. Imagine being able to influence not only students, but current and future educators
School Administrator Jobs & Job Description
School administrator is a title that has different meanings depending on where the job is posted. Regardless, the title refers to a senior or 'management' style of position suitable to those who have advanced degrees and a full professional history. Sometimes principal and sometimes district-level manager, a school administrator's list of job responsibilities often looks like this. School administrators:
Have or are seeking experience as superintendent or other central district office leadership role
Develop, lead and advocate for innovation in education, including curriculum and finances
Generate ideas and solutions to problems and issues
Lead in a collaborative and motivating manner to peers, colleagues, community stakeholders, subordinates, and most of all, students
Communicate effectively with all constituencies
Effectively and economically manage school and district financial steering and current budgetary needs
Have extensive personnel management and leadership experience
Negotiate and manage collective bargaining agreements
Have strategic and operational leadership with an emphasis on strategic alignment to the post-secondary journey
Develop and endorse a culture of evidence-based practice, and ongoing evaluation to measure effectiveness, impact on student learning, success and financial return-on-investment of various methodologies
Engage in ongoing quality assurance and assessment which includes student and stakeholder feedback
Become an educated stakeholder in all aspects of the labour market in order to determine work integrated learning opportunities as well as post-secondary pathways
Partner with and provide leadership, guidance and direction to staff while maximizing staff and department performance.
Develop and implement budgets at the district and school level; provide data and input for budget and financial concerns at the state level
Other duties as assigned by fellow officers, trustees and Director
Strategic planning, development, implementation, and evaluation, as well as operational management, staffing and administration
Work closely with staff and stakeholders to ensure that education-administration roles are accountable and current to the needs of the district
Endorse the partnership of academic departments, schools, consultants and colleagues with other key stakeholders
Provide daily support and mentorship to employees
Foster innovation and productivity as well as excellence in curriculum
Create synergy and cohesion of staff across departmental and school boundaries in order to facilitate professional development, as well as maximize capacity and impact on students.
Resolve workplace issues and challenges to policy
Maintain regular communication and idea exchange with key stakeholders at the school, district, and post-secondary levels
Serve as an ambassador of the district to the immediate community, employer community, councils, and other external stakeholders forging productive relationships at all levels
Function as a last point of reference and leadership for community or family-school dispute resolution
Liaise with district trustees, student trustees and other stakeholders for steering strategic plans to shape district vision and goals over time
School administrators can take advantage of a number of employment avenues. Read on to learn more.
Where Can Certified School Administrators Work?
A school administrator can work as a principal, vice principal, instructional supervisor, or school administrator in any area in which he or she is certified and has received passing scores on necessary exams. This means jobs could be available at the elementary, middle, or high school levels. The schools may be public, private, or charter schools. Choosing a school will in great part depend on the type of certification that you have received, but there are other aspects you may wish to consider.
Public School
A school administrator in a public school must make sure the state curriculum is being taught in an appropriate manner. Though the students are more diverse, it is highly likely that more students will attend any public school. This is due to public school being free for all attendees. The burden of meeting state requirements for public schools also often falls to the school administrator.
Private Schools and Charter Schools
Private schools and charter schools are more likely to have someone in a position that is titled "school administrator", but many of the requirements will be the same as a public school principal. However, there are differences in a private versus charter school. Both schools are usually smaller than public schools, but the private school charges tuition. Both schools have the option to be strict on who attends, teaches, and runs each school. Private schools may also require affiliation with a particular religion or group in order to be hired. Both a private and public schools have more control over curriculum than a public school, but state standards must still be met each year. However, if standards are not met, the school will not lose funding because it is not publicly funded.
School Administrator Organizations & Associations
What is the Salary of a School Administrator?
On average, school administrators in the public sector earn between $70,348 (Payscale.com) and $71,533 (Glassdoor.com) a year. The average salary does not include the almost unparalleled health and retirement benefits. Administrators may be principals, vice-principals, specialists, coordinators, head teachers, among others. Like other teaching roles, private school administrators earn considerably less. Administrators with more education and experience may be able to negotiate a higher salary.