How The Challenges Created By COVID Will Be Good For The Future Of Education
Teacher Talk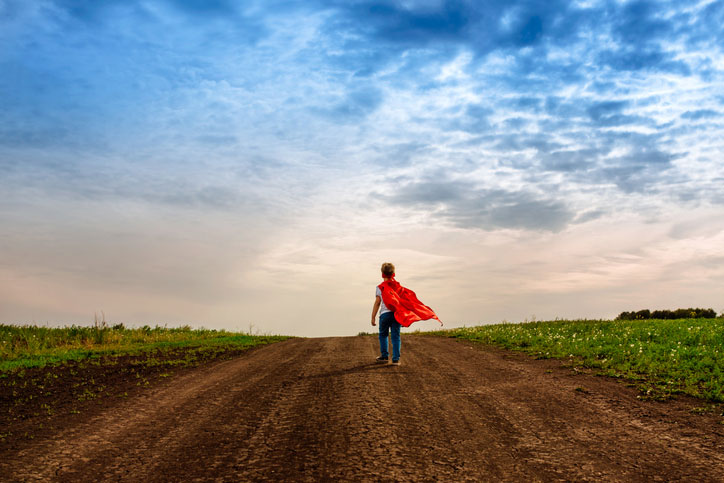 <!- mfunc feat_school ->
24 Future Forward Ideas: Part 2 in a 4-Part Series Exploring Practical Strategies for Better Teaching Based on What We Learned in 2020-21
Part 2: Reasons to Be Positive About the Future...
In part one of this series, we started looking at what it might mean to return to "normal" after a pretty strange and scary school year, and what part of the old way of doing things is really even worth going back to. We were forced to think on our feet last year and adapt on the fly. And the funny thing is, we discovered that a lot of the solutions we came up with worked surprisingly well. So well, in fact, that it's hard not to see many of them as a big step forward.
And as we figured out which aspects of the old processes we should let go of and which of the new ones we should adopt long-term, we also learned a lot about ourselves and what we're capable of.
No matter what we end up facing in the coming school year, one thing is for sure: we need brave educator-leaders with a growth mindset who understand that their words and actions have an impact. We need to lead with a sense of excitement and purpose about the future of education instead of being afraid of it.
"We desperately need more leaders who are committed to courageous, wholehearted leadership and who are self-aware enough to lead from their hearts, rather than unevolved leaders who lead from hurt and fear."

- Brene Brown
It's interesting how the word "fear" has come to define so much during the COVID-19 pandemic. Fear of getting sick, fear of a new variant, fear of proximity to others. Even when our concerns are perfectly rational, living in a state of perpetual fear won't make us any better at teaching, and it certainly won't make us any healthier.
That's why I'm appealing to leaders in education to start thinking about what it means to make decisions from a place of love and hope rather than fear.
What have we learned during the pandemic? I posed this question to educators and parents recently on Facebook. As responses came in from around the country, 24 future forward ideas surfaced that I feel are worth sharing. I laid out the first six of these strategies in part one of this series, and offer up another six here that I hope will help make teachers feel a little more courageous heading into the new school year.
7 - Creative Scheduling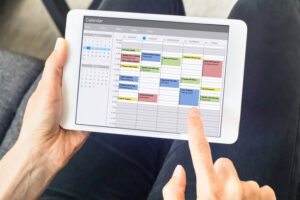 As leaders, we need to avoid falling back into the same old habits and routines when better solutions are available.
Let's start with school schedules. Our current scheduling system follows the factory model of the 19th century. But since we're trying to create critical thinkers and problem solvers, not widgets, there's no smart reason to stick steadfastly to the type of scheduling that was originally designed for factory work.
And as with most things, it all starts with us...we need leaders that are willing to be future forward thinkers, transformational thinkers. That's why I ask all potential leaders, "Do you have enough vision to ask the tough questions?"
In the past year and a half, the concept of scheduling leapfrogged to the forefront of the conversations we were having about what is best for students. Since the pandemic, some leaders have been rethinking this age-old factory style scheduling model.
Caleb Bonjour, parent and current principal at Cardinal Elementary who is in line to be superintendent of Midland Community School District, in Midland, Iowa, brought up a truly breakthrough future forward idea…
"Creative scheduling! When local control was allowed, we could be flexible in how we tackled our hours and we could try new schedules that worked better for kids to learn within, and that allowed staff to collaborate more!"
The whole concept of scheduling was drastically challenged this past year as schools adapted staffing practices and resources to change how education is delivered, and how professional development for faculty gets done. As schools thought about social distancing and the number of contacts each student might incur over the course of a day, educators got creative. There are many aspects of that scheduling that would make a lot of sense to keep going forward, even in a post-pandemic world.
In many states, the biggest change in the way we think about education over the past decade has been related to "seat time" versus proficiency learning. Many states require students to be on campus for a minimum number of days or hours each school year, and some even break it down by minutes. Most schools schedule roughly 180 days of school or a little over 1,000 hours of instructional time each year.
But many schools are now transitioning to a proficiency model where the number of hours is not the primary factor that determines whether students advance to the next level. Instead, their level of proficiency in meeting standards is what drives advancement, and even determines the amount of time they are expected to be in school in a given day, week, or year. When schedules are centered around proficiency and not seat time, personalized learning becomes a bigger focus and the benefits of this are self-evident.
As much as we all love snow days, they have always been a real scheduling nightmare for administrators, but we may have stumbled upon a way to solve that problem too. Does that mean those sweet, surprise days-off are gone forever? They could be if your district is set up with technology, resources, and remote learning protocols.
The superintendent of Park City School District in Montana raises the same questions but worries about internet connectivity, saying "We are now prepared for a virtual snow day, but I need ideas on what to do when the network blips for a minute and everyone stares helplessly at a spinning connection icon…"
The reality is, many places in rural America still don't have the connectivity it takes for this to be a viable option quite yet. And in many urban areas, access can also be startlingly limited for many students. But as accessibility to online resources continues to expand, it's not hard to envision a future where having to schedule the school year around weather events becomes a thing of the past.
We also saw some interesting scheduling changes this past year that affected how students started the school day. And as any educator can tell you, morning routine is something that can have a big impact on school culture.
"I have really loved our soft start. Even though it means I have kids in my room 15 minutes earlier than normal years, I feel more connected to them in their personal lives, and then breakfast is already done so I can start teaching right away!"

-Brooke Knowles, second grade teacher, Great Falls, Montana
This past year, we also saw schools modify schedules around a hybrid model that combines on-site and remote learning. For example, Colstrip School District in Montana is moving to a four and one model: four days on-campus and one day off-campus. On the fifth day when most of the student body is off-campus, the school brings students who need more face-to-face support back to class for focused learning. For future forward leaders, targeted interventions with small groups will be one of the primary reasons for embracing the blended model going forward.
<!- mfunc search_btn -> <!- /mfunc search_btn ->
8 - Letting Blended Learning Become the Norm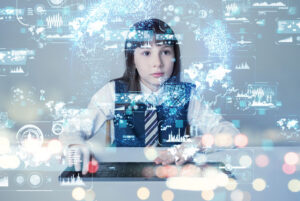 Many districts have been working on blended learning models for the past two decades. School districts that started pushing technology initiatives in the past couple years, such as assigning each student an internet-capable device, found themselves ahead of the game when the pandemic hit. Even before the pandemic, the district I currently work for implemented a 1:1 device initiative in grades second through twelfth.
One of the main goals of our strategic plan has been to fully incorporate blended learning. Providing professional development for staff was vital to this progression. The pandemic really pushed everyone to get the most out of the interactive functionality of our online learning management systems. Being future forward, we believe blended learning is here to stay.
Our school district used two books to help guide us through the process last year:
Blended Learning in Action: A Practical Guide Toward Sustainable Change by Catlin Tucker, Jason T. Green, and Tiffany Wycoff
The Distance Learning Playbook Grades K-12: Teaching for Engagement and Impact in any Setting by Douglas B. Fisher, John Hattie, and Nancy Frey
Our administrative team delved in and these became the ultimate guides for professional development, sparking conversations with staff and inspiring us to continue building a future forward vision.
Doctoral Candidate and superintendent of Dixon School District in western Montana, Crista Anderson, believes her district is on the right track, saying that the answer lies in "... blended learning being the norm, not the exception." Her extensive technology background makes her a future forward leader and her students are enjoying the benefits!
Alicia Sadal, elementary teacher in Fort Worth Independent School District and recent Teacher of the Year award winner, feels that, "...smaller class sizes with blended learning are a game changer." She fully understands the impact of learning for her students when old-school instructional practices are combined with the latest technology tools.
One of the major benefits of embracing technology for students and parents is the nature of curriculum delivery itself. Learning can occur synchronously in a classroom or online with a teacher and peers all at the same time, or it can occur asynchronously at other times when a student is ready or able to fit learning into their own schedule.
Learning that happens asynchronously comes with its fair share of benefits and challenges. It might sound a little reductive, but the biggest hurdle is simply that the student must be learning on their own, doing their work independently when not in the presence of a teacher. This might involve watching a recorded lesson or other recorded content, but actually understanding that content without being able to check in with a teacher can be a real challenge.
But one important benefit is the fact that students can continue to watch and re-watch, read and re-read, listen and re-listen until they understand the content enough to reach a level of self-developed proficiency.
Parents can choose to be a part of the learning right alongside their kids and offer support along the way. As the curriculum director of the Golden Triangle Curriculum Cooperative in north central Montana, Alyssa Cliver recognizes the power of blended learning and more specifically, the power of asynchronous learning. She proposes the future forward idea that all lessons should be recorded so parents and students can access and review them later.
9 - Frequent Brain Breaks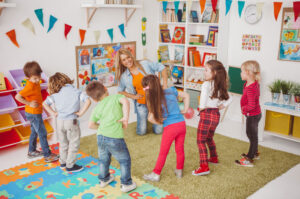 Effective teachers understand the need for movement in classrooms. It's evident through brain research that an active body during learning helps with comprehension, no matter what the topic. Whether that means breaking up the day with a full body workout or PE class, or simply getting up and talking to three other students during a lesson, connecting movement to learning should be a priority.
During the pandemic, classroom instruction in many school districts included brain breaks, which also served as "mask breaks."
In the Corvallis School District in Corvallis, Montana, Jessica Lewis, Middle School Teacher, used mask breaks throughout her lessons. About halfway through her learning block, students would get up and head outside for a quick 2-4 minute socially distanced break without masks. Students could run around, much like recess, and then return to learning.
In total, these breaks may have taken 6-8 minutes of learning time, but in the end comprehension and focus seemed to improve. Seeing how her students responded by being more engaged and connected to her content this year, Lewis said, "An idea to keep for next year is mask [brain] breaks."
10 - Virtual Parent Teacher Conferences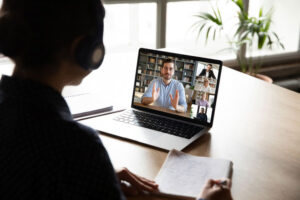 A big win during the pandemic for education has been the ability to connect with parents more than normal. Virtual parent-teacher conferences helped families stay connected with schools. Even while at home, parents were able to talk to teachers and administrators via Zoom or Google Meet.
Inevitably, as students get older, they become more independent when it comes to managing their schoolwork. Just as inevitably, when this happens, parents tend to be less involved in what their kids are doing in school. The participation rate for middle and high school parent-teacher conferences typically decreases as students get older. But one way parents are reconnecting with teachers is through virtual meetings. A parent can be in their home, at work, or even on vacation and still meet with a staff member.
"Zoom conferences for parents - we had a much higher rate of participation this year because parents didn't have to leave work to come to school."

-Stacy Lemelin, elementary principal in Billings, Montana
Sabrina Scott, Great Falls Public School elementary teacher in Great Falls, Montana stated she had the best turnout she has ever had thanks to Zoom. She saw an increase in the number of parents that attended conferences and she felt better connected to families.
Sarah Webber Fryer, a parent of students in the Hamilton School District in Hamilton, Montana, said "Parent-Teacher conferences were virtual, and I know the teachers would love to keep them that way." She was excited that she could do her conference from home and make it work at the times she was available.
Future forward leaders need to keep in mind that virtual meetings provide parents with many conveniences. Alyssa Cliver, put it this way, "Remote parent-teacher conferences are helpful for parents unable to find daycare, get out of work, or who have no transportation."
Even though face-to-face meetings may better foster interpersonal connections, future-forward educational leaders know it's wise to give parents the option to meet virtually.
11 - Making Mask-Wearing Mainstream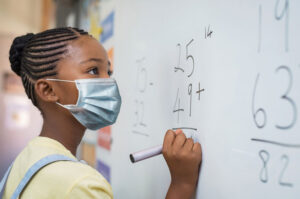 The hybrid model, which combines onsite learning and some remote learning, has become a controversial concept during the pandemic. But like masking and social distancing, the controversy starts to subside as the evidence for efficacy mounts.
One thing I can report in my school district is that all incidents of sickness are down this year. And we're not alone in seeing this. In fact, schools across the nation are reporting the same thing. When pressed, even people who push back against the idea of required masking think it's a good idea for anybody who is feeling under the weather. And the evidence bears this out - even with the common cold, mask-wearing reduces transmission rates.
People need to be able to feel comfortable wearing masks without shame or stigma. It needs to be accepted as a normal, mainstream precaution, even a common courtesy to those around you for anybody that thinks they might be coming down with something. We just can't let a simple tool for promoting health and safety become politicized.
Comments, shaming, or even bully behavior towards someone choosing to wear a mask should be abolished. Similar to any other piece of clothing that someone chooses to wear, masks should be as common as choosing your socks.
"We should be able to consider temporarily requiring masks for those with colds and flu symptoms, while they have those symptoms. The whole school population would be healthier."

-Gar Wood, caring and compassionate grandparent in Loma, Montana
As a future forward leader, I will continue to model tolerance of other people's individual decisions in how they choose to keep themselves safe, which is something I believe has deteriorated amid the politicization of mask-wearing.
We see people in many other countries across the globe wear masks when in crowds and it seems much more accepted. I believe this is a hard concept for Americans, but as more viruses emerge and masks continue to be effective in reducing transmission rates, that attitude is likely to change. I have seen enough to believe that mask-wearing and other cleaning procedures have helped decrease the spread of all illnesses this year.
A future forward leader should be thinking about how to tackle the perceptions, and often misconceptions, of mask-wearing.
12 - Limiting Travel for Athletics and Other Activities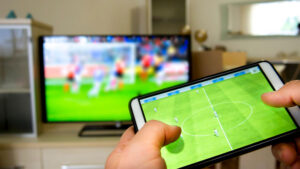 In many states, athletics and other activities have been on hold for over a year. In states where school sports have resumed, adaptations, changes, and accommodations have been made. It can be argued that many of these changes are ultimately better for young athletes and the communities that support these students.
Many schools that were allowed to participate in sports and activities did so by limiting audience participation. Some schools allowed a certain percentage of spectators into these activities according to seating capacity, while others restricted attendance to a set number of spectators per athlete or participant.
Another strategy that many schools employed was to limit their team's exposure by limiting travel. In many districts this turned out to be a major financial savings too.
"There were savings on spending on extracurricular activities because they were scheduled within a closer proximity and some were done via Skype, such as speech and debate. Less overnight trips and more "time on task" for academics."

-Randy Durr, current history teacher and counselor in Worland, Wyoming, and former principal (one of my high school principals) and superintendent in both Montana in Wyoming
In rural states, some students are driving hundreds of miles to compete in other school districts. Though this is common, limiting travel and the absenteeism that comes along with it should be something school leaders consider.
And last year, the solution for people who wanted to watch games without traveling turned out to be fairly easy. Many schools simply moved everything online, allowing spectators to stream games from home. Activities such as music concerts or art exhibitions can just as easily be streamed for family members.
In times of tight school budgets, it's very reasonable to think that these practical solutions will stick around well into the future, long after the pandemic is behind us.
Stay with us through this four-part series as we explore more actionable ideas in the weeks ahead. Do you have any other ideas we missed? Please let us know in the comments below.
<!- mfunc search_btn -> <!- /mfunc search_btn ->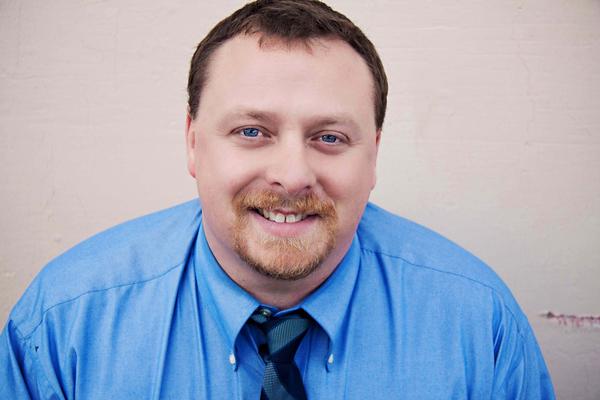 Latest posts by Jon Konen
(see all)