A Slice of Huckleberry Pie At the Crossroads of Public Education
Teacher Talk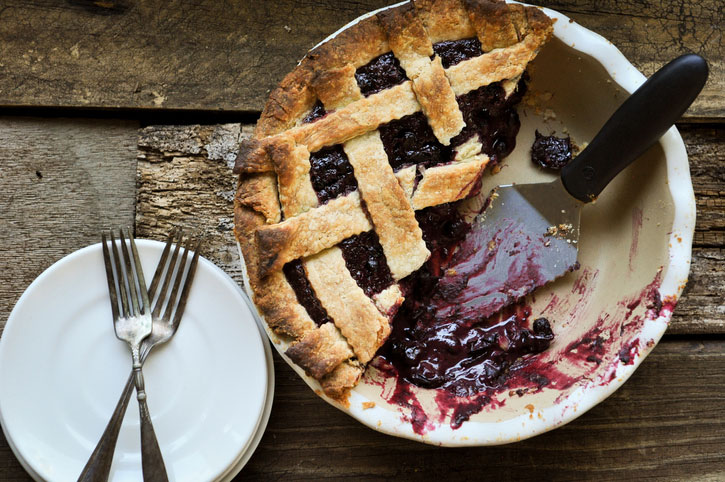 <!– mfunc feat_school –>
FEATURED PROGRAMS
SPONSORED LISTINGS
<!– /mfunc feat_school –>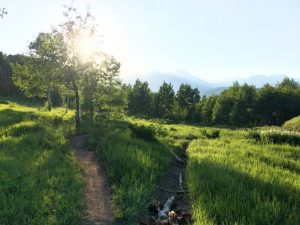 Public education in America is at a crossroads!
We can argue that these crossroads have paths towards public education or private ventures (vouchers, charter schools, etc.). We can argue this differently in every state, and if it hasn't come to your state yet, it will!
There is a scarring division over concerns that it is causing strife in our public education system. We are starting to battle ourselves more than ever before. We are fighting over what it looks like to raise a child in a free and appropriate public education. What is not talked about enough is that your zip code tells more about your school than it ever has before. This is where the battle lies…whether you are part of the "haves" or the "have-nots."
The "haves" live within school districts that are growing, the communities have not been taxed to the bone, and there are accessible resources. The "have-nots" live within areas where growth has been stagnant (or even declined), the communities have been overtaxed, and there is little to no access to resources.
It seems there are so many factors that are dividing our public schools and communities, and many of them have unique circumstances in each school district. Yet, we all have one thing in common…educating our youth.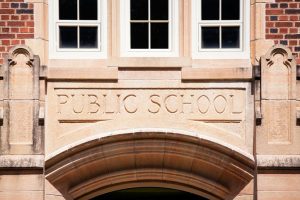 The list of problems and factors are not limited to the following:
Flawed Funding State Formulas
Lack of Resources
Budget Constraints
Lack of Community Support
Low to No Population Growth
Low to No Economic Growth
Consolidation
Reverse Gentrification
Poverty
Trauma
Crime (specifically, drugs)
As educators we try to communicate that it is more than just a funding problem, because it is! Yet, almost every possible solution involves the need for increasing funding (programs, people, initiatives, etc…).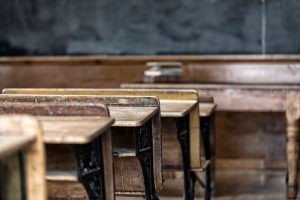 Lack of funding isn't even so much about keeping up with inflation, but we are asking our schools to do more with less. Have you ever seen Jamie Volmer's list of educational responsibilities? The list starts with some of the first responsibilities of public education at the turn of the century in the 1900's. We start to task educators with covering more topics and thus creating new ideals of what public education can do for society. The list then sky rockets after the 1950's as we have continually tasked public education to "fix" or address the issues.
Think about it, we have burdened educators with "fixing" and preparing our students for much more than the three "R's" of reading, 'riting, and 'rithmetic. Can you name some of the other things educators must tackle?
We don't talk enough about the critical issues that are on this list. In fact, many in education do not even know what's on this list and when it became a public priority. If educators and society understood the list, I believe education would be funded much like we fund other areas in our government, like defense.
Let me be straightforward, I am not attacking our military spending, nor how safe we are as a citizen of the United States. I support our troops and our endeavors, but if education was funded similarly, we would not be at these crossroads. When we look to find solutions, I believe we need to fund them respectively.
Most state's funding formulas have been in place for years, if not decades. Some states have taken on and changed their funding formulas by connecting their state's resources to their equation. This seems logical, unless the resources dry up.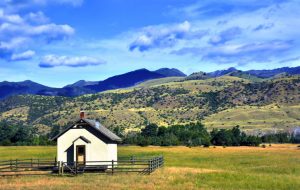 In the state of Montana, where we have oil resources in the eastern portion of the state, timber on the west side, and agriculture all throughout the state, tying these resources to education funding seems complex and antiquated. We need something different. *I have lots of ideas for what we can do in Montana.
My ultimate goal is for education to be THEE priority for our national government, legislators and policy makers. Without it starting at the top, public school systems in the state will continue to fight for dollars like mice fighting for cheese. When this occurs, instead of all of us "have-nots" uniting together, we will fight with each other over these scraps.
The "haves" in education may not see this as a problem…as it may not have directly affected them…yet! When we fight over money in our districts and state, we continue to grow the argument for privatizing public education, increasing the need for a possible voucher system. This will eventually take public dollars from public education, eroding the concept of public education that we've long considered a fundamental right.
Unfortunately, this is already happening in schools and states across America.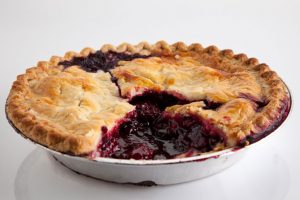 Let's look at it another way and consider the issue in terms that everyone can relate to: pie, and specifically in Montana, huckleberry pie.
When the pie is served and cuts are being made, each piece of pie is sliced thinner with many small pieces being redistributed as priorities continue to change. Much of the change is required in order for the pie maker to meet new unfunded mandates and initiatives from pie regulators. In order for the pie maker to make ends meet, he has to cut the pie into impossibly thin slices, so everyone he's serving continually tightens their belts and makes do with less.
The problem is that the pie maker is out of ideas about how he can make ends meet when serving his guests. Adding to the problem is the fact that the pie itself is now even smaller than before, and the rising costs of making pies has even begun to reduce accessibility to the necessary ingredients. Substituting ingredients becomes the norm, so instead of fresh huckleberries, we are now baking with donated apples, and in some cases doing without key ingredients altogether.
We find that many of the apples have been dropped, bruised, or have even passed through several different stores, getting rejected by consumers along the way. And pie makers don't have a choice as to which apples to use, they must use them all.
The pie is functional, but it is definitely not meeting the current needs of the pie eaters, nor is it equipped to compete with pies around the world where ingredients are abundant. We know that the baker works for the government and he knows there is no more money to infuse into his operation. The pie maker realizes that the government's priority is not pies.
We all understand that we need the correct ingredients to bake a huckleberry pie that will hold its own against the other pies being made around the world.
Simply put…we must unite and make education a priority. We need to choose the pathway less traveled and fund public education like it is our last resort to save it from obliteration. Without unity, I see us continuing to go down the road most traveled, the one on which public education is defunded and torn apart.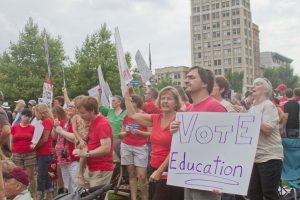 Movements like the National Education Association's RedForEd, get us talking and inspire us to take action nationwide.
We need the "haves" and the "have-nots" to unite and fight for one of our last great public institutions - public education!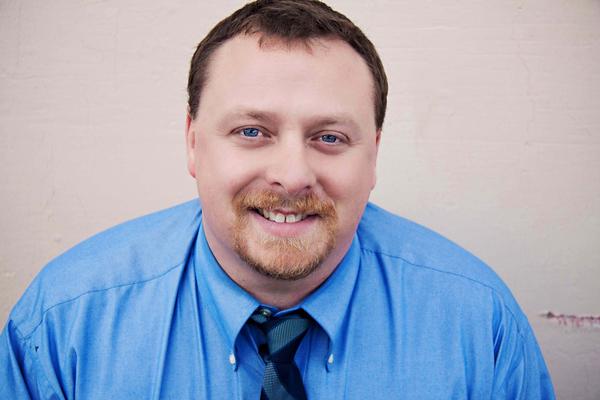 Latest posts by Jon Konen
(see all)