Our 50 Favorite Online Bachelor's in Education Teacher Certification Programs for 2022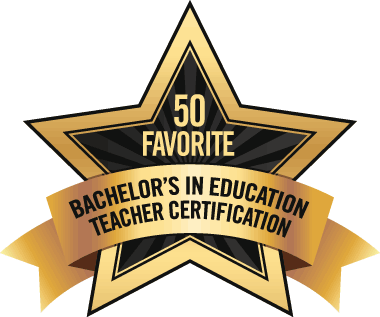 Teacher training has gone high-tech over the past decade.
Online education was happening before the COVID-19 pandemic, but it's definitely mainstream now. There isn't any kind of degree you can't get over the internet today. Even grade schoolers are getting their homework assignments by Zoom. The wave has broken, and virtual instruction is here to stay. For many reasons, remote learning options will become a permanent part of public instruction.
That creates both challenges and opportunities for teachers themselves. You have to adapt to online learning on both sides of the classroom. Not only do you have to be prepared to teach online coursework at the drop of a hat, but you may also find that online courses are the best way to get into that teaching job in the first place.
If you're going to get a strong start as a teacher who is fully equipped for the digital world, it helps to go through some of the best virtual teacher training in the country.
That's exactly what you will find in our 50 favorite online teacher certification programs.
The advantages of online learning are clear:
Flexible attendance options
Low-cost living arrangements
Wider selection of programs to choose from
All you have to do is figure out the right place to apply. So we're giving you a boost by starting you out with some of the very best online ITP options in the country.
One thing you won't find here are cookie-cutter programs. We totally get that every student has a different idea what the perfect program will be. You need to find a school that offers you the right concentrations for your career goals and the right fit for your learning style. There's no single perfect ITP program in the country.
But somewhere on this list may be the perfect fit for you to earn your teaching certification or credentials.
How We Picked Our Favorite Online Bachelor's in Education ITP Degree Programs
All these schools have found different ways into our heart. It's important that you understand how they got here, though.
Never fear! With each listing we tell you exactly what we found that is so special about these schools.
We also give you the kind of nuts and bolts data you need to make an informed decision about whether or not they should get on your short list. That's stuff like:
Just how much on-campus participation is required
What endorsement subjects are offered
Whether or not the school has been specialty accredited
All of the schools have a general accreditation from an accreditor recognized by the U.S. Department of Education. That means they are all accepted by state licensing boards to get you completely street-legal for classroom teaching.
We would have loved to have found at least one school in every state we could include, but with our high standards for online programs, that didn't always happen. Fortunately, there are some states that have more than one great online ITP program that deserves recognition, so we used that to bring it up to a round 50 schools for the list.
You'll find a great variety on the table here. Some are particularly military-friendly. Some have unique concentrations, maybe an arts or music program that is one-of-a-kind. But all of them have a set of features we think are super important in online ITP programs.
Flexibility is The Hallmark of The Best Online Programs
An online program in teacher preparation can be put together exactly the same as the on-campus version. The technology we have today makes it entirely possible to set up live streaming classes and interactive tech so you barely notice you're propped up in bed rather than wedged into an uncomfortable chair in some drafty lecture hall.
But these schools all understand it's kind of a waste to just duplicate the in-person classroom experience with digital tech. Going online creates big opportunities to design ITP programs with more flexibility and power than on campus programs could ever offer.
So you'll find schools here that have innovative offerings like year-round enrollment, or cadre-based progression. Many of them have part-time options that make a great fit for non-traditional students. Others let you accelerate your progress to whatever speed you can command, finishing up your studies months ahead of schedule. Almost all allow time-shifting, so you can complete your work any time of the day or night, any time that works for you.
No-Compromise on Student Teaching Experiences
That flexibility absolutely has to extend to your student teaching experience. That's one part of every teacher training programming that you definitely won't be doing online. It's just too important to get your non-virtual self into a real-world classroom and face the music in front of the kids.
But that creates some obvious challenges when your actual university and instructors are hundreds of miles away.
That's why strong and well-coordinated student teaching experiences are a must. These programs need the flexibility to get you connected with local classrooms for your student teaching, even if your instructors never set foot in them. The magic to put together a plug-and-play supervised student teaching experience is a must-have for a top online ITP program, and all of these schools have it.
Online Extras That Make the Difference in Teacher Training
Students can take for granted all the resources that come built-in to the average university experience. Everything from chilling in the campus student union to those late-night study sessions in the undergrad library take advantage of school infrastructure and services.
Online coursework is different, and it demands even more service and support to make a smooth experience. You need a school with a top-notch Learning Management System, for one, a well-integrated platform that doesn't start tripping over itself when more than three people log on. You want access to all the library materials and resources that on-campus students get. You need 24/7 tech support and IT staff who really know their stuff.
So the schools we've turned up here hit all the marks when it comes to making the online experience equal to, or even better than, the on campus equivalent. From offering special introductory prep classes for online students to hiring instructors with special digital expertise, the extra steps that these schools take in online education make a big difference in your ITP program.
Instructors Who Go The Extra Distance in Online Education
All the bells and whistles in the world don't get you anywhere in teacher training unless you have the right people playing the tune. That's why we look hard at the instructors that run the show in these schools.
You bet we like to see a lot of awards on those bio pages. Strong publications histories and well-attended presentations at industry conferences don't hurt, either. But what really sells it for professors at online ITP programs is the ability to make a strong, fulfilling connection with students online.
It's a special knack and not everyone has it. But when you check out the schools on this list, you'll find they are packed with profs who have the empathy, the pedagogical know-how, and the command of technology ranging from podcasts to digital blackboards to make online classes work for every student. You're not learning from CodeMiko here… real professors make real connections with every student in their virtual classes at these schools.
Highly Respected Schools With Wide Recognition
It's true that we have a lot of solid reasons behind our picks for this list, but hey, don't just take our word for it. The fact is, we're hardly the only ones to sit up and take notice of these schools. When you are this good, word gets around.
So you will also find that plenty of these picks come with sky-high recommendations from outfits like ED Smart and the American Association of Colleges of Teacher Education, or routinely end up on top lists from big-name evaluators like U.S. News & World Report or College Consensus. Of course you can trust every school we have picked, but when our picks are back by other pros in educational recognition, you know they have to be good.
A History of Online Excellence
It might seem to you like online education is a pretty new format in teacher training. In fact, however, remote learning is a field that is more than 25 years old at this point.
That's long enough to take a look at the history of how well online ITP programs have held up over time. And the ones that have made this list have done very well indeed.
The kind of institutional knowledge and instructor expertise that makes an online program special comes through experience. Some of our picks, like Liberty University and Franklin University, were trailblazers in remote learning. Their staff, systems, and faculty have decades of the real-world knowledge in conducting remote teacher training that leads to high-quality education.
Numbers Tell The Story in Strong Online ITP Programs
Everything online runs on numbers. The digital world cranks out data like you wouldn't believe, measuring everything from hours online to average connection speeds.
But the most important numbers in ITP program evaluation are the metrics that come after your online training is over. The schools we picked out have strong, objective data that supports them. High levels of licensure achievement for graduates, job placement rates north of 90 percent year after year after year, and high graduation rates all tell a story here. If a school is putting up strong numbers consistently, they are definitely on the right track to hit our top picks.
State-by-State: Our Top Picks for the 50 Best Bachelor's-Level Teacher Certification Programs for 2022
There are many excellent online ITP programs across the country, but starting your search with these 50 offers a great shortcut to finding the perfect fit for you!