How to Become a Vice Principal
<!- mfunc search_box_nav ->
<!- /mfunc search_box_nav ->
<!- mfunc feat_school ->
Featured Programs:
Sponsored School(s)
<!- /mfunc feat_school ->
The best principals are not heroes; they are hero makers Roland Barth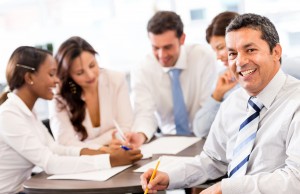 Vice principals, often referred to as assistant principals, work beside school principals to manage the administrative and educational aspect of elementary, middle and high schools. They interact with teachers, students and members of their community. Vice principals deal with disciplinary issues and motivate students to turn away from negative behaviors and encourage positive actions in their students.
Vice principals are heavily involved with administrative tasks and are responsible for carrying out the principal's decisions.
Vice principals tend to work throughout the summer by planning and preparing for the school year. They may also put in additional evening hours by attending community events and functions. Depending on the school district, vice principals must often teach a certain amount of years before moving into their position.
The U.S. Bureau of Labor Statistics expects employment opportunities for vice principals to grow 4% through 2029.
<!- mfunc search_btn -> <!- /mfunc search_btn ->
How do you Become a Vice Principal?
The first step to becoming a vice principal is to obtain a Bachelor's Degree. Most vice principals start their careers as teachers. With that said, they typically hold a bachelor's degree as well as teaching credentials. Both of these are a requirement before one can become a vice principal.
Once you have a bachelor's degree and your teaching credentials, you must gain some work experience. This experience comes from being a teacher. As a teacher, you will have experience in curriculum development, creating a safe learning environment and evaluating student work. All these components are important for becoming a vice principal, because they help individuals understand the teaching field, responsibilities of a teacher and classroom practices. Most states require a couple of years of experience teaching before one can gain licensure as a vice principal.
The next step to becoming a vice principal is to complete a graduate program. Teachers can prepare for this advancement by earning a master's degree in educational leadership or administration. These programs typically take two years to complete. Some of the courses in these programs include administrative leadership, school law, and school finance. Some programs require internships and capstone projects to graduate.
The majority of states in the U.S. require public school vice principals to have a school administrator or vice principal license. To be eligible for licensure the applicants must earn a graduate degree in a related field. Candidates must complete a state licensing exam and complete a practicum requirement under the supervision of a mentor. Specifications and laws will vary by location. Private schools typically do not require licensure but do prefer it.
<!- mfunc search_btn -> <!- /mfunc search_btn ->
Vice Principal Skills and Abilities
Assistant Principals, or Vice Principals, can work in elementary, middle and high schools. Those wishing to become a vice principal must be comfortable in a variety of setting including classrooms, buses, field trips, parent/teacher/faculty meeting and office functions.
A job as a vice principal is fast paced and requires multitasking and leadership skills. This career can be rewarding and highly stimulating as you make sure the principal's vision for the school is implemented properly. As with most other careers, the job can also be stressful.
Daily duties as a vice principal will vary and can include assisting the principal in reviewing new programs, directing various academic activities and planning and coordinating functions. Vice principals also can be responsible for the coordination of student transportation, managing schedules, teachers, staff and students. Other duties may include supervising grounds and facilities maintenance.
Vice Principal Job Description
Technically, the subordinate of the school's principal, the vice principal nonetheless plays a critical role in the smooth functioning of the school every day. The vice principal role in both elementary and high school is largely the same however there are some key differences - below are the tasks that the average vice principal undertakes in their job.
Elementary Vice Principal Duties
Elementary vice principals are responsible for the day-to-day management and caretaking of their school and its students and staff. Elementary vice principals:
Assist with the administration of school functions, ensuring that each classroom has an excellent teacher committed to their success and setting clear standards for student and staff achievement
Prepare students for the next transition - change in school year, graduation to high school or a move to secondary school
Oversee and administer school policies regarding student conduct and discipline
Oversee systems for collecting and tracking data on school progress toward achievement of goals
Give presentations to the community, parents and other external stakeholders on school culture, academics and safety
Organize and facilitate school events that promote connections between the greater community, the school and the school district
Become the point of contact for at risk students who require crisis intervention
Assist teachers, students and parents in the effective creation and implementation of individual education plans and behavior contracts and plans
Develop and facilitate faculty and staff professional development related to school culture and consistent enforcement of student discipline
Recruit, train and retain teaching and non-teaching school staff
Be an active member of the school improvement committee and similar school leadership teams; solve problems for school administration or logistics
Plan short term and long term strategic goals for a school's vision
Perform other related duties as required and assigned by principal and superintendent
High School Vice Principal Duties
Similar to their elementary school counterpart, secondary school vice principals have a multifaceted role in caring for and guiding the school. High school vice principals:
Work with district administrators, superintendents, teaching staff and support staff of schools for students grades 9-12
Ensure the smooth running of schools by coordinating a variety of interests, programs, timelines, facility usage, agendas and budgetary concerns
Promote high academic and personal expectations for all students and staff members
Administer disciplinary measures as appropriate after evidence-based discipline breaches have been observed and due process followed and enforce disciplinary boundaries to maintain a positive and safe school culture
Oversee systems for collecting and tracking data on school progress toward strategic goals
Give presentations to the community and external stakeholders on school culture, academics and safety
Encourage a variety of strategies and materials that match the philosophy of the school and are consistent with research on learning
Notify authorities regarding violence, vandalism, attendance and discipline issues within the school; collaborate with community authorities to the fullest extent regarding these and other safety issues
Adhere to the most stringent ethical and professional standards in order to serve as a role model for students, school personnel, and community stakeholders
Assume responsibility for the health, safety, and welfare of each student the school or its grounds
Provide regular drills for emergencies and disasters, benchmark progress within the school and with community stakeholders and emergency personnel
Oversee the maintenance of and ensure confidentiality of all records, conversations, and information regarding each student
New and experienced vice principals at the elementary and secondary levels have many career paths that they can potentially explore. Read on to learn more.
Where can Vice Principals Work?
Certified vice principals can work in private and public elementary, middle and high schools.
Public Elementary, Middle and High Schools
These schools do not charge tuition and receive funding by state and federal funds. Assistant principals in the public sector will work closely with the local school district as the district with be the agency that controls the curriculum and other regulations. Most public schools have large class sizes made up of students from diverse ethnic and socioeconomic backgrounds.
Private Elementary, Middle and High Schools
Private schools do charge tuition for students to attend. Since there are less government affiliations, private schools are often more self-directed than public schools. Requirements for becoming an assistant principal at a private school may be less than those required of public school vice principals.
Charter Elementary, Middle and High Schools
In the past 20 years, there has been a great influx of new charter schools across the country. Although these schools are free of tuition, they are independently run and usually have more flexibility in their operations. Charter can be affiliated to or independent of the local school district, depending on the school's actual charter petition. These schools are typically held at higher standards in terms of their performance and functionality.
<!- mfunc search_btn -> <!- /mfunc search_btn ->
Vice Principal Salary
The BLS doesn't break out data for the salaries for vice principals specifically, but one could assume that a vice principal's salary would be on the low end of the listed salaries for principals, which is $77,450.
(2021 US Bureau of Labor Statistics salary and employment figures for Education Administrators, Kindergarten through Secondary, reflect national data, not school-specific information. Conditions in your area may vary. Data accessed March 2023.)
Other Students Requested Program Information From: