How to Become a Teaching Assistant
<!- mfunc search_box_nav ->
<!- /mfunc search_box_nav ->
<!- mfunc feat_school ->
Featured Programs:
Sponsored School(s)
Sponsored School(s)
All school search, finder, or match results, as well as colleges and universities displayed as "Featured School(s)" or "Sponsored Content" are advertisers that compensate us for placement on this site. The resources, editorial content, and school evaluations published on this site are developed independent of the schools that advertise here.
<!- /mfunc feat_school ->
Children are one third of our population and all of our future. Select Panel for the Promotion of Child Health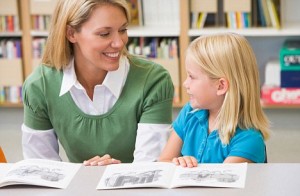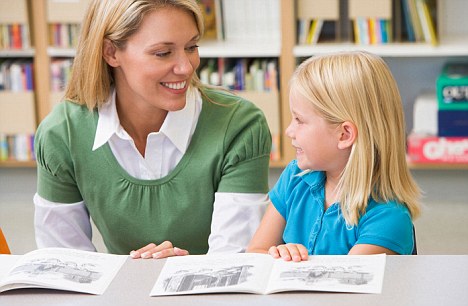 Teacher's aides are called many things depending on the school or district. They can be referred to as teaching assistants, TAs, instructional aides and paraprofessionals.
Teacher's aides are typically found in elementary schools, middle schools, high schools and special education centers. They have many roles in the classroom and often do tasks like attendance, assisting students, grading, leading small group instruction, supervising field trips and preparing classroom materials.
Teacher Assistant Requirements
Teacher's assistants typically have certain qualities that will make them effective in their jobs. These include flexibility while they assist the teacher in their duties, dependability because the teachers will rely on them time and time again and strong communication as they interact with the teacher and students throughout the day. Finally, a love for learning and children because they must value education and enjoy helping and working with kids.
Teaching assistant employment opportunities is expected to grow about 4% by 2029. This growth is expected due to increases in student enrollment in elementary and secondary grades, as well as in child care centers and preschools. The median annual salary for a teacher aide is $27,920, according to the U.S. Bureau of Labor Statistics.
<!- mfunc search_btn -> <!- /mfunc search_btn ->
Teaching Assistant by Degree Level
The tables and charts below break down the education level obtained as averaged across the U.S.
| Degree Level | Percent (%) |
| --- | --- |
| Less Than High School Diploma | 2.6% |
| High School Diploma | 29.4% |
| Some College | 30.1% |
| Associate Degree | 13.8% |
| Bachelors Degree | 19.4% |
| Masters Degree | 4.1% |
| Doctorate Degree | 0.6% |
Data taken from BLS Educational attainment for workers 25 years and older by detailed occupation, 2010-11 (http://www.bls.gov/emp/ep_table_111.htm)
How to Become a Teacher's Aide?
Teacher's aides are not required to have a teaching certificate. However, depending on where they want to work, and in what state, they may be required to have additional training, some college courses or a paraprofessional certificate. Title I schools require all teacher assistants to have proven academic skills and college training. Teaching assistants in these schools must have an associate's degree or a paraprofessional certificate.
Paraprofessional certificates are earned by attending a college or university for 48 semester hours. They must be able to demonstrate knowledge and ability to assist in instruction, reading, writing and math.
What Does a Teacher's Assistant Do?
Teacher's aides have a key support role in the classroom. They work with the teacher to help students succeed in the classroom environment. Some of their responsibilities include helping with standard tasks such as grading, taking attendance, recording grades, making copies and collecting homework. They may be responsible for enforcing classroom rules setting up materials and preparing lessons. The role of a teaching aide will vary depending on grade, needs and teacher preference.
Teacher Assistant Jobs & Job Description
Under the direction of the classroom teacher, special education teacher or school administrative team, teaching aides support students with special needs both in and outside of the mainstream classroom environment. Teacher's assistant roles vary somewhat between the elementary and the secondary level; outlined below are the tasks that each subset of assistant is likely to encounter.
Elementary School Teacher's Assistant
More than a helper, an elementary teaching assistant is an accredited individual who has been briefed on a student's educational needs and academic goals and works to carry out programming goals with the student from day to day. Elementary teaching assistants:
Carry out measures to address student need in the classroom on a focused basis
Act as a point of contact for internal stakeholders, classroom teachers and other students
Understand theories of child and adolescent development and their concrete manifestations in the classroom
Support teachers' programming goals, and teaching strategies while reinforcing students' learning strategies in the classroom
Assist classroom teachers in documenting appropriate assessment data
Engage in professional development on a continual basis
Network in a professional manner with other support staff as the need arises
Engage in active listening with students, parents and other stakeholders
Promote and advocate for the school and district mission and vision statements
Support academic and developmental goals that have been set for students - ensure that data collection is accurate and timely so that every success is measurable
Support the school's culture and practices for inclusion
Conduct all work activities in a professional manner
Demonstrate commitment to working in a diverse school community and/or work environment
High School Teaching Assistant
High school teaching assistants work hard to ensure that students with special needs are able to achieve success in the classroom, with proper programming from teachers, and additional professional support. High school teaching assistants:
Work with students who have physical disabilities, cognitive impairments or developmental delays or those who have behavioral issues that affect learning
Act as a daily point of contact for internal stakeholders and a student advocate
Monitor and document school to work transitioning
Keep rigorous data on accommodation and/or modification and/or alternate programming to classroom tasks
Assist classroom teachers in implementing and tracking alternate teaching and learning strategies, such as roleplaying self-advocacy skills for students
Engage in active listening with students and teachers
Support students as they strive to meet academic and developmental - ensure that metrics are in place so that every small success is measurable
Support the school's culture and practices for inclusion
Conduct all work activities in a professional manner
Certified teaching assistants at the elementary and secondary levels have many employment avenues open to them.
Where Can Certified Teacher's Aides Work?
Teaching assistants can work in private and public preschools, elementary schools, middle schools and high schools.
Public Schools
Public schools are not able to charge tuition because they receive funding by the state and federal government. In the United States, all students have the right to a free education, so public schools tend to be highly populated and have large class sizes with students from diverse ethnic and socioeconomic backgrounds. If you would like to become a teacher's assistant in a public school, you should first inquire with the local district in order to find out the specific hiring requirements.
Private Schools
Becoming a teaching aide in a private school may require less education requirements. Private schools typically charge tuition and are independent of government control. Private schools have the ability to set their own standards for faculty and students. Private schools usually have higher educational standards than public schools and class sizes are usually smaller as is the overall school population. If you would like to become a teacher aide in a private school, contact the school directly.
Charter Schools
Charter schools are a mixture of private and public schools. Although they are public and do not charge tuition, they are usually independently run. This means they have more flexibility and are often times held at a higher accountability for their performance. Charter schools are generally smaller, and may have additional requirements for their faculty and students. If you would like to become a teacher's assistant in a charter school, you will need to contact the school or district directly, depending on the type of charter school (affiliated or independent) you want to work in.
<!- mfunc search_btn -> <!- /mfunc search_btn ->
What is a Teacher Aide's Salary?
A teaching assistant's salary will vary depending on the school he or she works in. However, teaching assistants earn median annual salaries of $27,920, according to the U.S. Bureau of Labor Statistics. At the high end, they can earn more than $43,040, with entry-level teacher's assistants earning $18,940 per year.
Teacher's aides in private schools can earn considerably less than the national averages, though working conditions in the classroom may be more pleasant. Unlike teaching salaries which see a significant annual raise until a maximum is reached, teacher's aides do not. With additional education, many teaching assistants are able to transition to a full-time teaching career, which has a significant impact on their salary.
You can learn more about a Teaching Assistant's salary by visiting our Teacher Salary-What to Expect? page.
(Salary data for teacher assistants reported by the U.S. Bureau of Labor Statistics in May 2019. Figures represent state data, not school-specific information. Conditions in your area may vary. Information accessed March 2021.)