How to Become a School Librarian
<!- mfunc search_box_nav ->
<!- /mfunc search_box_nav ->
<!- mfunc feat_school ->
Featured Programs:
Sponsored School(s)
Sponsored School(s)
All school search, finder, or match results, as well as colleges and universities displayed as "Featured School(s)" or "Sponsored Content" are advertisers that compensate us for placement on this site. The resources, editorial content, and school evaluations published on this site are developed independent of the schools that advertise here.
<!- /mfunc feat_school ->
Libraries will get you through times of no money better than money will get you through times of no libraries. Anne Herbert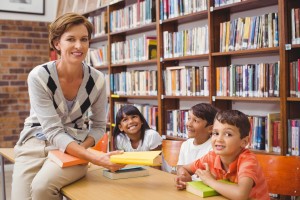 School librarians have the opportunity to pass on a love for reading to students of all ages. School librarians also teach student the fundamentals of using a library and its resources.
Often times, these librarians collaborate with teachers to help them find necessary materials and resources to enhance classroom instruction.
Qualities of a School Librarian
An effective school librarian will love books and love to inspire children to read. They must have effective communication skills and should be able to work well with others.
Depending on the school and budgets, school librarians may work a full time schedule similar to teachers. However, some schools may have part-time school librarians.
Job Growth of a Librarian in Schools
The Bureau of Labor Statistics estimates the employment field for a school librarian to experience a 5% growth from 2019 to 2029. The demand for librarians may be hindered by budget cuts and an increased use of electronic resources, but it's still strong.
What are the Requirements for Becoming a School Librarian?
How to Become a School Librarian
A basic requirement for becoming a school librarian is to hold a bachelor's degree and pass any district-required librarian examinations. However, many school districts require a master's degree and a teaching certificate as well. Sometimes, school librarians may be required to have experience as a teacher before being able to become a certified librarian.
As mentioned earlier, some states may require a master's degree while other states require only certification or licensure. If you are interested in becoming a licensed school librarian, you may contact your state's department of education for specific requirements. Librarians with a master's degree will have more selection in regard to options for employment with other types of libraries. Many school librarians earn a degree in Library Science.
Master of Library Science (MLS)
The Master of Library Science (MLS) is a common graduate degree program for pursuing a career as a school librarian. Those planning on working as a school librarian will need to make sure their chosen program is accredited by the American Library Association (ALA). Graduation from an accredited ALA program is a requirement in some states to work as a school librarian. Master's program classes will usually involve courses in library management, children's literature, and learning technologies.
<!- mfunc search_btn -> <!- /mfunc search_btn ->
Tests to Pass for Becoming a School Librarian
In addition, candidates will need to pass the required exams. The National Evaluation Series (NES) tests can be taken to fulfill the Library/Educational Media testing requirement. In addition, other knowledge tests may be required.
Library Certification from Another State
Keep in mind that numerous states accept library certification from other states. If you have earned your librarian certification in another state, you can check with the local certifying agency to see if you can transfer your certificate.
<!- mfunc search_btn -> <!- /mfunc search_btn ->
School Librarian by Degree Level
The tables and charts below break down the education level obtained as averaged across the U.S.
| Degree Level | Percent (%) |
| --- | --- |
| Less Than High School Diploma | 0.1% |
| High School Diploma | 0.2% |
| Some College | 8.8% |
| Associate Degree | 5.2% |
| Bachelors Degree | 22.0% |
| Masters Degree | 58.7% |
| Doctorate Degree | 4.9% |
Data taken from BLS Educational attainment for workers 25 years and older by detailed occupation, 2010-11 (http://www.bls.gov/emp/ep_table_111.htm)
What Does A School Librarian Do?
School librarians are responsible for organizing and managing collections of journals, books, magazines, newspapers, electronic documents and other data resources. At the elementary school level, librarians may also be responsible for organizing mini lessons, crafts and story time. School librarians will often work with children to help guide them to material of the appropriate reading level.
Throughout all levels, librarians monitor the checking out and returning of books. In addition, they are responsible for helping students find and understand information within the library that they may need. Depending on where they work, school librarians may have their own office where they can carry out administrative tasks.
Job of Librarian in Schools & Job Description
An integral part of every school, school librarians are a knowledgeable resource that encourages literacy, critical thinking and research at both the elementary and secondary levels. While jobs are similar between the elementary and high school librarians, below is a standard list of job duties for each role.
Elementary School Librarian
A fundamental part of teacher programming and literacy, elementary school librarians:
Supervise library technicians, volunteers and student assistants
Empower students to be critical thinkers, enthusiastic readers, skillful researchers, and use information ethically, fostering a love of learning and reading
Collaborate with teachers, specialists, and curriculum consultants for the design and implementation of units and lessons
Provide the leadership and expertise necessary to ensure that the school library program serves the intended purpose
Create an environment where collaboration and creative problem solving work in partnership to pursue education
Facilitate benchmarking the library program to school, state, and national standards
Create a resource-based environment that is conducive to active and participatory learning
Maintain and follow up-to-date district policies regarding materials selection, circulation, reconsideration of materials, copyright, privacy and acceptable use
Encourage instructional technology to engage students and to improve learning,
Collect and analyze data to improve instruction and to demonstrate correlations between the library programs and student achievement
Ensure that support material for curricula include information, media, visual, digital, and technological literacy to support all students
High School Librarian
As students explore the broader field of research, high school librarians form a critical part of programming and analysis. Secondary school librarians:
Participate in planning learning experiences by providing group and individual instruction, assessing student progress, and evaluating activities
Join teachers and other internal and external stakeholders to plan and implement meaningful experiences that will promote a love of reading and learning
Provide leadership and expertise in the selection, acquisition, evaluation, and organization of information resources and technologies in all formats
Ensure equitable access and responsible use of information by developing and maintaining a collection of resources appropriate to the curriculum, the learners, and the teaching styles and instructional strategies used within the school
Cooperate and network with other libraries, librarians, agencies and stakeholders to facilitate access to resources outside the school
Model effective strategies for developing multiple literacies like text, advertising, media, online, etc. Guide software and hardware evaluation for library use
Understand and promote copyright, fair use, and licensing of intellectual property; assist student and teacher patrons with understanding and observance of copyright, fair use, and licensing of intellectual property
Organizing the library's collection of resources for maximum and effective use
Guide students to read for understanding, and for exposure to diversity of viewpoints and genres, and for pleasure
Maximize the efficiency and effectiveness of the school library program
Strategically plan for the continuous improvement of the school library program
Supervise and evaluate support staff, including teaching assistants, computer education assistants, volunteers, and student assistants
Prepare, justify and administer the school library program budget to support specific program goals
Where Can a School Librarian Work?
School librarians can work in a variety of settings including private and public schools.
Public Elementary, Middle, and High Schools
Public schools are free and are not allowed to charge tuition. They receive money from the state and federal government. Local school districts make the decisions in regards to funding, hiring and other rules and regulations. Students in the United States have the right to a free education, so public schools cannot turn away any student that lives within the school district. Public schools are often highly populated and include students from various ethnic and socioeconomic backgrounds.
Private Elementary, Middle, and High Schools
Private schools are independent from government control because they often charge tuition. They are self-directed, and have the ability to set their own standards for faculty and students. Private schools tend to have smaller class sizes and may have higher educational standards than public schools.
Charter Elementary, Middle, and High Schools
Charter schools are a unique combination of public and private schools. They are free, but are typically independently run. They have greater flexibility and are often held at a higher standard for performance and functionality. Charter schools tend to have a small student population and may have more stringent requirements for faculty and students.
School Librarian Organizations & Associations
<!- mfunc search_btn -> <!- /mfunc search_btn ->
What is the Salary of a School Librarian?
School librarians in the public school system earn a median salary of $59,500 per year, according to 2019 data from the U.S. Bureau of Labor Statistics. However, in private schools the average librarian salary is approximately $5,000 to $10,000 less.
Librarians who work in a public school will earn exceptional health and retirement benefits in addition to their yearly salary. Benefits provided to private schools librarians will vary from school to school. Librarians hoping to maximize their annual salary are advised to continue advancing their degree.
(Salary data for school librarians as reported by the U.S. Bureau of Labor Statistics in May 2019. Figures represent state data, not school-specific information. Conditions in your area may vary. Information accessed March 2021.)