How to Become a School Counselor
<!- mfunc search_box_nav ->
<!- /mfunc search_box_nav ->
<!- mfunc feat_school ->
Featured Programs:
Sponsored School(s)
<!- /mfunc feat_school ->
All children should be taught to unconditionally accept, approve, admire, appreciate, forgive, trust, and ultimately, love their own person. Asa Don Brown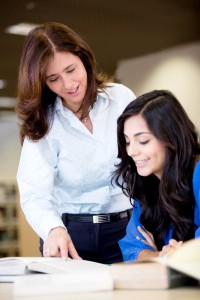 Although School counselors can have many roles, their main objective is to inspire children, support them, and promote positive academic, career, social, and personal development.
School counselors are a vital member in a student's educational team. These individuals assist all students in areas of academic achievement, personal, social, and career development.
School counselors, also known as guidance counselors, have the ability to affect students in very important ways. Counselors help students get through difficult challenges that might otherwise impede a child's success. Helping students survive challenging classes, dealing with personal issues, and peer pressure are some of the challenges that school counselors help students with. School counselors help keep students on the right path both socially and academically.
Qualities of a School Counselor
Effective school counselors must possess several qualities such as exceptional people skills, math abilities, keen observational skills, and compassion. Good communication skills are also a must for school counselors because they must often collaborate with other teachers, parents, and administrators to create success paths for students.
Job Growth and Perks
It is usual for school counselors to enjoy summers off when school is not in session. In addition to the many perks that come with a fulfilling career as a school counselor, there are benefits in regard to job growth as well. The Bureau of Labor Statistics (BLS) predicts that employment of school and career counselors is projected to grow 12 percent from 2012 to 2022.
What are the Requirements for Becoming a School Counselor?
Education and Certification Requirements for School Counselors
If you wish to become a school counselor in a public school, you must possess a state-issued credential to practice. Depending on the state, the credential to practice school counseling could also be referred to as a license or certificate. In order to get this credential, it is typically required to obtain a Master's Degree in School Counseling along with an internship or practicum. The internship must be completed under the supervision of a licensed practicing school counselor.
<!- mfunc search_btn -> <!- /mfunc search_btn ->
In fact, most states require that school counselors possess a Master's Degree in School Counseling or a related field. It is important to note that every state has different licensing requirements for school counselors. However, there are two organizations that provide certification and accreditation options, National Board for Certified Counselors (NBCC) and National Board for Professional Teaching Standards (NBPTS).
Depending on the state, you may even be required to complete one to two years of teaching in a classroom or hold a teaching credential prior to being certified in school counseling.
Across the country, there are over 450 colleges and universities that offer certification and Master's Degree programs for school counseling. Furthermore, many of those colleges and universities offer Ph.D, Ed.D, and Psy.D programs in school counseling and counselor education as well.
A lot of School Counselors earn a degree in Educational Counseling.
Tests to Pass for Becoming a School Counselor
Some states require school counselor candidates to pass examinations prior to becoming certified. For example, candidates in the state of Arkansas must take the Praxis II: School Guidance & Counseling Test.
School Counselor by Degree Level
The tables and charts below break down the education level obtained as averaged across the U.S.
| Degree Level | Percent (%) |
| --- | --- |
| Less Than High School Diploma | 0.8% |
| High School Diploma | 5.0% |
| Some College | 9.9% |
| Associate Degree | 5.5% |
| Bachelors Degree | 26.3% |
| Masters Degree | 47.5% |
| Doctorate Degree | 5.1% |
Data taken from BLS Educational attainment for workers 25 years and older by detailed occupation, 2010-11 (http://www.bls.gov/emp/ep_table_111.htm)
What Does A School Counselor Do?
School counselors help students develop social and academic skills needed to succeed in school and life.
On the Job Duties
These individuals help student cope with and overcome social and behavioral problems through group and individual counseling. Another significant duty of a school counselor is to help students create realistic academic goals and to help students come up with a plan to achieve those goals. Depending on student needs, school counselors may provide counseling in individual or small group settings. It is important for a school counselor to help students develop skills such as time management, study skills, and organization in order to help them continuously reach their goals. Also, school counselors may be asked to organize and deliver lessons or assemblies on topics such as bullying, planning for college, and drug abuse. These type of lessons help school counselors reach a multitude of students at one time.
Reporting Neglect or Abuse
Guidance counselors often have private offices on campus so that they can have confidential conversations with students. Note that if a counselor identifies neglect or abuse, he or she must immediately report the case to proper officials.
Specific duties of school counselors may vary depending on the level of school they work in.
Elementary School Counselor
Elementary school counselors focus on helping young students develop skills that are needed to be successful in their academic and social life - these skills often include study skills and decision making skills. At this level, school counselors often observe students in order to identify any weaknesses, strengths, behavioral issues, and possible special needs.
Middle School Counselor
At the middle school level, counselors usually work with students to help create academic goals. Counselors at this level tend to help student develop skills and strategies needed to help students succeed both academically and socially. Many students go through personal problems which a counselor can help with.
High School Counselor
High school counselors can serve as academic and career advisers. At this level, counselors can guide students to choose classes that are relevant to their interests and career goals. Also, they help students with personal problems that interfere with their success and education.
School Counselor Jobs & Job Description
Student service counselors or school counselors support current and prospective students, applicants, parents, alumni and the general public by providing and presenting detailed information about school and district policy and programs, as well as school pathway information, and post-secondary and career information, accreditation, timelines, and prerequisites. Counselor offices consult and make transactions for students and families regarding admissions, registration, tuition and student fees, student records and transcripts. While jobs do vary, a typical school counselor role looks like this. School counselors:
Create and facilitate effective presentations with groups of prospective students, counselors, teachers and families about school admissions, programs, and post-secondary processes
Provide up-to-date information on programs via presentations on campus and off campus
Present or facilitate information in a variety of educational, professional and community settings
Represent the school and department throughout the community
Respond to inquiries from prospective students regarding programs, extracurricular, course load, admissions, registration procedures, student resources, campus facilities, and additional student opportunities
Use current social platforms to engage and inform students and families
Travel to various destinations for educational fairs, information sessions, and agency meetings to promote the school and its initiatives
Advise students, parents, faculties and school personnel in-person, through email, via policy documents, and electronic platform
Provide individual service on matters related to student finances and determine appropriate financial support. May advocate for student need to school administration
Anticipate student and family needs; proactively respond to requests when possible, providing expertise, professional advice and recommendations as required
Interpret school and district policy, procedures and programs as they pertain to students
Provide one-on-one advisement and information sessions to current and prospective students
Research program requirements, admission criteria and transfer requirements
Continue to develop knowledge of systems, policies, procedures in order to best advise and advocate for students
Exercise professional judgment to best advise students and families
Provide effective and appropriate referrals to other departments when necessary for problem resolution; may act as advocate for student in any circumstance warranted
Process student requests for official transcripts in a timely fashion
Ensure the accuracy of electronic student records; verifies appropriate documentation as required
Explain and assists with financial applications, RESP information, scholarship and bursary applications
Process applications, payments and supporting documentation for admission, readmission, parchment reprints, awards and scholarships
Process payments administered within financial management software
Investigate and resolve problems and/or address concerns and issues from all students on a variety of issues
Maintain contact on issues until resolution; providing the necessary correspondence and contact with student and/or family
Act as an advocate for students in the admission process and a point of contact for records or registration problems to financial committees, schools, and community organizations
Identify at-risk or in-crisis students; proactively and rapidly connects them with the appropriate resources and supports. Acts as student advocate and point of contact in all instances
Help students apply knowledge of their personal skills and learning strengths to develop strategies for success
Help students describe their individual personal-management skills required for success
Teach students how to use personal skill sets in order to maximize learning
Demonstrate through individual meetings the use of management and self-advocacy skills and strategies to enhance opportunities
School counselors can maximize a number of career paths both in the school system and outside of it. Read on to learn more.
Where Can Certified School Counselors Work?
Certified school counselors can work in private and public elementary, middle, and high schools.
Public Schools
Public elementary, middle, and high schools cannot charge tuition. These schools receive funding by state and federal funds. Because these schools are funded by the government, local school districts control the curriculum- not individual schools. The school district also makes many decisions for individual school such as, the allocation of funds, the hiring of teachers, and other rules and regulations. Students in the U.S. have a right to a free education, for that reason, public schools are required by law to allow any student that lives in the district to attend. As a result, public schools are usually very highly populated with large class sizes of students from very diverse ethnic and socioeconomic backgrounds.
Private Schools
Private schools often charge tuition and are independent of the government. In other words, private schools are more self-directed than public schools. As a result of being autonomous, these schools have the capability of setting their own standards for faculty and students. Generally, private schools create higher educational standards than their public counterparts. Class sizes are general small and overall school population is usually far less than public schools.
Charter School
Charter schools are a unique hybrid between private and public schools. Although they are free of tuition, these schools are generally independently run. As a result, charter schools are allowed to have greater flexibility in their operations. These schools are often held to greater accountability for their performance and functionality. Charter schools are usually smaller in student population and might have added requirements for their faculty and students.
School Counselor Organizations & Associations
What is the Salary of a School Counselor?
School counselors earn between $45,738 (Payscale.com) and $54,422 (Glassdoor.com) a year during the beginning stage of their career. School counselors in the public system earn on average $50,000 per year and up to $5,000 less in private schools. Most school counselors have a Masters in Counseling with certification, and undertake continual professional development opportunities. Professional development opportunities are important in order for individuals to stay relevant with education policy, community outreach, mental health, and other areas of their career. Pay is not dependent on professional development, however the addition of a Doctorate Degree may boost compensation.
Salary (2022) and Job Outlook (2012 to 2020) by State
According to the published BLS data from 2022, the national average salary for Educational, Guidance, School, and Vocational Counselors is $64,200, with an estimated 308,000 being employed nationwide. Also, the job outlook growth projection from 2012 to 2020 is expected to increase by 11.9%.
| State | Projected Growth (%) | Avg Salary |
| --- | --- | --- |
| Alabama | 10.9% | $56,510 |
| Alaska | 9.6% | $67,430 |
| Arizona | 21.2% | $54,310 |
| Arkansas | 14.1% | $55,950 |
| California | 12.2% | $81,100 |
| Colorado | 18.7% | $60,790 |
| Connecticut | 13.2% | $71,920 |
| Delaware | 9.5% | $66,310 |
| Florida | 20.2% | $54,290 |
| Georgia | 30.9% | $61,910 |
| Hawaii | 8.0% | $58,220 |
| Idaho | 9.0% | $55,570 |
| Illinois | 8.5% | $60,660 |
| Indiana | 9.4% | $52,120 |
| Iowa | 11.4% | $56,310 |
| Kansas | 14.3% | $54,630 |
| Kentucky | 13.7% | $58,890 |
| Louisiana | 11.9% | $58,740 |
| Maine | 2.8% | $56,980 |
| Maryland | 9.3% | $71,240 |
| Massachusetts | 10.9% | $76,860 |
| Michigan | - | $58,800 |
| Minnesota | 6.7% | $62,780 |
| Mississippi | 14.5% | $50,850 |
| Missouri | 8.1% | $52,590 |
| Montana | 5.8% | $55,130 |
| Nebraska | 11.4% | $64,260 |
| Nevada | 9.3% | $60,550 |
| New Hampshire | 8.2% | $57,640 |
| New Jersey | 5.2% | $76,580 |
| New Mexico | 25.2% | $62,090 |
| New York | 7.4% | $71,160 |
| North Carolina | 14.4% | $52,120 |
| North Dakota | 12.1% | $57,080 |
| Ohio | 12.1% | $68,720 |
| Oklahoma | 9.2% | $52,300 |
| Oregon | 13.8% | $70,740 |
| Pennsylvania | 5.6% | $66,080 |
| Rhode Island | 7.4% | $66,760 |
| South Carolina | 13.4% | $53,100 |
| South Dakota | 5.9% | $48,950 |
| Tennessee | 12.6% | $54,130 |
| Texas | 22.0% | $60,690 |
| Utah | 26.7% | $56,770 |
| Vermont | 6.8% | $63,660 |
| Virginia | 18.1% | $70,020 |
| Washington | 16.9% | $79,180 |
| Washington, DC | - | $67,600 |
| West Virginia | - | $51,220 |
| Wisconsin | 5.2% | $57,770 |
| Wyoming | 13.1% | $60,040 |
Data taken from BLS Occupational Employment Statistics (http://www.bls.gov/oes/) for Educational, Guidance, School, and Vocational Counselors (SOC Code: 21-1012)
Salary (2022) By Largest Metropolitan Areas
| Area | Employed | Avg Salary |
| --- | --- | --- |
| | 990 | $49,350 |
Data taken from BLS Occupational Employment Statistics (http://www.bls.gov/oes/) for Educational, Guidance, School, and Vocational Counselors (SOC Code: 21-1012)