How to Become a Preschool Teacher
<!- mfunc search_box_nav ->
<!- /mfunc search_box_nav ->
<!- mfunc feat_school ->
Featured Programs:
Sponsored School(s)
<!- /mfunc feat_school ->
The best teachers teach from the heart, not from the book. Unknown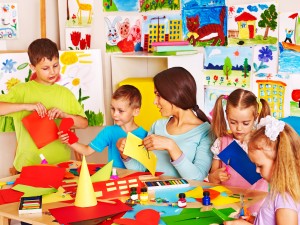 Preschool is one of the only environments in school where the focus is on play and creativity, rather than intense curricular standards.
Preschool teachers use playtime and story time to:
Teach problem-solving skills
Encourage social development
Hone fine motor skills
Qualities of a Preschool Teacher
Preschool teachers need to love children, be patient, and have a nurturing personality.
Their main goal is to participate in a child's growth and development, learn to understand and help their students, and to use a child's natural curiosity to develop a learning plan that is developmentally appropriate.
Preschool teachers need to create an atmosphere where risks can be taken and discoveries can be made all while maintaining a child safe environment.
Job Growth
Employment of preschool teachers has been expected to grow 17 percent between 2012 to 2022. This expected growth is due in part to the continued emphasis on the importance of early childhood education. In addition, there has been an increasing population of children between ages 3 to 5.
What are the Requirements for Teaching Preschool?
The education and training requirements for preschool teachers will vary from state to state.
At the minimum, most preschool teachers will be required to earn certification in first aid and child CPR as well as be able to pass a background check.
Child Development Association (CDA)
Some states require certification through (Child Development Association), if the prospective teacher has not finished their college degree.
The Child Development Associate (CDA) requires prospective preschool teachers to complete specific coursework related to early childhood education as well as relevant experience in the field. Teachers who do not have a college degree or teachers who have a degree in a field other than early childhood education can consider going this route.
Degree Requirements for Preschool Teachers
Head Start preschool programs and public schools require their preschool teachers to have a minimum of an Associate's Degree. Head Start programs must have 50% of their teachers hold at minimum a Bachelor's Degree.
As with public schools, preschool teachers should hold at least a Bachelor's Degree.
Requirements for private preschools may vary. Often times, an Associate's Degree or merely experience will suffice.
When completing a degree in Early Childhood Education, the prospective preschool teacher will take classes related to:
Behavior assessment
Classroom management
Teaching methods
Educational psychology
Methods on reading instruction.
Most education programs will require teaching experiences where the students will work directly in a classroom.
Prospective preschool teachers will be required to take and pass all classes related to their preschool certification and Associate's Degree.
Many Preschool Teachers earn a degree in Early Childhood Education and Child Development.
Preschool Teacher by Degree Level
The tables and charts below break down the education level obtained as averaged across the U.S.
| Degree Level | Percent (%) |
| --- | --- |
| Less Than High School Diploma | 2.0% |
| High School Diploma | 13.2% |
| Some College | 23.8% |
| Associate Degree | 13.7% |
| Bachelors Degree | 33.9% |
| Masters Degree | 12.7% |
| Doctorate Degree | 0.7% |
Data taken from BLS Educational attainment for workers 25 years and older by detailed occupation, 2010-11 (http://www.bls.gov/emp/ep_table_111.htm)
Who Will My Students Be?
Preschool teachers, or Pre-K teachers, educate and care for children between the ages of three and five years old. These are children who are not old enough to enter kindergarten. Working with children in this age group can be very tiring but tremendously rewarding. Typical preschool students tend to be quite active and some may have difficulty communicating their needs effectively.
<!- mfunc search_btn -> <!- /mfunc search_btn ->
What Does A Preschool Teacher Do?
Preschool teachers are responsible for the care and education of children between the ages of three and five.
Curriculum
Their curriculum is focused on a child's conceptual understanding of fundamental education through play and hands on experiences.
Preschool teachers educate their students by utilizing a child's play time and helping them further their language and vocabulary development.
Classroom Structure
Preschool classrooms will have varying levels of structure, but most will include small group lessons and one on one instruction throughout the day by using creative activities like music, art, and dance. Discussion and collaborative problem solving are normal characteristics of a preschool classroom. Many times a preschool classroom will have "centers" set up to give the children ample playtime and learning opportunities. These can include a science, art, music, dramatic play, and block areas.
Preschool Teacher Jobs & Job Description
Contrary to 'child minding' preschool teachers have an important job shaping a child's relationship with others, himself, and the world. Preschool teachers help children build confidence, a sense of importance and inquiry about the world. While jobs do vary from state to state and between institutions, most preschool teachers have the following job traits:
Help students use play as learning
Help students develop their imagination with art, role play, and dolls
Help preschoolers develop better coordination
Help preschoolers have a healthy body weight
Teach students about nature
Help preschoolers master new motor skills
Model emotional regulation for preschoolers
Teach appropriate behaviors in a particular setting
Model understanding and response for behavior
Model clear rules
Model consistent expectations
Use positive discipline tactics
Help preschoolers develop positive relationships with each other and other people in their lives
Undergo pretend play with toddlers to help them synthesize the world
Teach emotional intelligence in a way that is practical and relevant
Teach and model behavior of strong readers and listeners
Show preschool students that reading is fun
Teach preschoolers how to make inferences about a story line
Teach preschoolers about cause and effect in a story
Teach preschoolers how to act in a classroom environment
Model how preschoolers should listen and concentrate in a classroom
Teach preschoolers how to use words instead of behavior to share feelings
Teach preschoolers about routines and activities that are linked to the school day
Teach preschoolers the foundations of literacy and numeracy
Advocate for preschoolers to get adequate amounts of rest
Model healthy food and eating behaviors
Help families identify potential developmental milestones
Help families access resources and supports for child development, should they be required
Assist families in completing developmental assessment at intervals for preschoolers
Undertake professional development whenever possible
Advocate for proper safety equipment - i.e. locks, latches, car seats - and safe behavior surrounding driving, bathing, and sleeping
Praise students to acknowledge their achievements using appropriate words and body language
Work in partnership with families to help preschoolers attain proficiency with life skills like getting dressed, using the toilet, and eating
Conduct all work activities in a timely and professional manner reflecting best educational practices
There are several career paths open for preschool teachers. Read on to discover more information about this field.
Where Can Certified Preschool Teachers Teach?
Preschool teachers work in:
Public and private schools
Childcare centers
Charitable organizations
Although many preschool teachers work the traditional school year consisting of 10 months, some work the full year depending on the school or the program.
Public Preschools
Many public elementary schools have public preschools on the school's campus. Typically, these preschools will be free or reduced for students and will be supported by federal and state funds. Public preschool programs will be governed by the US Department of Education, the state's board of education and by the local school district.
Private Preschools
Private schools will charge tuition for a child to attend. They are typically governed by a private school board or organization. Private preschools are allowed to set their own standards for teachers and students.
If a prospective preschool teacher is interested in teaching at a private school, they should check with the school in which they wish to teach to find out specific criteria. Keep in mind that in order for a preschool to be accredited, they must be recognized by NAEYC (National Association for the Education of Young Children). NAEYC accredits preschools according to health, safety, and education standards.
Head Start Centers
The Head Start program originated from efforts to combat poverty in America by providing children ages three to five years old with a variety of services.
Head Start focuses on the needs of the child and their family by providing health, education, social services, and parent-community involvement in one program.
Funding for Head Start comes from the state.
Preschool Teacher Organizations & Associations
What is the Salary of a Preschool Teacher?
Across the nation, beginning preschool teachers make between $27,455 (Payscale.com) and $32,000 (Glassdoor.com) a year. Preschool teachers generally do not require a Bachelor's Degree to work in public or private daycare environments. On average, preschool teachers who work in the private sector earn less than those who work in a public preschool. Many teachers enter the profession with starting qualifications and work to earn more education while gaining experience in the field of primary education, thus earning more money.
Read more about a Preschool Teacher's salary on our Salary page.
<!- mfunc search_btn -> <!- /mfunc search_btn ->
Salary (2022) and Job Outlook (2012 to 2020) by State
According to the published BLS data from 2022, the national average salary for Preschool Teachers is $38,640, with an estimated 415,360 being employed nationwide. Also, the job outlook growth projection from 2012 to 2020 is expected to increase by 17.4%.
| State | Projected Growth (%) | Avg Salary |
| --- | --- | --- |
| Alabama | 19.2% | $24,540 |
| Alaska | 15.1% | $41,740 |
| Arizona | 30.6% | $33,970 |
| Arkansas | 16.8% | $31,680 |
| California | 4.5% | $48,410 |
| Colorado | 23.2% | $40,680 |
| Connecticut | 14.3% | $38,710 |
| Delaware | 10.0% | $29,730 |
| Florida | 19.2% | $30,990 |
| Georgia | 27.6% | $38,300 |
| Hawaii | 10.7% | $43,570 |
| Idaho | 13.4% | $28,380 |
| Illinois | 3.7% | $37,480 |
| Indiana | 22.5% | $32,220 |
| Iowa | 14.5% | $33,760 |
| Kansas | 16.0% | $40,920 |
| Kentucky | 15.4% | $40,010 |
| Louisiana | 10.0% | $38,170 |
| Maine | 2.0% | $39,110 |
| Maryland | 3.3% | $41,810 |
| Massachusetts | 17.0% | $43,750 |
| Michigan | - | $36,660 |
| Minnesota | 10.1% | $37,960 |
| Mississippi | 15.4% | $27,520 |
| Missouri | 9.3% | $37,580 |
| Montana | 7.1% | $32,750 |
| Nebraska | 11.5% | $42,920 |
| Nevada | 17.1% | $35,030 |
| New Hampshire | 14.8% | $34,690 |
| New Jersey | 3.0% | $45,750 |
| New Mexico | 17.1% | $33,060 |
| New York | 9.5% | $46,420 |
| North Carolina | 23.3% | $31,950 |
| North Dakota | 11.3% | $38,370 |
| Ohio | 17.6% | $31,830 |
| Oklahoma | 12.7% | $35,700 |
| Oregon | 19.0% | $37,730 |
| Pennsylvania | 14.0% | $33,120 |
| Rhode Island | 7.2% | - |
| South Carolina | 16.7% | $33,520 |
| South Dakota | 15.2% | $32,810 |
| Tennessee | 21.9% | $33,940 |
| Texas | 22.5% | $39,620 |
| Utah | 20.8% | $31,370 |
| Vermont | 9.3% | $39,280 |
| Virginia | 19.7% | - |
| Washington | 19.4% | $40,330 |
| Washington, DC | - | $59,110 |
| West Virginia | - | $33,400 |
| Wisconsin | - | $31,980 |
| Wyoming | 14.1% | $31,540 |
Data taken from BLS Occupational Employment Statistics (http://www.bls.gov/oes/) for Preschool Teachers (SOC Code: 25-2011)
Salary (2022) By Largest Metropolitan Areas
| Area | Employed | Avg Salary |
| --- | --- | --- |
| | 9,970 | $52,060 |
Data taken from BLS Occupational Employment Statistics (http://www.bls.gov/oes/) for Preschool Teachers (SOC Code: 25-2011)