How to Become a High School Teacher
<!- mfunc search_box_nav ->
<!- /mfunc search_box_nav ->
<!- mfunc feat_school ->
A teacher is a compass that activates the magnets of curiosity, knowledge and wisdom. Ever Garrison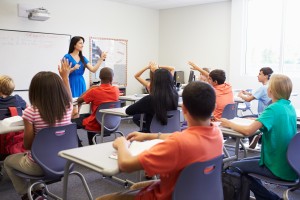 High school teachers are responsible for the education of students between grades 9 to 12. Typically, high school teachers are responsible for teaching a single subject, like English or math. Lessons are taught through classroom discussions, lectures and other methods. Teachers tend to evaluate student progress through coursework, projects and examinations. High school educators have the opportunity to teach memorable lessons and various skills to students that will remain with them in their lives after graduation.
Becoming a High School Teacher
Prospective high school teachers should be able to communicate effectively and frequently with parents, students and other staff members. They must be proficient in their subject matter as well as the administrative and technological aspects of a classroom. Working with teenagers at the high school level can require a great deal of patience. However, this position is also rewarding and satisfying when one sees their hard work pay off through their students' accomplishments.
<!- mfunc search_btn -> <!- /mfunc search_btn ->
What are the Requirements for Teaching High School?
How Much Education Does a High School Teacher Need?
Prospective high school teachers should at least have earned a bachelor's degree. If available, the degree can be in Education or Secondary Education, concentrating in the area the candidate wishes to teach (English, math, science, etc.). Programs vary nationwide and from college to college. In some programs, candidates will major in their subject area and minor in education. Some schools have their prospective high school
Teachers enroll in a secondary education program and minor in the subject area they wish to teach. Other colleges or universities combine teacher training and bachelor's degree coursework. Whether a student is enrolled in a teacher preparation program or education degree, they will be required to complete student teaching.
Many high school teachers earn a degree in Secondary Education or Education.
Tests to Pass to Become a High School Teacher
After a prospective high school teacher has completed their education requirements, they will be required to pass state examinations prior to applying for certification. Requirements for certification vary from state to state, but all typically require the candidate to complete a Basic Skills exam and a Subject Matter Competency exam in the subject they intend to teach. These scores as well as the completion of the bachelor's degree and teacher education program will be submitted with their application to the state board of education.
High School Teaching Degree
In most cases, the completion of a master's degree allows teachers to move up in the pay scale, thus receiving a higher salary. With an advanced degree, many teachers even desire to become coordinators, administrators or department chairs.
Find Information About Becoming a Teacher In Your State
Each state has different requirements for becoming a certified teacher. To find out specific requirements, click on your state.
High School Teacher by Degree Level
The tables and charts below break down the education level obtained as averaged across the U.S.
| Degree Level | Percent (%) |
| --- | --- |
| Less Than High School Diploma | 0.2% |
| High School Diploma | 0.2% |
| Some College | 2.3% |
| Associate Degree | 1.5% |
| Bachelors Degree | 43.4% |
| Masters Degree | 48.3% |
| Doctorate Degree | 4.0% |
Data taken from BLS Educational attainment for workers 25 years and older by detailed occupation, 2010-11 (http://www.bls.gov/emp/ep_table_111.htm)
Who Will My Students Be?
High school teachers will be teaching students in grades 9-12. This means they will be teaching a room of teenagers. Classes may vary including all grades, or some will be grade specific. High school teachers should expect to work with students from all racial and socioeconomic backgrounds. Students at this age go through many changes in their lives, from peer-pressure to changing bodies. With that said, a teacher should be prepared to deal with the associated sensitivities, stresses and excitement that is caused by this period of growth.
<!- mfunc search_btn -> <!- /mfunc search_btn ->
What Does A High School Teacher Do?
High school teachers generally teach students from the 9th through 12th grades. They usually specialize in one subject area, such as math, science or history. They may teach several different classes within their subject area. For example, a high school math teacher may teach courses in geometry and algebra.
High school teachers must be able to communicate with other teachers, administrators, and parents to discuss their students' needs. In addition, teachers should be able to engage students. A good high school teacher will strive to make the curriculum relevant and interesting. Teachers should also be willing to explain and modify difficult concepts in terms that struggling students can understand.
They may teach a variety of different grade levels throughout the day ranging from 9th to 12th grade. Their course work will need to change based on their students capabilities. High school teachers plan lessons, assess students, grade student's work, and prepare students for standardized testing that is required by the state.
High School Teacher Requirements
Educating students from grade 9 to 12 requires the accreditation and license to do so. Most high school teachers have an area of specialty that they are licensed to or prefer to teach. While exact requirements vary from state to state and from subject to subject, all secondary teachers perform the same tasks throughout their practice:
Show a commitment to the development of all students in the classroom
Teach and support student achievement in the subject at hand
Act equitably toward all students, without discrimination and with intrinsic respect
Provide an environment ready for student to learn with appropriate structures and routines in place
Encourage students to be problem-solvers and contributing members of a changing global society now and in post-secondary
Have a deep knowledge of the subject matter, education legislation, Common Core standard and curriculum
Have a 'toolkit' of effective teaching practices geared toward the grade level and subject at hand
Have appropriate visuals, presentations and manipulatives as appropriate
Ensure that tasks and projects carry beyond the school day and require deeper connections with a student's own personal experiences and the broader world
Deploy a variety of effective classroom management strategies geared toward older learners
Practice a variety of assessment and evaluation techniques to ensure that teaching practice is effective
Understand how each individual student learns, and how this can influence academic achievement
Communicate proactively and effectively with fellow-teachers, parents, students and administration
Report at regular intervals on student progress in line with administrative standards
Adapt and improve teaching practice over time through self-reflection, student need and accredited professional development
Use technology in the classroom as appropriate and for administrative purposes
Collaborate with colleagues within the department, curriculum consultants and other learning partners
Engage in ongoing professional development to improve subject knowledge and practice
Understand teacher performance review gradings and strive to remediate gaps in practice
Keep documentation regarding classroom attendance, lesson planning and student behavior
Support staff meetings to encourage goals and operation of the school
Support extracurricular and co-curricular activities to enhance student development and their enthusiasm for collaborative activity as well as the subject matter at hand
Become a community stakeholder as a member of the students' community
Set rigorous academic and time management goals for students to achieve
Praise students to acknowledge their academic development and achievements
Work collaboratively with students and their families to achieve best behavioral and academic outcomes
Work in a professional manner at all times
Assist departmental planning, programming, and curriculum development as needed
Be aware of each students' learning needs; prepare to alter instructional methods to accommodate
Guide activities and learning opportunities by student interest, classroom dynamic, and events in the world
Teach students about influencing social, cultural and historical factors as they apply to classroom subject matter
Be ready to receiving teaching feedback and support from teaching partners and administration
Demonstrate creativity and economy, while maximizing student experience; seek additional sources of funding and materials where appropriate
Be active listeners
Licensed high school teachers have a number of career paths open to them, both in secondary schools, and as tutors and teachers in private schools. Keep reading to learn more.
Where Can Certified High School Teachers Work?
High school teachers often teach in public, private schools or charter schools.
Public Schools
Public schools are free for students and will be supported by federal and state funds. Public schools are governed by the U.S. Department of Education, the state's board of education and by the local school district. School districts will control the curriculum, funding for the program, and the hiring of teachers within the district. Public schools are required to admit any student who lives within the district. High school teachers can work with a diverse group of children from all ethnic and socioeconomic backgrounds. People who want to become public high school teachers often are required to apply directly to the district prior to seeking employment at a specific school.
Private Schools
Private schools will charge tuition for a child to attend as they receive no money from the federal government. These schools are funded solely by tuition and donations. Private schools are typically governed by a private school board or organization. The school board often sets the standards for teachers and students. Many private schools are founded by religious groups. With that said, educating students on specific beliefs is not uncommon. If a prospective high school teacher is interested in becoming a private school teacher, check with the school in question to find out specific criteria.
Charter Schools
Charter schools are independent schools that typically do not require tuition payments from parents. Although these schools have more flexibility than public schools, they are expected to perform better. Charter schools are unique from public schools in that they typically have their own specific "charter" or mission. The charter acts as a school's contract. This will detail the schools mission, vision, curriculum, and goals for performance and assessment methods. In addition, charter schools are typically smaller in size and can be more selective. Keep in mind that charter schools may have additional requirements for how to become a high school teacher.
High School Teacher Organizations & Associations
AAE - Association of American Educators: AAE is the largest national, non-union, professional educators' organization, which works to advance the profession through a modern approach to teacher representation and educational advocacy, as well as promoting professionalism, collaboration and excellence.
NEA - National Education Association: The NEA advocates for education professionals and to unite its members and the nation to fulfill the promise of public education to prepare every student to succeed in a diverse and interdependent world.
<!- mfunc search_btn -> <!- /mfunc search_btn ->
What is the Salary of a High School Teacher?
In 2019, the median annual salary for certified high school teachers was $61,660, according to the U.S. Bureau of Labor Statistics. At the low end for entry-level teachers earned less than $40,540 per year, but experienced teachers in the top 10 percentile of their peers earned more than $99,660.
Certified teachers earn more with each year of experience as well as units of higher education. High school teachers in private schools generally earn an average of $10,000 less a year. However some of the perks of the private system are that parental involvement is high, as is student engagement and achievement. Experienced teachers may earn as much as $11,000 more than their less experienced colleagues.
Find out more about high school teachers salaries here.
(Salary data for elementary, middle-school and high-school teachers reported by the U.S. Bureau of Labor Statistics in May 2019. Figures represent state data, not school-specific information. Conditions in your area may vary. Information accessed March 2021.)
Salary (2022) and Job Outlook (2012 to 2020) by State
According to the published BLS data from 2022, the national average salary for High School Teachers is $69,480, with an estimated 1,042,090 being employed nationwide. Also, the job outlook growth projection from 2012 to 2020 is expected to increase by 5.5%.
| State | Projected Growth (%) | Avg Salary |
| --- | --- | --- |
| Alabama | 4.8% | $55,050 |
| Alaska | 9.6% | $74,870 |
| Arizona | 14.8% | $59,490 |
| Arkansas | 8.6% | $53,080 |
| California | 6.5% | $92,960 |
| Colorado | 12.9% | $62,730 |
| Connecticut | 7.7% | $80,230 |
| Delaware | 3.0% | $68,810 |
| Florida | 11.9% | $63,470 |
| Georgia | 24.8% | $67,520 |
| Hawaii | 4.2% | $60,790 |
| Idaho | 7.0% | $57,780 |
| Illinois | 0.1% | $72,480 |
| Indiana | 9.5% | $58,690 |
| Iowa | 5.2% | $60,490 |
| Kansas | 8.8% | $56,590 |
| Kentucky | 7.0% | $58,160 |
| Louisiana | 6.6% | $54,300 |
| Maine | - | $59,260 |
| Maryland | 5.3% | $73,730 |
| Massachusetts | 4.3% | $82,960 |
| Michigan | - | $66,840 |
| Minnesota | 2.0% | $64,500 |
| Mississippi | 9.1% | $49,770 |
| Missouri | 3.5% | $56,270 |
| Montana | 2.2% | $54,630 |
| Nebraska | 10.0% | $60,250 |
| Nevada | 5.0% | $66,620 |
| New Hampshire | 3.9% | $68,250 |
| New Jersey | 0.4% | $79,460 |
| New Mexico | 19.8% | $62,500 |
| New York | 1.5% | $91,290 |
| North Carolina | 9.5% | $51,570 |
| North Dakota | 10.5% | $56,510 |
| Ohio | 6.3% | $70,320 |
| Oklahoma | 5.0% | $54,810 |
| Oregon | 12.0% | $79,780 |
| Pennsylvania | - | $73,810 |
| Rhode Island | - | $74,640 |
| South Carolina | 7.5% | $55,680 |
| South Dakota | 2.3% | $49,190 |
| Tennessee | 13.1% | $55,920 |
| Texas | 20.5% | $61,210 |
| Utah | 21.8% | $66,290 |
| Vermont | - | $62,320 |
| Virginia | 11.3% | $74,120 |
| Washington | 14.1% | $88,530 |
| Washington, DC | - | $76,540 |
| West Virginia | - | $50,770 |
| Wisconsin | 1.5% | $62,500 |
| Wyoming | 7.6% | $63,730 |
Data taken from BLS Occupational Employment Statistics (http://www.bls.gov/oes/) for High School Teachers (SOC Code: 25-2031)
Salary (2022) By Largest Metropolitan Areas
| Area | Employed | Avg Salary |
| --- | --- | --- |
| | 990 | $74,850 |
Data taken from BLS Occupational Employment Statistics (http://www.bls.gov/oes/) for High School Teachers (SOC Code: 25-2031)