How to Become an Elementary School Teacher
<!- mfunc search_box_nav ->
<!- /mfunc search_box_nav ->
<!- mfunc feat_school ->
Featured Programs:
Sponsored School(s)
<!- /mfunc feat_school ->
Great teachers empathize with kids, respect them, and believe that each one has something special that can be built upon. Ann Lieberman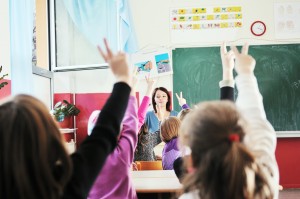 Elementary school teachers have the power to mold young minds and help children find pathways to reach their potential while building confidence. Elementary school teachers are knowledgeable about a variety of subjects including language arts, mathematics, science, social studies and the arts. In order to prepare their young students, these determined educators create lessons across subjects to teach foundational knowledge and skills.
Qualities of an Elementary School Teacher
Elementary school teachers are usually patient, creative, resourceful and good communicators. These teachers must plan lessons that engage students while adapting lessons to the various needs and learning styles of students. Importantly, elementary school teachers must maintain patience when students struggle with new and challenging material. It is imperative that elementary school teachers have great communication skills as they will be required to collaborate with teachers assistants, paraprofessionals, parents, administrators and colleagues on a regular basis.
<!- mfunc search_btn -> <!- /mfunc search_btn ->
Elementary School Teacher Job Growth
A career as an elementary school teacher comes with many benefits, including solid growth potential. According to the Bureau of Labor Statistics (BLS), elementary school teachers are supposed to observe about 4% career growth nationwide between 2019 and 2029.
What are the Requirements for Teaching Elementary School?
Education Degree Requirements
All certified elementary school teachers in the United States must have at least a bachelor's degree and hold a state-issued license or certificate specific to teaching elementary students. However, each state has their own specific licensing requirements.
Licensure can be attained through the completion of a teacher education program that is accredited by CAEP (Council for the Accreditation of Educator Preparation).
Many elementary school teachers earn degrees in Elementary Education, Education or Child Development.
Request Admissions Information From Schools
What Classes are Required for Elementary School Teachers?
Teacher education programs often focus on pedagogy, teaching methods and classroom experience as a student teacher. Teacher Education Programs generally focus their classes around the philosophy of education, teaching methodology, psychology of learning and the use of technology in the classroom. Pre-service teachers learn how to present curriculum to young students, as well as learn how to work with young students of varying abilities and backgrounds.
Although prospective teachers can enroll in a teacher education program after they have completed a bachelor's degree, there are schools that train you to become a teacher as an undergraduate as well. In addition, most states offer alternative routes to becoming (such as internship programs). Some states may require teachers to earn a master's degree after getting their teaching certification.
Blended Teacher Certification Programs
Many colleges and universities offer "joint" or "blended" degree programs that allow aspiring teachers to earn their bachelor's degree and teaching certification simultaneously. However, prospective teachers can enroll in a teacher education program after they have completed a bachelor's degree as well. Most states also offer alternative paths to becoming an elementary school teacher, such as internship programs.
Tests to Pass to Become an Elementary School Teacher
Prospective elementary school teachers are required to take and pass all elementary education content area assessments in order to obtain certification at the elementary school level. These standardized tests vary from state to state. Licensing and competency exams should be taken in the state where you wish to teach.
Find Information About Becoming a Teacher In Your State
Each state has different requirements for becoming a certified teacher. To find out specific requirements, click on your state.
Elementary School Teacher by Degree Level
The tables and charts below break down the education level obtained as averaged across the U.S.
| Degree Level | Percent (%) |
| --- | --- |
| Less Than High School Diploma | 0.2% |
| High School Diploma | 0.3% |
| Some College | 2.9% |
| Associate Degree | 1.9% |
| Bachelors Degree | 44.3% |
| Masters Degree | 46.5% |
| Doctorate Degree | 3.9% |
Data taken from BLS Educational attainment for workers 25 years and older by detailed occupation, 2010-11 (http://www.bls.gov/emp/ep_table_111.htm)
Who Will My Students Be?
Elementary school students comprise vastly different age groups. Students at this level range from the early age of 5 to the brink of adolescence at 11 or 12 years of age. Elementary school includes a broad range of grade levels, depending on the region. In some areas, it goes from kindergarten through fifth or sixth grade. In other areas, it includes kindergarten through eighth grade.
<!- mfunc search_btn -> <!- /mfunc search_btn ->
What Does an Elementary School Teacher Do?
Elementary school teachers usually have a self-contained classroom, meaning they teach their students several different subjects throughout the day in one classroom. Educators at this level are often required to be very engaging and hands-on in the delivery of content. These teachers are required to adapt and modify lessons in order to meet individuals needs of all their students.
Elementary School Curriculum
The curriculum is typically planned around the fundamental subjects of language arts, mathematics, science, social studies, music and the arts. Although the organization and pedagogy can vary from school to school, curriculum usually focuses on building the foundation for a well-rounded education. Normally, the curriculum of public elementary schools are determined by individual school districts. Each school district selects curriculum guides and textbooks which reflect the state's objective learning standards and benchmarks for a given grade.
Elementary School Teacher Jobs & Job Description
Focused on foundational learning, elementary school English teachers are often tasked with introducing students to a number of language strands including speaking, reading, listening and writing. Once mastered, older elementary students are taught the rudiments of literary analysis. Teachers will:
Identify reasons for listening - i.e. to gain information, to interact socially, to follow direction
Demonstrate how to listen effectively
Evaluate student's listening strategies, model more sophisticated strategies as students skills progress
Teach students to check for understanding by retelling a story or text
Teach students to ask meaningful questions about the story
Help students discern explicit and implicit information from the story and non-verbal markers - i.e. vocal intonation and facial expression of the reader
Identify whether a text is fact or fiction
Teach students how to communicate information in a clear manner
Teach students to identify text and literary features
Teach children to read with both fluency and comprehension
Teach children to interpret media texts and discern messages within
Lead students to explain why different audiences might respond differently to a text
Help students produce a variety of texts and media texts
Assist students in demonstrating an understanding of complex oral texts
Help students learn to develop and explain their interpretation of a text's function and ideas by finding evidence in the text
Teach students how to analyze oral and written texts to evaluate how effectively they communicate ideas
Explain to students the value of a literary point of view
Help students identify a wide variety of presentation strategies
Teach students how to tailor their speaking behavior to the purpose and audience
Teach students how and when to use appropriate words, phrases and terminology
Help students create and best use a variety of appropriate visual aids
Teach students how to draft and revise their writing
Teach students the mechanics of editing, proofreading and publishing strategies
Elevate students' knowledge of language conventions in order to correct errors
Work with students to identify the topic, purpose, and audience of a text
Help students generate ideas about a potential topic, and then select the most viable idea for production
Help students learn to identify and order themes, main ideas, and supporting details and group them effectively and cohesively
Help students choose vivid and figurative language to add reader interest
Help students incorporate sentence variety in type and structure
Help students strategize to spell unfamiliar words
Secondary English teachers are responsible for refining students' developing literary analysis and expression and directing them toward a study and appreciation of literature, writing and media. With that goal in mind, secondary English teachers:
Help students identify the purpose of different oral texts
Help students develop several different active listening strategies for both in and out of the classroom
Assist students in learning and using several different comprehension strategies for use before, during and after hearing an oral text
Help students identify important information and supporting points in a text
Help students make connections between texts and the broader world
Help students identify perspectives and biases in texts
Help students refine their oral speaking skills, using language suitable for the intended purpose and audience
Help students use appropriate words, phrases and terminology as well as style during an oral presentation
Help students refine non-verbal cues throughout the text
Help students understand connections between text and personal knowledge and insights
Educate students about different characteristics of text formats and how they can communicate ideas
Teach students to evaluate texts using evidence from within the text coupled with their own reasoning
Help students identify different text features and how they communicate the author's meaning
Evaluate students' understanding of most words in different reading contexts
Teach students to decode texts in order to assign meaning to unfamiliar words
Use strategies to help students expand their vocabulary
Lead students to describe the contributions of poets and authors
Lead students to explore a variety of creative and technical careers with English as a focus
Demonstrate creativity and economy, while focusing on the writing process; seek additional sources of funding and materials where appropriate
Be an active listener
Endorse the mission and vision of the school district and school
Be respectful of the dynamic of a student's school in their home community
Set academic goals for students to achieve
Undergo planned and ad hoc professional development
Communicate proactively and professionally with students and parents about grading, progress and other issues
Support the school's culture and practices through extracurricular and co-curricular activities provide direction where applicable and empower students to become leaders
Praise students in a professional manner for their academic development and achievements
Collaborate with students and their parents to achieve best outcomes
Conduct all work activities in a professional manner
Where Can Certified Elementary School Teachers Teach?
Elementary school teachers often teach in public elementary schools, private schools or charter schools.
Public Elementary Schools
Public schools are free of charge as they are supported by federal and state funds. These schools are governed by the United States Department of Education, the state's board of education and locally by the school district. The school district controls the curriculum, the allocation of funds and the hiring of teachers for each school that resides in the district.
Public schools are required by law to admit any student that resides in their district. As a result, public elementary school teachers generally interact with students from diverse ethnic and socioeconomic backgrounds. Public schools must use state mandated standardized tests to measure student learning. These tests can have a major impact on school assessment and funding. Often times, the test results determine a student's class placement. Prospective public school teachers are often required to apply directly to the district prior to seeking employment at a specific school.
Private Elementary Schools
Private schools generally charge tuition in order for a child to attend. These schools receive no federal funding and are autonomous of the government. Private schools are funded mostly by tuition and donations and usually are governed by a private school board or organization. A number of private schools are religiously affiliated. Many schools were founded by a church or religious group and as a result, educate students based on specific beliefs. Since private schools are autonomous, they are allowed to set their own standards for teachers and students. Although many private school teachers are not required to be licensed by the state, many private schools persist that their teachers hold a valid state certification.
In order to sustain high educational standard, more and more private schools hold to government policy regarding teacher qualification. Some private schools require that a teacher be certified by a program elected by the school. In order to understand specific criteria, check with the school in which you wish to teach.
Charter Elementary Schools
Although charter schools are free of tuition, they are independently run and generally more independent than public schools. Charter schools are granted greater flexibility in their operations as a result of being held to greater accountability for performance. Each charter school has a specific "charter" or petition, which acts as a contract. The charter details the school's mission, vision, curricular program, students served, performance goals and methods of assessment. Charter schools are usually smaller, more selective and may have additional requirements for their teacher.
Elementary School Teacher Organizations & Associations
NAEYC - National Association for the Education of Young Children: NAEYC is a professional membership organization that works to promote high-quality early learning for all young children up to age 8 by connecting early childhood practice, policy and research.
AAE - Association of American Educators: AAE is the largest national, non-union, professional educators' organization, which works to advance the profession through a modern approach to teacher representation and educational advocacy, as well as promoting professionalism, collaboration and excellence.
<!- mfunc search_btn -> <!- /mfunc search_btn ->
What is the Salary of an Elementary School Teacher?
The median annual salary for public school elementary teachers in the U.S. is $60,870, according to the U.S. Bureau of Labor Statistics. At the entry-level, teachers typically earn $39,020 per year, and experienced teachers in the top 10th percentile of all teachers earn $97,900 per year.
Over the course of their career, an elementary teacher's salary comes close to doubling from its initial amount, and earning a master's degree in education can net the teacher in question almost $5,000 more per year. The salary will increase with each new school year and each higher education unit completed. Public elementary school teachers can make on average up to $10,000 more than their private school counterparts.
Here, we have a state-by-state breakdown for elementary school teacher salaries across the country.
(Salary data for elementary, middle-school and high-school teachers reported by the U.S. Bureau of Labor Statistics in May 2019. Figures represent state data, not school-specific information. Conditions in your area may vary. Information accessed March 2021.)
Salary (2022) and Job Outlook (2012 to 2020) by State
According to the published BLS data from 2022, the national average salary for Elementary School Teachers is $68,000, with an estimated 1,394,200 being employed nationwide. Also, the job outlook growth projection from 2012 to 2020 is expected to increase by 12.3%.
| State | Projected Growth (%) | Avg Salary |
| --- | --- | --- |
| Alabama | 11.6% | $53,620 |
| Alaska | 9.7% | $67,980 |
| Arizona | 22.7% | $51,180 |
| Arkansas | 15.6% | $50,610 |
| California | 13.4% | $90,470 |
| Colorado | 20.2% | $59,170 |
| Connecticut | 14.8% | $84,580 |
| Delaware | 9.3% | $64,100 |
| Florida | 22.4% | $59,240 |
| Georgia | 32.8% | $65,070 |
| Hawaii | 11.0% | $63,220 |
| Idaho | 13.9% | $58,890 |
| Illinois | 6.6% | $67,840 |
| Indiana | 9.4% | $54,200 |
| Iowa | 12.1% | $57,720 |
| Kansas | 15.8% | $55,060 |
| Kentucky | 14.0% | $55,650 |
| Louisiana | 13.7% | $51,350 |
| Maine | 0.4% | $60,470 |
| Maryland | 12.1% | $70,660 |
| Massachusetts | 11.3% | $82,690 |
| Michigan | - | $66,130 |
| Minnesota | 2.0% | $64,720 |
| Mississippi | 16.1% | $45,650 |
| Missouri | 10.2% | $56,150 |
| Montana | 8.8% | $60,200 |
| Nebraska | 10.1% | $57,570 |
| Nevada | 11.9% | $60,670 |
| New Hampshire | 10.7% | $63,010 |
| New Jersey | 7.0% | $75,150 |
| New Mexico | 27.6% | $61,890 |
| New York | 8.2% | $89,580 |
| North Carolina | 16.6% | $49,560 |
| North Dakota | 17.5% | $55,530 |
| Ohio | 13.1% | $68,880 |
| Oklahoma | 11.8% | $50,290 |
| Oregon | 12.9% | $79,910 |
| Pennsylvania | 5.3% | $69,700 |
| Rhode Island | 6.4% | $72,720 |
| South Carolina | 14.6% | $54,140 |
| South Dakota | 8.9% | $48,390 |
| Tennessee | 20.8% | $53,030 |
| Texas | 28.3% | $59,790 |
| Utah | 29.4% | $60,030 |
| Vermont | 3.1% | $64,340 |
| Virginia | 18.5% | $72,600 |
| Washington | 18.4% | $85,580 |
| Washington, DC | - | $82,340 |
| West Virginia | - | $49,890 |
| Wisconsin | - | $60,960 |
| Wyoming | 14.4% | $60,580 |
Data taken from BLS Occupational Employment Statistics (http://www.bls.gov/oes/) for Elementary School Teachers (SOC Code: 25-2021)
Salary (2022) By Largest Metropolitan Areas
| Area | Employed | Avg Salary |
| --- | --- | --- |
| | 9,950 | $62,830 |
Data taken from BLS Occupational Employment Statistics (http://www.bls.gov/oes/) for Elementary School Teachers (SOC Code: 25-2021)