How to Become a Principal
<!- mfunc search_box_nav ->
<!- /mfunc search_box_nav ->
<!- mfunc feat_school ->
The greatest leader is not necessarily the one who does the greatest things. He is the one that gets the people to do the greatest things. Ronald Reagan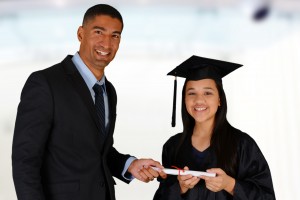 The principal of a school is like the center of a wheel. The principal keeps everything in line and in good working order. The principal is in charge of keeping the school working so that teachers, students, and support staff can function and complete their respective jobs. A principal needs to be a strong leader to staff, a fair hiring agent for new teachers and aides, an advocate to students, and a disciplinarian when necessary. A principal also serves as an intermediate between the county board of education and the school system in which they are employed.
Qualities of a School Principal
The type of person who would serve as a strong principal is one that can multitask daily. This person should be diplomatic in all decisions, but willing to stand up for what they believe is right. A principal should be able to interact professionally with students, parents, and teaching staff. A principal must be motivated and able to motivate. Most of all, a principal should be a leader, not simply a boss.
On the Job Duties
A principal is responsible for the hiring of teachers within his or her school. If teaching elementary school, this involves grade level teachers and aides. Middle and high school teachers are typically larger in number, and subject specific instead of grade specific. The principal is also responsible for observing these teachers in the use of teaching materials to meet curriculum demands. A principal will need to meet with parents to discuss specific concerns with students, interact with the student body, and handle any emergency issues that arise in the school. The principal must also establish personal development activities for teachers, while setting school standards and a way in which to meet those standards. These are the overall duties of a principal, but daily duties are also present.
Each day a principal is responsible for keeping a school safe and running smoothly. A principal may be needed to perform duties that are also performed by teachers, such as lunch duty, recess monitoring, hall duty, or on occasion, covering a class while a teacher is in a meeting. A principal also has the daily duty of dealing with any discipline issues in the school, while making overall decisions that could affect the entire school.
Job Growth
Though being a principal can be a difficult experience, it can also be rewarding. Principal jobs can lead to positions in the school board or in specially appointed positions in other school districts. Principal jobs are expected to show a six percent growth overall through the year 2022. This may vary slightly by area, but is promising within the job market.
Other Students Requested Program Information From:
What are the Requirements for Becoming a Principal?
To become a principal, one must begin on a path very similar to that of becoming a teacher.
Education Requirements for School Principals
Teaching Experience
Typically, a school principal will be required to have one to five years of experience teaching in a specific subject area or general grade level. This means that a principal must have valid teaching certification along with at least Bachelor's Degree.
Master's Degree and Administrative Credential
The great majority of principals will also need a Master's Degree in education, educational leadership, or in educational administration. Along with the higher level degree, principals will also need to earn administrative credentials through their state. Each state can create their own requirements beyond the basics of a degree, so check with the local district before making definitive plans.
If you do choose to become a principal, you will first go through classes just as a teacher. Classes will focus on development of children, classroom management, and teaching techniques for your area of study. You will be required to complete observation hours, student teaching, state level testing, and a portfolio. After gaining experience as an educator, you may then be required to complete an administration degree or leadership degree at the master's level. This degree will require classes in leadership, school administrative duties, best practices for a school, and in many cases, interviewing skills and techniques. An administrative degree usually requires the equivalent of student teaching performed with a current school administrator.
Many Principals get a degree in Education Administration.
Other Students Requested Program Information From:
Tests to Pass for Becoming a School Principal
The administration level tests are much like teacher proficiency exams, however they focus specifically on administrative elements (budgeting, applicable laws, leadership skills, etc.). A test is available at all levels, elementary, middle, and high school. Scores for such tests are set by the state or district and can vary from area to area. Some districts will allow a principal to be hired with a Master's Degree in any form of leadership, but the basic teaching degree and certification are required.
Find Information About Becoming a Teacher In Your State
Each state has different requirements for becoming a certified teacher. To find out specific requirements, click on your state.
What Does a Principal Do?
Becoming a principal is a highly important job that can affect the lives of many throughout the length of the career.
A school principal has to be organized to create master schedules, keep records organized, and manage all the people and problems that can occur. A principal is able to handle all concerns for teachers, parents, staff, and students in a professional manner. A principal must be organized and tireless as they are expected to arrive early and leave late each day, attend nearly every extracurricular activity, and monitor teachers each day.
A principal must wear many hats. He or she must be a moderator, disciplinarian, boss, leader, organizer, cheerleader, and teacher. If it occurs in a school, a principal must be willing to do the job or, in the least, be involved. A principal has the opportunity to make huge changes for a school overall and for individuals within that school and community.
A principal is a school employee, just as a teacher, however the hours and work dates are much different. A principal does and should plan to work much of the summer and long hours during the school year. The job is difficult, but the rewards are priceless.
A principal can expect to work in a school setting, typically in an office that is central to the school. The school can be elementary, middle, or high school and can be a public, private, charter, or alternative school. School principals should be present within their schools so others have a leader to look up to and appreciate.
Principal Jobs & Job Description
Principals across the United States are chosen because of their leadership ability. They are proactive, multidimensional collaborative leaders in education. A principal's management, communication and direction creates and sustains school and system cultures that improve student learning and personal development. Jobs do vary, but below are listed the most common traits of principalship in both elementary and secondary schools.
Elementary School Principal
Similar to their high school counterpart, elementary school principals have a multifaceted role in caring for and guiding the school. Elementary principals:
Are in charge of managing public and private schools for children from preschool to grade 8
Work with district administrators, superintendents, faculty and staff
Ensure smooth running of schools
Set teacher, schoolwide and student performance goals
Hire and evaluate teaching and support staff
Visit classrooms
Prepare budgets and timelines
Care for building, facilities, materials, and supplies
Understand the role and perspective of a classroom teacher from experience
Present school, students, and events to the wider community
Advocate on behalf of school, students and events to community and parents
Seek funding where appropriate
Seek professional development on a planned and ad hoc basis
Facilitate communication between internal stakeholders
Become skilled in conflict management in educational settings
Understand and apply the principals of educational leadership and school law
Supervise and work effectively with licensed staff members, custodial, cooks, clerical, support and additional professional staff
Observe and mentor teaching staff
Steer school goals to match the district's mandate
Maintain a standard of student behavior that underlies classroom policy and management
Maintain relations with community stakeholders and professionals
Orient new personnel and visitors to the school
Resolve student behavioral problems on school grounds, enroute to school, and within the community
Make best use of all available school facilities for best learning practice and economy
Administer the collection, retention, transfer and destruction of business and educational documents including student records
Administer and oversee school improvement efforts
Facilitate and advise on the needs of special education population and student testing
Have a working knowledge of student demographics, attendance and grades
Coordinate Title I logistics, grant applications, and No Child Left Behind requirements
Report to and receive direction from the superintendent regarding other duties
High School Principal
Similar to their elementary school counterpart, secondary school principals have a multifaceted role in caring for and guiding the school. High school principals:
Manage public and private schools for children from grade 9 to grade 12
Work with district administrators, superintendents, faculty and staff
Ensure smooth running of schools by coordinating a variety of interests, programs, timelines, facility usage, agendas, and budgetary concerns
Promote high academic and personal expectations for all students and staff members
Enact disciplinary measures as appropriate after evidence-based discipline breaches have been observed and due process followed
Manage, evaluate and supervise clear procedures for the operation and functioning of the school that are in line with the mission and goals of the school and district
Manage instructional programs, extracurricular activities, discipline, building maintenance, program evaluation, personnel management, office operations, and emergency procedures systems to ensure a safe and orderly climate.
Comply with laws, board policies and civil regulations
Supervise the school's instructional programs, including observing teachers and classes in addition to teaching as time permits
Encourage a variety of strategies and materials that match the philosophy of the school and are consistent with research on learning
Ensure a safe, orderly environment in which students are responsible for their behavior and which creates high morale among all stakeholders
Notify authorities regarding violence, vandalism, attendance and discipline issues within the school. Collaborate with community authorities to the fullest extent regarding these and other safety issues
Establish a professional rapport with students and with staff that commands respect
Adhere to the most stringent ethical and professional standards in order to serve a s a role model for students, school personnel, and community stakeholders
Demonstrating the importance and relevance of learning, accepting responsibility, and demonstrating pride for one's chosen profession
Notify authorities, appropriate personnel and agencies when there is evidence or suspicion of substance abuse, child abuse or neglect
Advise the district's administration of employees not meeting their contractual agreement
Collect data regarding the needs of students and research programs to meet these needs
Operate under a collaborative approach for school improvement
Oversee an effective inventory system for all school supplies, materials and equipment
Maintain an attractive, organized, functional, healthy, clean, and safe facility; pay special attention to those factors that directly enhance the learning experience
Assume personal and administrative responsibility for the health, safety, and welfare of each student, employee and visitor to the school or its grounds
Develop clearly understood emergency procedures; provide regular drills for emergencies and disasters
Maintain a master schedule and timeline for the school year in order to make best use of facilities and resources
Establish a policy and schedule to supervise students in non-classroom areas, including before school and after school
Become a point of friendly contact with students, teachers, parents and community officials
Communicate in a proactive fashion with parents and members of the community, creating a cooperative relationship to support students
Hone presentation skills to effectively address students, staff, parents, and the community
Complete all records and reports as requested by the district
Maintain and account for all student funds and monies collected via the school for extracurricular activities
Communicate with district stakeholders and administrators about the requirements, successes and general operation of the school
Oversee the safe accrual, transfer, storage, and destruction to maintain the integrity of all public and confidential school records
Ensure that student records are complete and current; ensure confidentiality of all records, conversations, and information of each student at every level
Attend all required staff and committee meetings for organizations within the school and in partnership with the community
Perform any duties that are within the scope of employment and certifications, and as are directed by the superintendent officers
Provide and oversee supervision of a safe recreation and play space for students on school grounds
Elementary and high school principals can take advantage of a number of employment avenues. Read on to learn more.
Where Can Certified Principals Work?
A licensed principal can work in any school and at any level in which they have certification. Depending on the choice of school, the principal can expect different things.
Public Schools
This can include public schools, which offer a free education for all students at all levels. In public schools, the curriculum is organized the district. Public schools usually have a very diverse student population. A public school is likely to be much more diverse in social economic areas as well as ability levels.
Private Schools
Private schools on the other hand, are not free to attend. There is a set tuition that needs to be paid for each student to attend. However, the curriculum is chosen by the school. Private schools tend to bring a more affluent clientele, but could require religious or group affiliations.
Charter Schools
Charter schools are another option. Charter schools are usually free and linked to the public school system, but have the option to accept or reject students based on the school's set of criteria. However, a charter school may be held to much higher standards in the public eye because of the sources of funding.
What is the Salary of a Principal?
Principals in the United States earn between $84,760 (BLS.gov) to $84,528 (Payscale.com) during the beginning phase of their career. This does not include the great health, retirement, and pension benefits. The salary will increase with each year of experience. By contrast, principals in the private sector may earn considerably less. Principals with more professional or educational qualifications may be able for a higher salary. A move from one district to another may also facilitate a raise in salary.
School Principal Organizations & Associations
Other Students Requested Program Information From: