Professional Learning Communities: Creating and Sustaining Bonds to Bring the Best Out of Every Teacher
Teacher Talk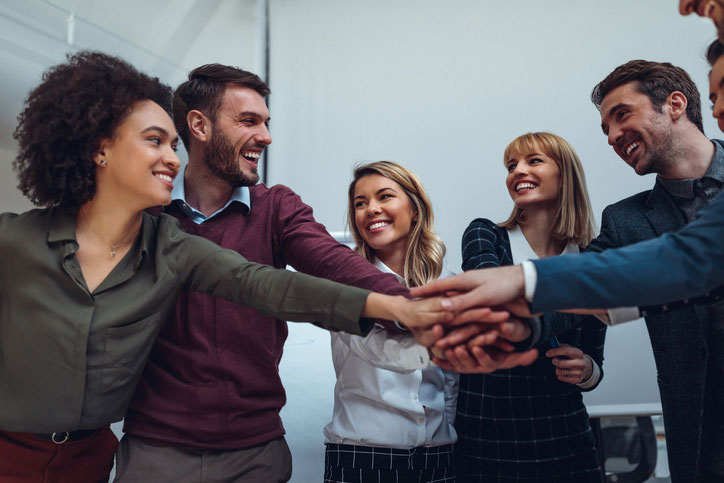 <!– mfunc feat_school –>
FEATURED PROGRAMS
SPONSORED LISTINGS
<!– /mfunc feat_school –>
My dryer died today.
It was unceremonious, from what I was told. It just quit in all its fold and fluff glory.
The very thought of this betrayal hurt.
It is only three years old. It has no gadgets, no bells, no whistles. It's plain stock white.
I wipe her down weekly. We make sure the lint trap is emptied after every single load. we even go so far as to occasionally use apple cider vinegar on the lint trap's screen to keep it clean.
Why go to all this trouble to nurture an appliance?
Easy. I lived for a year without a washer or dryer.
Yeah, that sounds whiney and pretentious, but really, in our modern era, a full set of appliances-at my age, anyway-feels like an American's basic right.
A "Wrinkle" In Time

Get it? Laundry. Wrinkles.
Okay, anyway….
In my 20's, I did my share of quarter-dropping into the metal grabby-arms of the push-in pay washers. I dropped loads of shiny dimes into large tumble dryers at the Thrifty Fold.
When my husband and I bought our first house in 1986, we were blessed enough to be able to go buy our very first washer and dryer at Sears. The Kenmore name had a legendary reputation for quality.
Those bad boys ran without a hitch for the next 18 years, and I can promise you that they were not treated with the love and respect they deserved.
They washed load after load of cloth diapers, baby clothes, blue-collar working man's clothes, play clothes, sports uniforms, Scout uniforms, and all types of clothing in-between. Rugs, comforters, sheets, towels…even shoes!
Unfolding the Problem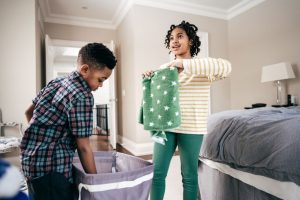 Laundry. Folding. Are ya with me?
When I learned the news of my appliance's failure, I knew that not only did it mean that I was going to the dreaded laundromat, but it also meant that I had to haul heavy loads of wet laundry from the house to the local laundry mat.
Frankly, I'm lazy.
I did not want to haul.
I did not want to go.
I especially did not want to wear anything other than pajamas for the rest of the day after arriving home from work as a Special Education Teacher.
I mean, once the bra comes off, it's off for good
However, my wonderful husband had already washed three loads of laundry.
I figured since he prepared a great dinner and tidied up the house, the least I could do is go dry them.
And so it goes, off I went…still fully clothed.
Livin' La Vida Laundry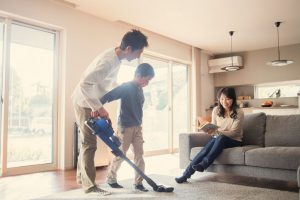 A washer and dryer in the home is a luxury we don't even think about until it's unavailable to us.
It's a lot like losing power after a bad rainstorm. There's no thinking about flipping on the lights or firing up the stove-until you can't.
Suddenly you're faced with the notion many of us today find incomprehensible: we have to put down the cell phone and-gasp-TALK to one another. We may even pick up a book and read, write a letter, or take a walk…
I digress….
We were getting ready to head out for a long weekend in Nashville. Friends from Michigan were driving down to meet us there for a weekend festival of mutual interest involving barley and hops.
We needed clean clothes for our adventure.
Let's be real… it was about clean underwear.
Finding Community Amongst the Community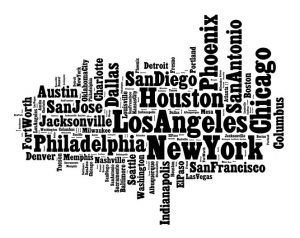 I was excited beyond measure to see these great friends. It had been far too long.
Debbie and I met while teaching second grade at a charter school in Hamtramck, MI. We had one fantastic year as colleagues but have been blessed to subsequently have a near-20 year friendship.
We've supported each other through many of life's events-weddings of our children, births of grandchildren, tumult, pain, surgeries, new job postings, losses of jobs, loss of spouses, surgeries, moving homes, and all that life has to offer. We have shared joys and pains and have done so in the best way possible: together.
The city where we taught is a traditionally Polish community.
Commitment to Catholicism, Fat Tuesday paczki (an arguably tasty but nonetheless required jelly-filled donut type delicacy which has made local bakeries famous far and wide), pierogi, kielbasa, and a solid commitment to strong family values permeated the air of this urban enclave which proudly displayed Polish flags from pretty much every business on every street.
To this day, the city boasts a generations-old set of values which are unique for one specific difference: a clearly evident pride of community.
Pride In Ownership and Community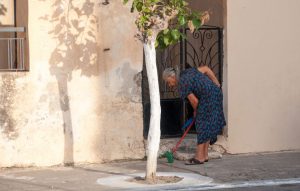 It was never unusual for us to drive down the school's side streets and see elderly ladies out on the sidewalk or front porch, sweeping the prior day's debris out to the curb.
The gentlemen would be meticulously manicuring their small city-sized lawns and maintaining the exterior of one of their life's greatest investments: their home.
Beacons to their Arts and Crafts era architecture, I loved seeing the beautiful white lace curtains hanging in the windows of meticulously maintained homes which were set side-by-side, row after row, block after block.
There was never a question that insides were equally as neat and tidy as their exteriors.
The wonderful aroma of a home-cooked meal wafted from kitchens up and down the blocks.
The families of this blue-collar neighborhood typically spent their careers working at the local General Motors plant which was within walking distance. The church was a central fixture to the neighborhood's social and spiritual well-being.
Our school's management company leased the parish school building when they struck a deal with parish and diocese leadership after the church's school was no longer able to sustain itself.
Strangers In a Strange Land
We were definitely guests in this neighborhood.
Our staff enjoyed the fruits of the labors of those who made, and sold, wonderful foods up and down our block and in the small city.
Oh, man! I can taste the pierogi…
Deb and I dedicated payday Fridays to eating at Genie's Weenies.
There we would have one of the best Coney Dogs around, some amazing homemade fries or onion rings, and the most amazing root beer on the planet.
It was a school year of culinary bliss and a weight gain of about 15 pounds.
Worth every ounce.
Solving the World's Problems…the Question Is Whose World?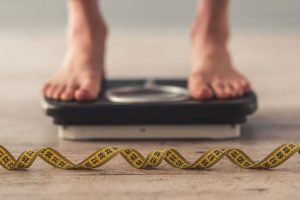 During our 45 minute lunches, Deb and I would have some of the best grade level meetings I've ever had.
We discussed strategies for Reading intervention, Math instruction, and dealing with behaviors which were typical for seven- and eight year old children.
We had a professional COMMUNITY.
Yes, it was only the two of us at the time, but we would have welcomed more, and we often did.
Yes, we had staff meetings, committee meetings. We were responsible for participating in a club or some sort of after school activity at least once per week. We had co-Teachers and neighbor Teachers in our hallways.
But the Professional Learning Community that helped us the most was the one that had occurred organically.
What Matters In a P.L.C. Needs T.L.C. To Function Success-ful-ly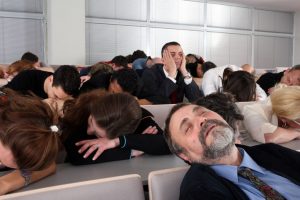 An engaging and successful professional learning community is not just about getting together for the sake of getting together.
"I can't wait to attend another meeting, especially one after school!" said no teacher anywhere EVER.
Being intentional in meeting with your group is imperative to its fidelity so let's really dig into the value added factor of having a group of like-purposed people with whom you can connect:
Your team will hold you accountable for implementing one or all of these strategies to better support your struggling learners.
Accepting Feedback Appropriately: Take the Lesson, Leave the Hostility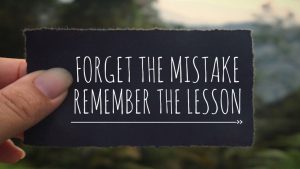 Gone are the days of taking our line of students from the school's front door, leading them to our room, and closing our door to teach all day - and honestly, I'm glad. I like having a team around me, a team of professional Educators who are as enthusiastic and committed to student and Teacher excellence as I am.
Fully embracing the concept of intertwining student achievement with Teacher development offers the opportunity for many to live up to the statement they made in their job interview: "I am a lifelong learner."
By no means am I insinuating that a gap in a student's learning is the fault of the Teacher, but dang, if a team is looking at a student's work all year, there with you to get to the bottom of the question WHY, wouldn't it behoove us to at least consider for a minute whether or not we are meeting a student's need?
Anytime we receive feedback-be it affirming or be it adjusting-consider a neutral response: "Thank you for your feedback." Ask any necessary clarifying questions while remembering to keep emotion out of it. Consider the feedback with legitimacy.
Legitimacy, in this situation, means to really and truly and genuinely consider the statements made from all possible angles.
My Grandpa Toad used to say, "In every terrible tasting meal, there's at least one good-tasting ingredient. Its tastiness may be ruined by the other ingredients, but it's still there."
No one loves negativity, but well formed and detailed feedback, rooted in tangible evidence or outcomes, should never be perceived as negative.
It should be evaluated by the recipient and adjustments should be made, modifications should be implemented, strategies should be reviewed, or enhancements imagined to seek out the next level of a teacher's professional practice.
And from whom would a peer rather receive this feedback than from another peer who is committed to ensuring the success of students within their team's reach?
I mean, I did.
No, it doesn't always feel good to hear you need to make an adjustment or twenty, but honestly, if there's tangible evidence to support the feedback, then why not at least consider giving change a try?
Framing the Picture For Efficacy in Educating Students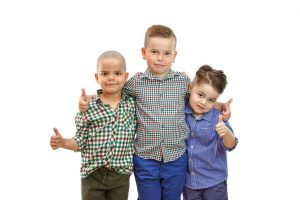 When professional learning communities are positively and properly framed within the school by school leadership, teams are empowered to make maximum use of both vertical and horizontal plc's which reach across the curricular structure of each grade level and content area.
Equally as important, when leadership actually takes the time to sit in on various team meetings, Teachers recognize that everyone in the building is committed to academic engagement and achievement.
Bringing it all together with every Teacher and leader in the building will ensure everyone is at the same level of understanding, able to disaggregate data, and create optimal programming and planning for students.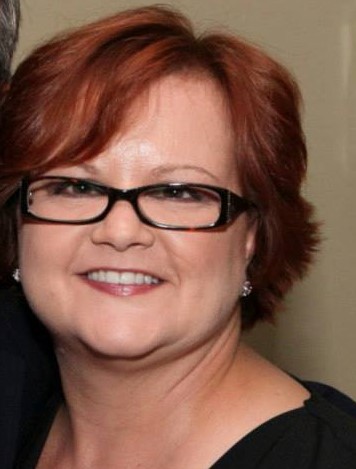 Latest posts by Mary McLaughlin
(see all)